Pediatric specialty care services
The highest level of care, close to home
Board-certified UC Davis Health Children's specialists in more than 30 pediatric subspecialties participate in leading-edge research to help our patients benefit from the latest knowledge and proven procedures.
In addition to clinics across the region, we also offer a wide range of services through telehealth. Our pediatric telemedicine program is nationally recognized for bringing sophisticated, state-of-the-art care to kids across a large rural expanse of the state.
Our pediatric specialists also provide care to patients from other health care systems. We're proud to be a top referral source from all major health systems in Northern California and surrounding communities.
Our pediatric centers and programs
Our children's subspecialties
back to top
---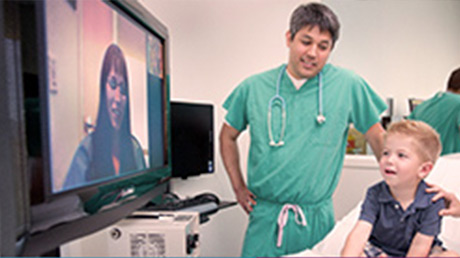 Pediatric Telemedicine Program
The UC Davis Pediatric Telemedicine Program, the first of its kind in the United States, provides physicians and patients with real-time remote consultation and evaluation though interactive, high-definition video and audio communication.
---
List of pediatric specialties providing telehealth
Our pediatric telehealth program encompasses a dedicated, multidisciplinary team of physicians, nurses, researchers, technology experts and administrators working together to provide high-quality care.