Pediatric Dermatology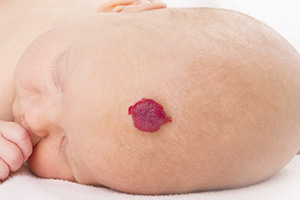 Infants, children and teens receive specialized care at UC Davis Dermatology. We are home to Sacramento's only dermatology clinic focused on pediatric skin conditions. We understand that a child or adolescent's skin problems differ from an adult's. We use this expertise to customize treatments for your child's unique skin needs.
Why choose UC Davis for pediatric dermatology
We treat the unique skin problems that affect infants, children and adolescents. Here, you and your family receive compassionate care. Highlights of our specialized pediatric dermatology clinic include:
Leading expertise: Your child receives care from a specialist with an extensive background in treating children and skin conditions unique to children. Our clinic director Smita Awasthi, M.D

.,

is triple board certified in dermatology, pediatrics and pediatric dermatology.
Tailored treatments: As your child grows, certain skin conditions can arise and change, and new problems may develop. We have the expertise to adapt and adjust treatments as needed throughout the years.
Comprehensive therapies: In addition to offering the latest treatments, Dr. Awasthi is actively involved in dermatology research and clinical trials to find new therapies. She is also a member of the Pediatric Dermatology Research Alliance™ (PeDRA). This organization is dedicated to advancing the care of children affected by skin conditions.
Convenient locations: We see patients at our Dermatology Clinic in Sacramento, as well as at our office in Davis. We also treat children with skin problems who are admitted to UC Davis Children's Hospital.
Team approach: Our team of board-certified dermatologists excels at treating common and complex skin problems. When needed, our specialists work together or with other UC Davis physicians to provide complete care. Learn more about our dermatology specialties.
Gentle touch: Awasthi has a knack for putting children at ease while providing therapies that heal. She ensures you and your child have the tools for treatment success.
Pediatric skin conditions we treat
Many skin conditions can affect children and teens. In addition to the more common rashes and warts, we also treat:
Acne
Acne occurs when oil, dead skin or bacteria clog skin pores. Pimples, whiteheads, blackheads and cysts can appear on the face, back and shoulders. Acne can affect people of all ages, even infants (a condition known as infantile acne).
We offer acne treatments for children of all ages, including:
Prescription skin care regimens to keep skin clean and free of bacteria
Benzoyl peroxide to kill skin bacteria
Retinoid creams containing high doses of vitamin A to unplug pores and smooth skin
Antibiotics that your child swallows (oral) to kill acne bacteria on the skin
Light therapy (phototherapy) to kill bacteria and reduce inflammation
Oral contraceptives to reduce oil-producing hormones
Oral isotretinoin (Accutane®) to shrink oil glands
Steroid injections to shrink swollen cysts
Spironolactone medication to decrease androgens, a hormone that stimulates oil production
Eczema
Eczema refers to a group of conditions that cause red, itchy and inflamed patches of skin.
Eczema can affect infants to adults and appear on any part of the body. Atopic dermatitis is a type of chronic eczema that flares up periodically. Contact dermatitis is an allergic or irritant reaction to products including metal (jewelry), cosmetics or fragrances.
We offer a range of treatments depending on the disease severity and cause. We also enroll children ages 12 to 18 in clinical trials to try promising new therapies.
Our eczema treatments include:
Prescription steroids and steroid-free alternatives that you put on your child's skin (topical) to reduce skin inflammation
Phototherapy (light therapy), a procedure that eases inflammation
Systemic therapies, such as dupilumab (approved for ages 6 and up) and other immunosuppressants, to slow immune system response
Epidermolysis bullosa
Approximately 200 children are born with epidermolysis bullosa (EB) every year. This rare connective tissue disorder causes a child's skin to easily tear or blister.
There are different types of EB. Some children have missing or misshapen fingernails and toenails. EB may appear at birth or develop during infancy.
We are the only center in the Sacramento region that treats children with EB. Proper care is critical to preventing infections and ensuring your child's comfort. We also help you feel confident caring for your child's fragile skin. As they grow, we teach your children how to care for and protect their skin as well.
EB is often inherited. Our genomic medicine specialists can help your family understand the disease and its genetic risks.
While there isn't a cure for EB, these treatments can help:
Moisturizing creams to prevent dry, itchy skin
Wound care, such as padded bandages, to treat wounds, prevent new skin tears and lower infection risk
Oral pain relievers, such as ibuprofen and acetaminophen, to alleviate pain from blisters and torn skin
Treatments to stop excessive sweating (hyperhidrosis), which can worsen blistering and itching
Antibiotics to treat infections
Ichthyosis
This family of rare genetic skin diseases causes dead skin cells to build up instead of shedding. The result is dry, scaly, thick skin. The condition typically appears at birth or during an infant's first year. Over time, it can be disfiguring.
Children with ichthyosis have skin that blisters or tears open easily, increasing infection risk. Because people inherit the disorder, a specialist in genomic medicine can help your family understand the disease and its genetic risks.
While there is no cure for ichthyosis, we offer help and hope. Our treatments include:
Prescription topical creams to soften skin and reduce scaling
Prescription skin barrier repair creams to protect skin from irritants
Retinoids (high doses of vitamin A in oral or cream form) to stimulate the production of healthy skin cells
Impetigo
Impetigo occurs when bacteria enter the skin through a wound or insect bite. This contagious skin infection is most common in children aged 2 to 6.
The condition causes red, pimple-like sores to form on the face, arms and legs. Scratching spreads the infection to other parts of the body. You can get impetigo from your child through direct contact with the sores or by touching contaminated surfaces, clothing, towels or other items.
The condition typically clears up with the use of a prescription oral antibiotic or cream. However, some impetigo-causing bacteria no longer respond to certain antibiotics. This occurrence is known as antibiotic resistance. Should your child develop this problem, your doctor can test a fluid sample from an impetigo sore to select the most effective antibiotic treatment.
Molluscum contagiosum
A virus causes molluscum contagiosum. Small, raised bumps form on the face, neck or other parts of the body. The bumps may be itchy or sore. The infection spreads to others via direct contact with sores or contaminated items.
This condition most commonly affects children younger than 10, but people of any age can get it. While lesions often go away on their own, your child's dermatologist may recommend treatment if they are itchy or irritating. Treatments include:
Prescription topical creams to shrink and dry up lesions
Curettage to scrape away lesions
Cryotherapy to freeze lesions with liquid nitrogen
Psoriasis
Psoriasis causes raised, red, scaly skin patches called plaques. These plaques can appear anywhere on the body, but commonly show up on elbows, knees and the scalp.
The condition typically appears during the teen or early adult years, but also affects infants and children. An immune system response often causes the skin disease.
Children who have strep throat or other infections are more prone to guttate psoriasis. This form of psoriasis often goes away when the infection clears. Red bumps on a child's skin from the condition can be mistaken for diaper rash, cradle cap or eczema. It's important to get an expert diagnosis from a pediatric skin specialist to ensure the right treatment.
Psoriasis treatments include:
Prescription steroids that you apply to the skin to slow skin cell growth and reduce redness and itching
Prescription synthetic vitamin D creams to slow the production of skin cells and minimize scaly patches
Topical skin products containing coal tar, including ointments, shampoos and oils, to treat scalp psoriasis and itchy, scaly skin
Tazarotene, a synthetic, retinoid vitamin A cream that lessens redness, scaling and swelling
Light therapy (phototherapy) to suppress an overly active immune system, slow skin cell growth and reduce inflammation
Vascular birthmarks (hemangiomas and port-wine stains)
Vascular birthmarks may be present at birth or appear during an infant's first weeks or months of life. These noncancerous tumors can occur anywhere on the body. The lesion's red or blue coloring comes from blood vessels just beneath the skin's surface. Port-wine stains may resemble a splash of red wine spilled on the skin.
Many hemangiomas shrink or fade without treatment. Port-wine stains often get darker over time. Your child's dermatologist may recommend treatment if the birthmark negatively affects appearance or is a health risk. Vascular birthmarks that form too close to the eye can affect vision. Large birthmarks, or those located near the genitals, are more likely to bleed. If your child's birthmark is in a worrisome location, grows rapidly or affects appearance, we can help.
Most children do not need surgery. Instead, these nonsurgical treatments often work very well:
Oral or topical beta blockers: These medications shrink blood vessels that feed into the tumor. Reduced blood flow slows tumor growth and may also shrink the tumor.
Oral or injectable steroids: Corticosteroids can slow, and sometimes, stop tumor cells from multiplying. This process prevents tumor growth.
Laser treatment: This procedure targets blood vessels in the skin. We are among a select few regional medical providers that seeks insurance pre-approval to perform laser treatments for vascular birthmarks. At other dermatology practices, you may pay out of pocket for this treatment.
We are the only dermatology provider in Sacramento with the ability to give general anesthesia to children when doing laser treatment on extensive vascular birthmarks. This practice ensures a safer, less stressful experience for your child and you.
Rarely, your child may need surgery to remove the lesion when less invasive treatments don't achieve the desired results. This procedure takes place at UC Davis Medical Center, rated Sacramento's top hospital by U.S. News & World Report.
Vascular malformations
Like hemangiomas and port-wine stains, vascular malformations are a type of birthmark made up of blood vessels. Unfortunately, vascular malformations do not fade over time. Instead, they may get bigger as a child grows.
Arteriovenous malformations affect arteries and veins while venous malformations affect veins. Small lesions may not require treatment. Larger lesions can affect muscle, bone and organs, as well as a child's appearance.
We have the only Pediatric Head and Neck Vascular Anomalies Clinic in the Sacramento region. Your child receives comprehensive care from pediatric specialists including:
Dermatologists
Ear, nose and throat specialists
Plastic surgeons
Neuroradiologists
We also partner with our Vascular Center to treat malformations that appear elsewhere on the body. Our specialists collaborate in a monthly Pediatric Vascular Anomalies Conference, or tumor board. During these sessions, we review a child's unique situation and develop the most effective treatment plan.
Nonsurgical treatments include:
Laser treatments that target blood vessels
Sclerotherapy injections to seal off blood vessels that feed into the vascular malformation
If your child needs surgery to remove a lesion, we partner with Pediatric Otolaryngology, Pediatric Surgery and Orthopaedic Surgery to provide comprehensive care.
Contact us
To schedule an appointment, please call (800) 770-9282 or (916) 734-6111.