Skin Cancer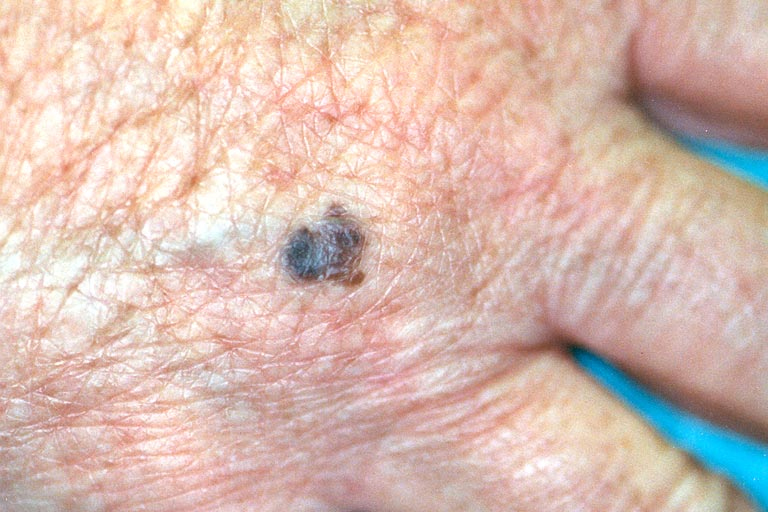 It is understandable to have concerns if you receive a skin cancer diagnosis. The good news is that skin cancer typically responds well to treatment, especially when caught early. At UC Davis Dermatology, we expertly diagnose and treat both common and rare, aggressive forms of skin cancer.
What is skin cancer?
Skin cancer occurs when abnormal, cancerous skin cells start to rapidly grow and replace healthy cells. The disease affects people of all ages, genders and ethnicities. It is the most common cancer affecting Americans.
Melanoma is a serious, and potentially fatal, type of skin cancer. It develops in the pigment-producing cells that give skin its color.
What causes skin cancer?
Exposure to ultraviolet (UV) light from the sun or artificial sources like tanning beds is the leading cause of skin cancer. Other risk factors include:
Age (people over 50 are more at risk due to years of sun exposure)
Blonde or red hair
Fair skin
Family history of melanoma
History of sunburns, especially blistering burns
Moles (people with 50 or more moles have a higher risk)
Weakened immune system
Why choose UC Davis for skin cancer care
Whether you have a more common type of skin cancer or a cancer that's large and complex, we have the expertise to help. At UC Davis, you have access to:
Mohs surgery experts: We are experts in Mohs micrographic surgery, the most successful treatment for basal cell and squamous cell carcinomas. This procedure removes and cures skin cancer in one appointment. Our fellowship-trained skin cancer specialists, Daniel Eisen, M.D

., and

Jayne Joo, M.D

.

, also perform this procedure on melanoma. Mohs surgery for melanoma requires more extensive training and experience.
Latest therapies: Through ongoing involvement in dermatology research and clinical trials, your care team is dedicated to improving skin cancer treatments and outcomes. We also focus on improving surgical approaches to minimize pain and scarring. Our commitment to research gives you greater access to promising new therapies.
Hospital-level care: Skin cancer biopsies and surgical treatments start with injection of a local anesthetic to numb the area. Complex tumors can sometimes require more invasive surgery. These outpatient procedures are extremely safe. You have the extra assurance of receiving care at UC Davis Medical Center. U.S. News & World Report rates our medical center as the best in Sacramento and among the top 10 in the state.
Personal touch: You receive news about biopsy findings directly from your physician and qualified staff. They can address any questions or concerns you have about your diagnosis or treatment. We want you to feel comfortable and confident in your care plan.
Scar-minimizing procedures: We are dedicated to eliminating skin cancer while minimizing scarring. Some skin cancers can affect large sections of skin or go deep into the skin. We perform reconstructive procedures that result in the best appearance possible.
Types of skin cancer
We treat all forms of skin cancer, including:
Basal cell carcinoma: This slow-growing cancer is the most common skin cancer. It responds well to treatments when caught early and small.
Squamous cell carcinoma: This skin cancer can spread and grow deep into the skin, especially when care is delayed.
Melanoma: Melanoma is a cancer of pigment-producing cells in the skin. It can quickly spread to organs or other parts of the body if left untreated. Early detection and treatment are key.
Merkel cell carcinoma: This rare type of skin cancer is aggressive and can spread quickly even with treatment.
Skin adnexal tumor: These potentially cancerous tumors develop in hair follicles, sweat glands and oil glands.
Cutaneous T-cell lymphoma (CTCL): Mutated white blood cells called T-lymphocytes attack the skin and can also be present in blood, organs and lymph nodes.
Kaposi sarcoma: This cancer most frequently affects people who have the human immunodeficiency virus (HIV).
What does skin cancer look like?
Signs of skin cancer vary depending on cancer type, location, skin tone and other factors. Contact your doctor immediately if you notice:
A mole that looks different from other moles
Asymmetrical moles (one side is a different shape than the other side)
Changes to existing moles
Multicolored moles
Reddish, scaly growths
Sores that do not heal
Thickened wart-like growths
Where does skin cancer appear?
Skin cancer most commonly appears on sun-exposed areas, but it may develop anywhere. Skin cancer can affect the:
Face
Chest
Legs and feet
Shoulders, arms and hands
Underneath fingernails and toenails
Genitals
Inside the mouth
Contact us
To schedule an appointment, please call (800) 770-9282 or (916) 734-6111.