Dr. Maverakis Research Lab
Professor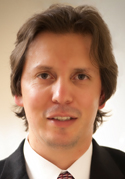 Department of Dermatology, School of Medicine
University of California, Davis
3301 C Street Suite 1400, Sacramento CA 95816
Lab: Institute for Regenerative Cures
2921 Stockton Blvd. Suite 1630
Sacramento, CA 95817
Biography
Dr. Maverakis runs a UC Davis clinic that specializes in the treatment of patients with severe immune-mediated diseases involving the skin. He is also an immunology researcher who holds early career awards from the Howard Hughes Medical Institute and the Burroughs Wellcome Fund.
"In order to gain insight into the pathogenesis of autoimmunity the first step is to identify and characterize the T cells involved."
Dr. Maverakis became interested in immunology as an undergraduate at the University of California-Los Angeles where he earned departmental honors for his work on a mouse model of multiple sclerosis, experimental autoimmune encephalomyelitis. He then continued his research endeavors at Harvard Medical School (HMS) in Boston where he graduated summa cum laude in 2003. He is in a elite group of only 15 students in over 220 years to have graduated with highest honors from HMS. After completing an internship in internal medicine at Harvard's Beth Israel Deaconess Medical Center, Dr. Maverakis came to UC Davis to complete a residency in dermatology and in 2007 he joined the faculty. He holds appointments in the Department of Dermatology and in the Department of Medical Microbiology and Immunology. His group is focused on characterizing autoreactive T cell repertoires in humans with immune mediated skin diseases. Such work might lead to better targeted therapies for these types of diseases.
Another focus of the Maverakis lab is to study malignancies that are able induce an immune response. His lab is looking at ways to boost the immune response to the tumor.
His group has published in a variety of journals including the Journal of Clinical Investigation, Proceedings of the National Academy of Sciences, the Journal of Experimental Medicine and Nature Reviews Immunology.
Major Awards
| | |
| --- | --- |
| 2019 | Elected Fellow of the California Academy of Sciences |
| 2011 | Presidential Early Career Award for Scientists and Engineers (PECASE). |
| 2009 | American Academy of Dermatology's Young Investigators Award |
| 2007 | Howard Hughes Medical Institute Physician-Scientist Early Career Award |
| 2007 | Burroughs Wellcome Fund Career Award for Medical Scientists |
| 2003 | M.D. Summa Cum Laude, Harvard Medical School (only 15 awarded in the school's 215 year history) |
Other Honors
| | |
| --- | --- |
| 2009 | American Academy of Dermatology Young Investigator Award |
| 2008 | NIH Career Development Award |
| 2006 | Chief Resident- UC Davis Department of Dermatology |
| 2001-03 | Howard Hughes Medical Student Research Fellowship-2 Additional Years of Continued Support (Rarely awarded) |
| 2000 | Howard Hughes Medical Student Research Fellowship |
| 1999-00 | Harvard Academic Committee Research Stipend |
| 1997 | B.S. Summa Cum Laude, University of California Los Angeles |
| 1997 | Departmental Honors, University of California Los Angeles, Department of Microbio and Mol Genetics |
| 1993 | Dean's List (all years), University of California Los Angeles (Awarded for maintaining a 4.0/4.0 G.P.A.) |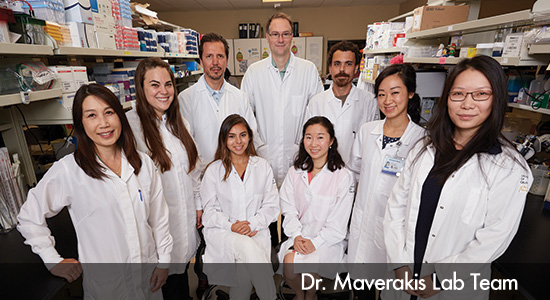 Standing starting left:
Michiko Shimoda, PhD, Assistant Professor
Laura Olney, MA, Junior Specialist
Emanual Maverakis, MD, Associate Professor
Nathan Haigh, MA, Junior Specialist
Guillaume Luxardi, PhD, PostDoc
Elizabeth Wang, Medical Student
Michelle Cheng, MD
Sitting Left:
Natalia Maverakis, Observer
Chelsea Ma, MD
Not pictured:
Alina Marusina, PhD, Assistant Researcher
Alexander Merleev, PhD, PostDoc
Cutaneous T Cell Lymphoma- We are interested in identifying novel therapeutics that are able to selectively kill malignant T cells.
T cell competition- We are studying the role that T cell competition plays during the evolution of an immune response.
Longitudinal characterization of an autoreactive immune response- We have been able to clearly identify stably expanded T cells longitudinally in patients with chronic autoimmune disease. We are currently characterizing the surface phenotype of these cells.
Dillen AE, Pinsker BL, Marusina AI, Merleev AA, … Maverakis E and Miller LS. γδ T cells clonally expand for long-term immunity against Staphylococcus aureus skin reinfection. JOURNAL OF CLINICAL INVESTIGATION. 2018 Mar 1;128(3):1026-1042
Merleev AA, Marusina AI, Ma C, Elder JI, Tsoi LC, Raychauduri S, Weidinger S, Wang EA, Adamopoulos IE, Luxardi G, Gudjonsson JE, Shimoda M, and Maverakis E. Meta-analysis of RNA-Seq datasets reveals an association between TRAJ23, psoriasis and IL17A. JCI INSIGHT 2018 Jul 12;3(13). (This manuscript highlights some of my group's novel bioinformatics methods).
Wong M, Phoomak C, Liu M, Haigh NE, Wongkham S, Maverakis E, Lebrilla CB. Membrane glycomics reveal heterogeneity and quantitative distribution of cell surface sialylation. CHEMICAL SCIENCE 2018 (9) 6271
Maverakis E, Ma C, Shinkai K, Fiorentino D, Callen JP, Wollina U, Marzano AV, Wallach D, Kim K, Schadt C, Ormerod A, Fung MA, Steel A, Patel F, Qin R, Craig F, Williams HC, Powell F, Merleev A, Cheng MY. Diagnostic Criteria of Ulcerative Pyoderma Gangrenosum: A Delphi Consensus of International Experts. JAMA DERMATOLOGY. 2018 Apr 1;154(4):461-466 (This is the top cited article for JAMA Dermatol in 2018).
Dillen AE, Pinsker BL, Marusina AI, Merleev AA, … Maverakis E and Miller LS. Clonally expanded gd T cells protect against Staphylococcus aureus skin reinfection. JOURNAL OF CLINICAL INVESTIGATION. 2018 Feb 1;128(3):1026-1042. PMCID: PMC5824877
Wang Z, Aguilar EG, Luna JI, Dunai C, Khuat LT, Le CT, Mirsoian A, Minnar CM, Stoffel KM, Sturgill IR, Grossenbacher SK, Withers SS, Rebhun RB, Hartigan-O'Connor DJ, Mendez-Lagares G, Tarantal AF, Isseroff RR, Griffith TS, Schalper KA, Merleev A, Saha A, Maverakis E, Kelly K, Aljumaily R, Ibrahimi S, Mukherjee S, Machiorlatti M, Vesely SK, Longo DL, Blazar BR, Canter RJ, Murphy WJ, Monjazeb AM. Paradoxical effects of obesity on T cell function during tumor progression and PD-1 checkpoint blockade. NATURE MEDICINE. 2019 Jan;25(1):141-151. PMCID: PMC6324991
Marchitto M, Dillen C, Liu H, Miller R, Maverakis E, and Miller LS. Clonal Vγ6+Vδ4+ T cells promote IL-17-mediated immunity against Staphylococcus aureus skin infection. PROCEEDINGS OF THE NATIONAL ACADEMY OF SCIENCES U.S.A. 2019 May 28;116(22):10917-10926.
Park D, Phoomak C, Xu G, Olney LP, Tran KA, Park SS, Haigh NE, Li Q, Shimoda M, Matoba N, Fierro F, Wongkham S, Merleev AA, Luxardi G, Maverakis E, Lebrilla CB. Metastasis of cholangiocarcinoma is promoted by extended high mannose glycans. PROCEEDINGS OF THE NATIONAL ACADEMY OF SCIENCES U.S.A 2020 Apr 7;117(14):7633-7644
Merleev AA, Park D, Xie Y, Kailemia MJ, Xu G, Ruhaak LR, Kim K, Hong Q, Li Q, Patel F, Wan YY, Marusina AI, Adamopoulos IE, Lal NN, Mitra A, Le ST, Shimoda M, Luxardi G, Lebrilla CB, Maverakis E. A site-specific map of the human plasma glycome and its age and gender-associated alterations. SCIENTIFIC REPORTS, 17505 (2020). (This manuscript is a comprehensive map of the human plasma glycome)
Maverakis E, Marzano AV, Le ST, Callen JP, Brüggen MC, Guenova E, Dissemond J, Shinkai K, Langan SM. Pyoderma gangrenosum. NATURE REVIEWS DISEASE PRIMERS. 2020 Oct 8;6(1):81.
Khuat LT, Le CT, Pai CCS, Maverakis E, ... Murphy WJ. Obesity and Microbiome Alterations Augment Acute Gastrointestinal Graft-Versus-Host Disease After Allogeneic Stem Cell Transplantation. SCIENCE TRANSLATIONAL MEDICINE 2020 In Press
Tuscano JM, Poh C, Kaesberg P, Luxardi G, Merleev A, Marusina A, Brunson A, Rosenberg A, Jonas B, Maverakis E. Rituximab and Lenalidomide followed by Continuous Lenalidomide in Untreated and Relapsed/Refractory Indolent Lymphoma: Long-term Follow-up and Correlative Analysis. CLINICAL CANCER RESEARCH. 2021 in press
Patrick GJ, Liu H, Alphonse MP, Dikeman DA, Youn C, Otterson JC, Wang Y, … Maverakis E, Garza LA, Milner JD, Gao P, Ramanujam M, Raymond EL, Archer NK, and Miller LS. Epicutaneous Staphylococcus aureus induces IL-36 to enhance IgE production and ensuing allergic disease. JOURNAL OF CLINICAL INVESTIGATION 2021 131(5)
Werth VP, Joly P, Mimouni D, Maverakis E, Caux F, Lehane P, Gearhart L, Kapre A, Pordeli P, Chen DM. Rituximab versus Mycophenolate Mofetil in Patients with Pemphigus Vulgaris. NEW ENGLAND JOURNAL OF MEDICINE. 2021 Jun 17;384(24):2295-2305