Diversity, Equity, and Inclusion
Mission Statement
The UC Davis Department of Dermatology is committed to fostering an inclusive environment that celebrates the contributions of faculty, staff, and residents from diverse backgrounds and experiences. Diversity includes but is not limited to: race, ethnicity, gender identity, sexual orientation, socioeconomic status, age, disability, religion, and immigration status. We strive to promote health equity through our clinical care, education, and research endeavors, with the aim of achieving excellence in the trust, care, and outcomes of our patients.
Curriculum:
Skin of Color series with Oma Agbai, M.D.
Journal Clubs (April 2022 JAAD CME: An Update on Cosmetic Procedures in People of Color)
Grand Rounds (recent topics include transgender health and implicit bias)
Noon conferences (Access to Dermatologic Care in Rural America presented by Mimi Smith, MD in 2023)
Scholarship
The UC Davis Dermatology Residency Program is pleased to offer a Diversity Visiting Student Scholarship for visiting students in need of financial assistance to attend our Dermatology Clerkship Course (DER 460). We will offer up to two $1500 scholarships for travel and/or housing-related costs associated with participating in the clerkship. Through the application, students should demonstrate how their background and experience will enhance an environment of inclusive excellence in our residency program. For more information, please refer to the scholarship application.
Community Work and Outreach

Free Clinics (Paul Hom, Shifa, Clinica Tepati, Knights Landing)

CalDerm's Firefighter Skin Cancer Screening Program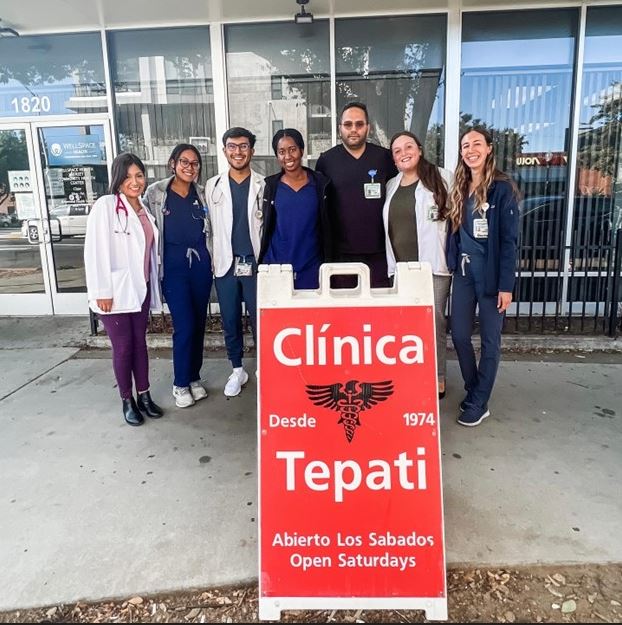 Resident Involvement
Diversity, Equity and Inclusion involvement is a requirement of all residents.

Helpful Links
Mentorship programs for medical students: