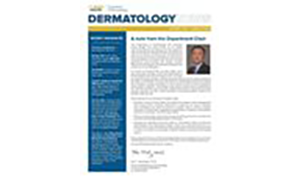 To learn more about our latest department activities and updates, please check out the current issue of our newsletter!
Read Newsletter
---
Welcome to the Department of Dermatology
At UC Davis Dermatology, we understand that skin conditions affect both your physical and mental well-being. As the only comprehensive dermatology program in the Sacramento region, we provide the specialized skin care needed to help you look and feel better.
Why choose UC Davis for dermatology
At UC Davis, you receive care from skin experts who specialize in treating hard-to-manage skin disorders. Many have published in leading medical and scientific journals in their areas of expertise. This knowledge makes them exceptionally skilled at caring for more common skin problems as well. You can also get cosmetic procedures to enhance your appearance.
When you come to us, you also benefit from:
Latest therapies: We are the only academic medical center in Sacramento with heavy involvement in dermatology research and clinical trials

.

You may be able to try promising new therapies still in development.
Expert skin specialists: You receive care from a team of board-certified dermatologists. Some have advanced training in one or more distinct skin conditions. This vast knowledge means we care for both rare and routine skin disorders. Regardless of your skin problem, we can help.
Specialized clinics: Our dedicated clinics exclusively care for people with complex skin conditions, such as vitiligo

,

psoriasis and oral mucosal disease. Our team's deep expertise allows us to offer the most specialized dermatology clinics in the region. Learn more about our dermatology specialties.
Team approach to healthcare: Some skin conditions cause other health problems or are linked to other diseases. When needed, we tap the expertise of specialists throughout UC Davis to address any related healthcare needs.
Top-rated hospital care: Skin procedures are very safe. Still, you have the added security of undergoing treatments at a highly ranked medical center. U.S. News & World Report rates UC Davis Medical Center as the best hospital in Sacramento and among the top 10 in California. People from throughout California, Nevada, Oregon and other parts of the country seek the help of our experts.
Convenience: Our clinical telehealth services

, including live

video visits

,

make dermatology care more accessible to people living in remote, rural areas. We offer real-time video consultations with patients and their primary care physicians. Existing UC Davis patients can schedule a virtual visit.
On-site lab: Our in-house Dermatopathology Service helps our physicians make quick and accurate diagnoses. We use these findings to customize your treatment plan. Dermatologists and pathologists throughout Northern California rely on our expert lab services to help their patients.
Contact us
To schedule an appointment, please call 800-770-9282 or 916-734-6111.
Contact us
To schedule an appointment, please call 800-770-9282 or 916-734-6111.
---
Make a donation using our
secure online system.
---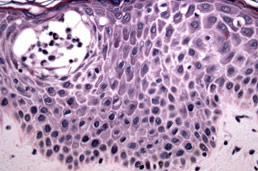 ---