Volunteers from UC Davis Health provide COVID-19 vaccinations at Sleep Train Arena
The drive-thru clinic organized by the Mexican Consulate on Saturday reached the medically underserved, including Latino families
(SACRAMENTO)
In its latest effort to keep the community safe from COVID-19, UC Davis Health joined a large-scale effort to vaccinate 500 people at a drive-thru clinic in Sacramento over the weekend.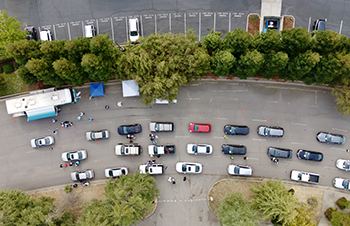 Dozens of volunteers from the health system spent several hours Saturday at the clinic in the parking lot of Sleep Train Arena. The clinic was sponsored by the Consulate General of Mexico in partnership with UC Davis Health, Elica Health Centers, La Familia Counseling Center, the Latino Economic Council, Health Education Council and Sacramento City Councilman Eric Guerra.
It was also the newest initiative involving UC Davis Health to vaccinate large numbers of Latinos, who have been disproportionately affected by COVID-19 infections and deaths nationwide compared to other groups.
Latinos, who often lack access to health care, are also more likely to have higher rates of underlying health conditions that contribute to COVID-19 infections. They make up about 40% of California's population but account for 56% of COVID-19 cases and 47% of all COVID-19 deaths.
"This is an opportunity to help a population that's underserved, that needs help," said Sally Madiba, a fourth-year student at the UC Davis School of Medicine, while standing in the parking lot ready to be assigned a task for the day.
Frances Noriega, a UC Davis Medical Center emergency department manager, has helped care for many patients with COVID-19 symptoms over the past year. She volunteered at the drive-thru clinic to educate the public by emphasizing that the vaccine is safe and effective.
"I'm also giving back to the community, especially for the underserved and non-English speaking population. They are really hesitant about getting the vaccine," Noriega said while waiting for the next car to pull up in her lane.
The drive-thru was held at the edge of the arena parking lot adjacent to the consulate, a building where Mexican nationals from throughout Northern California seek services such as passport renewals, legal assistance and help with finding community-based health care providers.
UC Davis Health also has an ongoing partnership with Elica Health Centers, a federally qualified health center that offers vaccines at the consulate daily.
In addition, UC Davis Health staff operate community vaccination clinics at St. Paul Missionary Baptist Church and City Church, both in Sacramento's Oak Park neighborhood, and at La Familia Counseling Center in South Sacramento.
The community vaccination efforts to reach the medically underserved through strategic partnerships have resulted in tens of thousands of vaccine doses.
The drive-thru brought a steady stream of vehicles, from small cars with solo occupants to large SUVs filled with families.
After being inoculated with the Moderna dose and before driving up to the 15-minute observation area, many families thanked the vaccinators in both English and Spanish.
The appreciation went both ways.
"It means a lot to give back to the community," said UC Davis third-year medical student Karen Chung. "It's important for us to be involved and show that we want to encourage everyone to get the vaccine and try to get back to normalcy – and this is a way for the medical community to show that we care."
Those wishing to be vaccinated at the consulate's daily clinic can register at bit.ly/vaccinessac, or by phone at 916-329-3502.