Duchenne clinical trial offers promising results using unique therapy
(SACRAMENTO)
Using stem cells derived from heart muscle cells, researchers say there is promising news about a potential treatment for people with the progressive genetic disorder known as Duchenne's muscular dystrophy (DMD).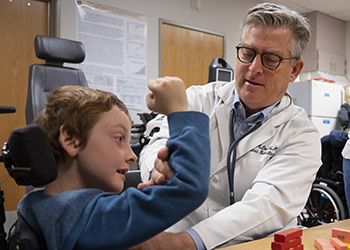 Craig McDonald, the national principal investigator on the clinical trial known as HOPE-2, said that 12 months of data from the recently completed trial showed DMD participants improved their heart and lung function and upper body strength.
"What's unique about this investigation is that it represents the first use of a systemic stem cell therapy for Duchenne muscular dystrophy," said McDonald, a professor and chair of Physical Medicine and Rehabilitation at UC Davis Health. "It is also the first clinical trial where we measured treatment benefits for patients with advanced DMD. They otherwise face very limited options."
Duchenne muscular dystrophy is a disorder that mostly affects boys. It is a progressive disease that slowly destroys skeletal, heart and respiratory muscles. Individuals typically lose their ability to walk in their teens and generally die of cardiac or respiratory complications.
The aim of the HOPE-2 trial, conducted at sites around the nation, was to explore the safety and efficacy of a therapy designed to help stabilize and improve the heart muscle function of DMD patients.
"The HOPE study uses a biomedical product called CAP-1002," McDonald said. "These are specially manufactured stem cells derived from donated heart muscle. They appear to benefit the body's immune response to DMD and slow the decline of strength, lung function and cardiac function. The cells are also anti-inflammatory and may encourage cellular regeneration, which is crucial for fighting a disorder that erodes skeletal and heart muscle."
In contrast to the DMD participants who received the experimental therapy, the control group received only the current standard of care, McDonald said. That group experienced declines in their condition that are typical of a Duchenne patient in the later stages of the disease.
The treatment, which was delivered intravenously into the arm veins in boys and young men, was shown to be generally safe and well tolerated, and it demonstrated signals of significant and sustained improvement in cardiac and skeletal muscle function compared to participants who received only usual care.
The HOPE-2 clinical trial is also important because it is one of the few to focus on DMD patients who can no longer walk. McDonald said participants and their families are hoping for a therapy that helps maintain what function they have left in their arms and hands.
"This study also measured the relative changes in a DMD participant's ability to perform manual tasks that are part of daily living activities, which are crucial to a person's quality of life," McDonald said. "For example, we looked at each person's ability to use muscles from the elbow to the fingers because those are essential for operating wheelchairs and performing other daily tasks."
The study was funded by the clinical-stage biotechnology company Capricor Therapeutics. Armed with the HOPE-2 data showing statistically and clinically meaningful improvements, the next steps will focus on trying to win FDA approval for the drug so the treatment becomes available to more DMD patients.
"One of the most troubling aspects of DMD is that the loss of arm function as patients get older is very common in this relentlessly progressive disease," McDonald said. "Except for steroids, there haven't been any effective treatments. That's what makes our HOPE-2 findings so promising – we could have something new and helpful to offer our most severely affected patients."
UC Davis Health is improving lives and transforming health care by providing excellent patient care, conducting groundbreaking research, fostering innovative, interprofessional education, and creating dynamic, productive partnerships with the community. For more information, visit health.ucdavis.edu.