From testing the Pfizer-BioNTech candidate to key roles in distribution, UC Davis Health is helping to deliver the vaccine doses that will end the pandemic.
"See, WE DID IT!" exclaimed Eva Teniola, throwing her arms wide with joy as others broke out into applause around her.
The 47-year-old UC Davis Medical Center emergency department nurse had just become UC Davis Health's first person to receive a dose of historic coronavirus vaccine — a jab that, along with many others, would help symbolize the proverbial light at the end of the tunnel for the novel coronavirus pandemic.
UC Davis was among the nation's inaugural health systems to receive an initial allotment of the first approved coronavirus vaccine, when a total of 4,875 Pfizer-BioNTech doses arrived shortly after 7 a.m. on Dec. 15. The first shots were administered about three hours later.
"This is just like a lifeline," said Shashi Kant, 65, a veteran ICU and ER custodian, whose 36-year-old daughter had died months before from COVID-19. "The whole world prayed" for the vaccine, he added.
UC Davis School of Medicine and UC Davis Health played an important part in making it a reality, as one of 150 sites worldwide to participate in the clinical trial for the Pfizer-BioNTech candidate — cited as the first time mRNA-based vaccines were used against an infectious disease. The FDA granted emergency use authorization after data showed a stunning 95 percent effectiveness.
From then on, UC Davis Health would also become a key player in vaccine distribution, with the State of California targeting it for a major role due to its storage capability, highest-risk health care population, and community distribution ability.
Over the next several months (and in accordance with public health guidelines), UC Davis Health would deliver more than 162,000 doses of approved vaccines by Pfizer and other manufacturers. The first doses went to health workers here and in the community, and then to seniors and the elderly, emergency and essential workers, and high-risk patients. Throughout, UC Davis Health teams also worked to vaccinate underserved groups, in partnership with neighborhood and faith-based organizations, community clinics, and others.
But vaccinating 70 to 90 percent of Californians (let alone Americans) in pursuit of herd immunity is a monumental task — and a deadly winter surge would need to be dealt with first. At one point during the holidays, COVID-19 patients filled as many as a fifth of UC Davis Medical Center's 600+ beds. Outside of the inpatient wards, UC Davis clinicians cared for an increasing number of "long haul" patients at one of the nation's first multidisciplinary post- COVID-19 clinics.
Although spring brought a drop in cases, new virus variants also heightened the urgency to distribute the vaccine as fast as possible. As public rollouts marched on throughout spring, UC Davis clinician-scientists continued to tackle the pandemic on multiple fronts — joining clinical trials for the Novavax vaccine candidate and anti-variant boosters; testing new treatment approaches for both acute and "long" COVID; lending expertise and capacity for variant sequencing and community testing; and more.
"This pandemic is widely considered the public health crisis of our time, and UC Davis Health has modeled the key role of academic medical centers in the well-being of our society," said UC Davis School of Medicine Dean Allison Brashear, M.D., M.B.A. "It's clear now that our survival depends on staying ahead with science and partnering with science, and that we all depend so much on continued inquiry, expertise and ingenuity to be healthy."
Highlights: Responding to the novel coronavirus
September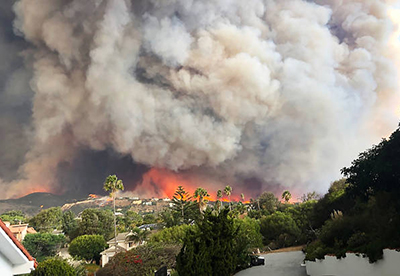 Sept. 16 – Historic pandemic, meet historic wildfires
UC Davis pulmonologists help Californians understand how heavy wildfire smoke increases COVID risks; how to protect the lungs from both pollution and viruses; and which respiratory symptoms indicate COVID-19 testing. UC Davis mental health experts add resiliency tips for locked-down citizens who are now stuck indoors, as well.
---
Sept. 17 – Introducing COVID19questions.org
UC Davis Health is part of a research consortium that rolls out COVID19questions.org, a web portal that taps medical data from 200+ hospitals to help answer questions from clinicians, researchers and the public. The tool can draw from data on more than 45 million patients, including tens of thousands who tested positive for COVID-19 or were hospitalized with the infection.
---
Military doctors battle COVID-19
Emergency physician and Army reservist Joshua Elder, M.D., M.P.H., M.H.S., returns from overseas deployment supporting special-ops troops with trauma care and coronavirus prevention. He's one of a number of UC Davis Health military members fighting against COVID-19 both home and abroad. Emergency medicine physician and Air Force Lt. Col. Rory Stuart was awarded the Bronze Star for early COVID-response work in Afghanistan.
---
Sept. 28 – Global deaths reach 1 million
---
October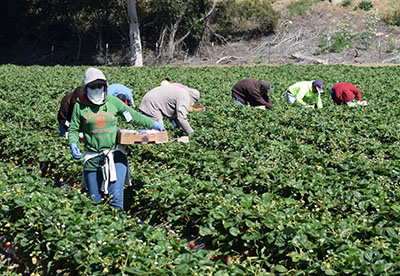 Oct. 1 – Free testing for Central Valley farmworkers
Four UC Davis research centers receive a $3.7 million NIH grant to test workers in the Central Valley, where the pandemic has reached alarming levels. UC Davis is one of 32 institutions to receive funding from the federal Rapid Acceleration of Diagnostics (RADx) initiative and RADx Underserved Populations (RADx-UP) program.
---
Oct. 2 – U.S. President Donald Trump tests positive for the coronavirus in the wake of a White House "super spreader" event
---
Oct. 12 – Monoclonal antibodies as prophylaxis?
UC Davis Health begins participation in a clinical trial of the Regeneron monoclonal antibody combination treatment given to President Donald Trump, but this time with a different aim — preventing COVID-19 in the first place.
---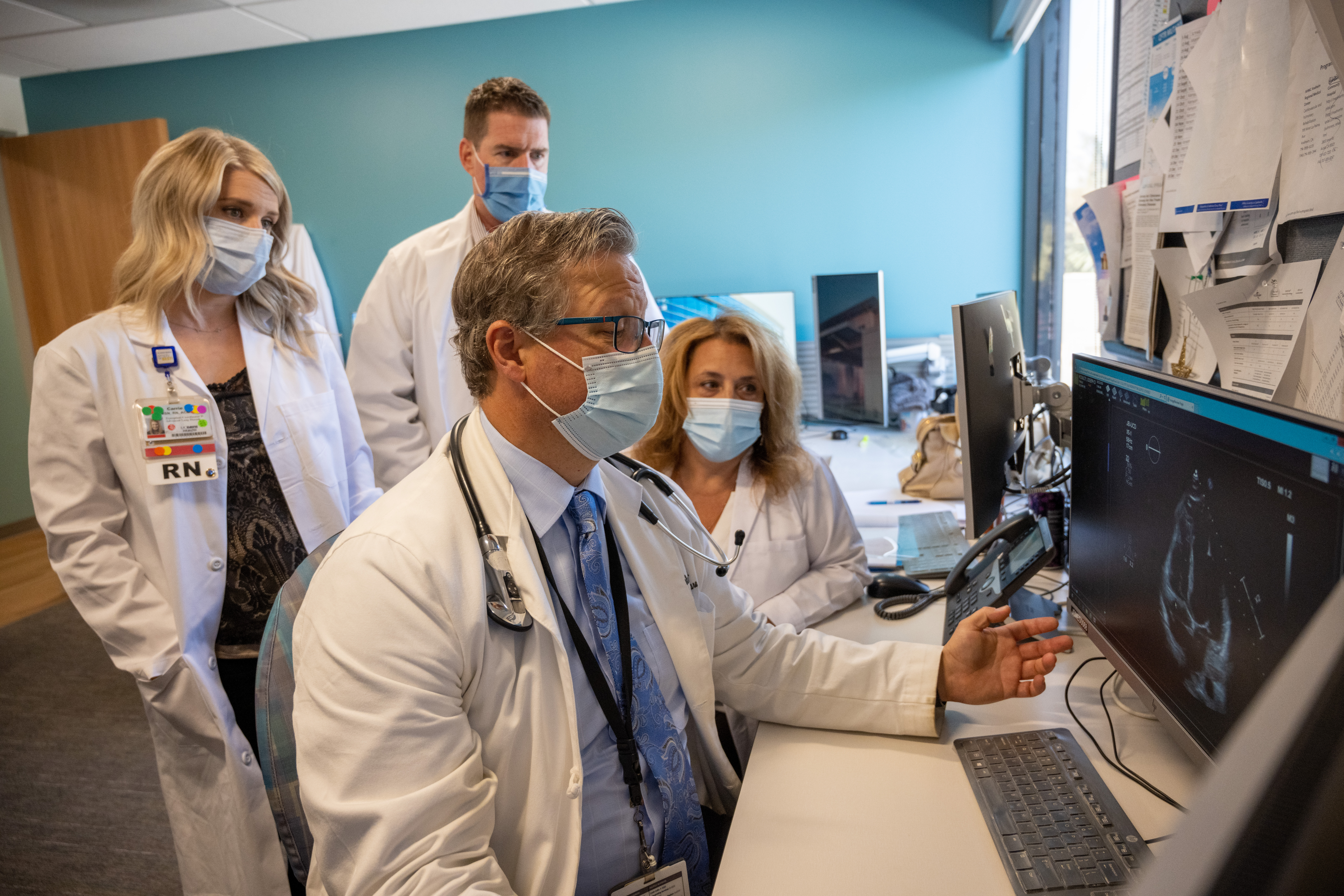 Oct. 28 – New COVID clinic
UC Davis Health launches the region's first Post-COVID-19 Clinic, becoming one of only a handful of U.S. health systems to create a dedicated multidisciplinary venue for so-called "long-haul" patients. Studies estimate that about 10% of COVID-19 patients face long-term symptoms; later studies will up that number to 25% or more.
---
November
Nov. 12 – 'Nothing else as fast and accurate'
UC Davis Health becomes first in the region and among the first in the nation to use rapid, combined molecular tests at the point of care — rolling out a highly accurate version that can check for both COVID-19 and flu in minutes. "There is nothing else right now that is as fast and accurate as this test" notes Lydia Pleotis Howell, M.D., medical director of UC Davis Health's clinical laboratories and chair of pathology and laboratory medicine. The health system is a standing member of California's COVID-19 Testing Task Force.
---
Nov. 21 – FDA grants emergency authorization for the Regeneron monoclonal antibody treatment given to Trump
---
Nov. 29 – Nearly 1.2 million travelers pass through TSA checkpoints, as California begins a long string of near-daily records for COVID-19 hospital and/or ICU patients
---
December
Dec. 3 – California announces a new stay-at-home order tied to regional ICU capacity
---
Dec. 7 – Another vaccine trial underway
UC Davis Health launches clinical trials for the easier-to-store Novavax COVID-19 vaccine, which follows a more traditional model using a protein subunit. The overall trial prioritizes highly impacted groups such as Latino, African American and Native American communities.
---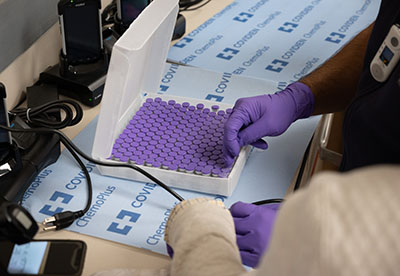 Dec. 11 – First COVID-19 vaccine approved
FDA authorizes the Pfizer-BioNTech messenger RNA vaccine for emergency use after data shows 95 percent efficacy. UC Davis Health was one of 150 sites worldwide participating in the clinical trial for the candidate, cited as the first time mRNA-based vaccines are used against an infectious disease.
---
Dec. 11 – A novel exposure-warning app
The state of California rolls out CA Notify, a Bluetooth driven app that sends anonymous notifications when users have been in close contact with someone who tests positive for COVID-19. UC Davis and six other UC campuses helped to pilot and test the project, based on Google and Apple's exposure notification technology.
---
Dec. 14 – As the U.S. death toll surpasses 300,000, the nation administers its first coronavirus vaccinations
---
Dec. 15 – Pfizer vaccine arrives
UC Davis becomes among the nation's first health systems to receive an initial allotment of the Pfizer-BioNTech vaccine, and begins inoculating frontline health care workers three hours later. The state targets UC Davis Health for the vaccine due to its storage capability, highest-risk health care population, and community distribution ability.
---
Dec. 18 – FDA approves the Moderna mRNA vaccine for emergency use
---
Dec. 21 – Stem cells for a COVID complication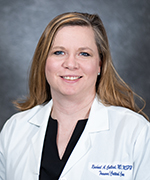 UC Davis Health joins a landmark multicenter clinical trial to test whether mesenchymal stromal/stem cells may help reduce inflammation in the lungs of patients with life-threatening acute respiratory distress syndrome, whether driven by COVID-19 or other causes. Aside from supportive care with ventilation, there are virtually no ARDS treatments that reduce mortality.
---
Dec. 21 – President-elect Joe Biden is vaccinated on live TV
---
Dec. 22 – Moderna vaccine arrives
In a dose of holiday good news, UC Davis Medical Center receives its initial allotment of 4,300 doses of the Moderna vaccine. Data from clinical trials suggests 94% efficacy.
---
Dec. 29 – The nation's first known case of the U.K. variant is announced in Colorado
---
January
Jan. 3 – The U.S. sets another pandemic TSA screening record, screening 1.3 million people
---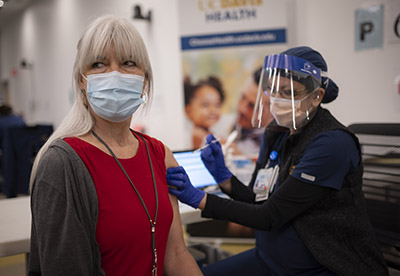 Jan. 12 – UC Davis Health launches COVID-19 patient vaccinations

The initial group is identified by medical records as the most vulnerable of patients: those 75 and older with underlying conditions.
---
Jan. 13 – Peer review confirms vaccine effectiveness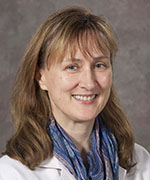 The Pfizer/BioNTech vaccine being administered worldwide is 95% effective, according to a study in the New England Journal of Medicine that includes clinical trial data from the UC Davis School of Medicine. The published findings confirm data previously released for emergency use authorization. UC Davis was the only academic medical center on the West Coast to participate in the trial.
---
Jan. 15 – Global deaths reach 2 million
---
Jan. 19 – The U.S. death toll surpasses 400,000
---
Jan. 25 – California lifts its regional stay-at-home order
---
Jan. 28 – The U.S. identifies its first cases of the South Africa virus variant
Multiple COVID-19 clinical trials underway locally
The UC Davis School of Medicine announces it is actively recruiting for more than a dozen clinical trials in the search for new COVID-19 treatments, in focus areas including stromal cells, natural killer cells, cardiosphere-derived cells, monoclonal antibodies, antiviral protease inhibitor, remdesivir, molnupiravir, AT-527, and adaptive platform trials.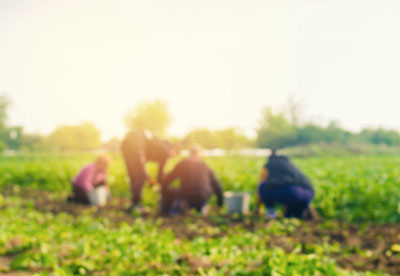 Farmworker safety initiative
To help reduce the pandemic's impacts on California's 800,000 farmworkers — essential workers who often live and work in close quarters — UC Davis launches the COVID-19 Statewide Agriculture and Farmworker Education training and safety program. The $3 million, state-funded project is led by experts at the multidisciplinary UC Davis Western Center for Agricultural Health and Safety, which includes investigators from the School of Medicine, School of Veterinary Medicine and other university units.
---
February
Feb. 2 – Shielding a city from the virus
The Healthy Davis Together COVID-prevention project is the most ambitious of its type in the country, the New York Times notes in a feature article, and could be a model for other universities. The joint City of Davis-UC Davis initiative — which provides free asymptomatic testing to anyone who lives or works in Davis and their immediate households — aims to facilitate a coordinated and gradual return while preventing the spread of COVID-19 in the Davis community.
---
Feb. 3 – More people in America have received their first vaccine dose than have been infected
---
Feb. 6 – Helping to reach vulnerable communities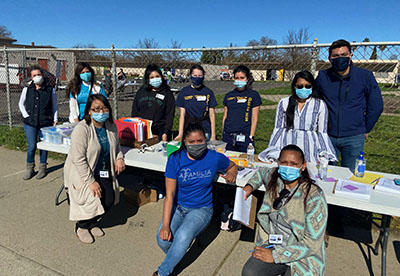 UC Davis Health partners on the first of many planned community-based COVID-19 vaccination clinics designed to reach vulnerable populations. Over the coming months, a growing number of COVID-19 vaccination initiatives involve partnerships between UC Davis Health and community organizations in Yolo and Sacramento counties. In addition to weekly clinics at two Oak Park churches and South Sacramento's La Familia Counseling Center, UC Davis Health faculty, staff and volunteers are also key partners with Dignity Health, Sacramento County, Yolo County, Elica Health, the Mexican Consulate, the Sacramento Fire Department and other organizations in pop-up clinics in parking lots and school auditoriums, and help offer vaccine to people experiencing homelessness in central Sacramento.
---
Feb. 18 – An example of herd immunity
A "CBS This Morning" national story explains how UC Davis Medical Center has reached herd immunity among staff through vaccinations. With more than 90% of staff receiving at least their first dose of the coronavirus vaccine, the hospital sees a 95% decline in employees sick with COVID-19.
---
Feb. 21 – As U.S. deaths top 500,000, UC Davis Health delivers more than 50,000 COVID-19 vaccines to combat the virus. The U.S. makes up less than 5% of the world's population, but accounts for about 20% of its known coronavirus-related deaths.
---
Feb. 27 – The FDA authorizes Johnson & Johnson's COVID-19 vaccine for emergency use
---
March
March 1 – News media report that former President Donald Trump and the first lady quietly received COVID-19 vaccinations at The White House in January. Later in March he makes public statements backing the vaccines' safety.
---
March 1 – Testing a possible new COVID-19 therapy
A multidisciplinary team led by UC Davis Health orthopaedic surgery researchers receives funding to test a new class of anti-inflammatory, antiviral compound as a COVID-19 treatment. It's thought that delivery via inhaler could help the experimental compound "catch" the virus in the lungs before it spreads and multiplies to cause ARDS and fibrosis damage.
---
April
April 8 – Booster shot trial targets variants
UC Davis Health begins recruiting for a clinical trial to answer questions being asked around the world regarding COVID-19 immunization. Does a combination of different vaccines or a booster shot help us make more antibodies against COVID-19? And does a modified version of an existing vaccine help us generate a more robust immune response against the new South African virus variant?