Residency Program - Case of the Month
January 2013 - Presented by Brian Gorospe, M.D.
Answer:
Epithelioid gastrointestinal tumor, cytokeratin positive
Histologic description of biopsy:
Figure 6
Endoscopic biopsy of the gastric mass (Figure 6) included fragments of benign gastric mucosa with ulceration, as well as a small fragment of a poorly differentiated epithelioid neoplasm. The neoplasm contained nested cells of predominantly epitheliod cells with cytoplasmic clearing, moderately atypical nuclei, and with a very high mitotic count. The tumor cells displayed positive staining for CD117 and dot-like cytoplasmic staining for cytokeratin (AE1/AE3). Stains for CD45, S-100 and desmin were negative. The differential diagnosis for the gastric biopsy included a gastrointestinal tumor (GIST), although the cytokeratin positivity was considered rather unusual for this tumor.
Subsequent resection specimen:
Figure 7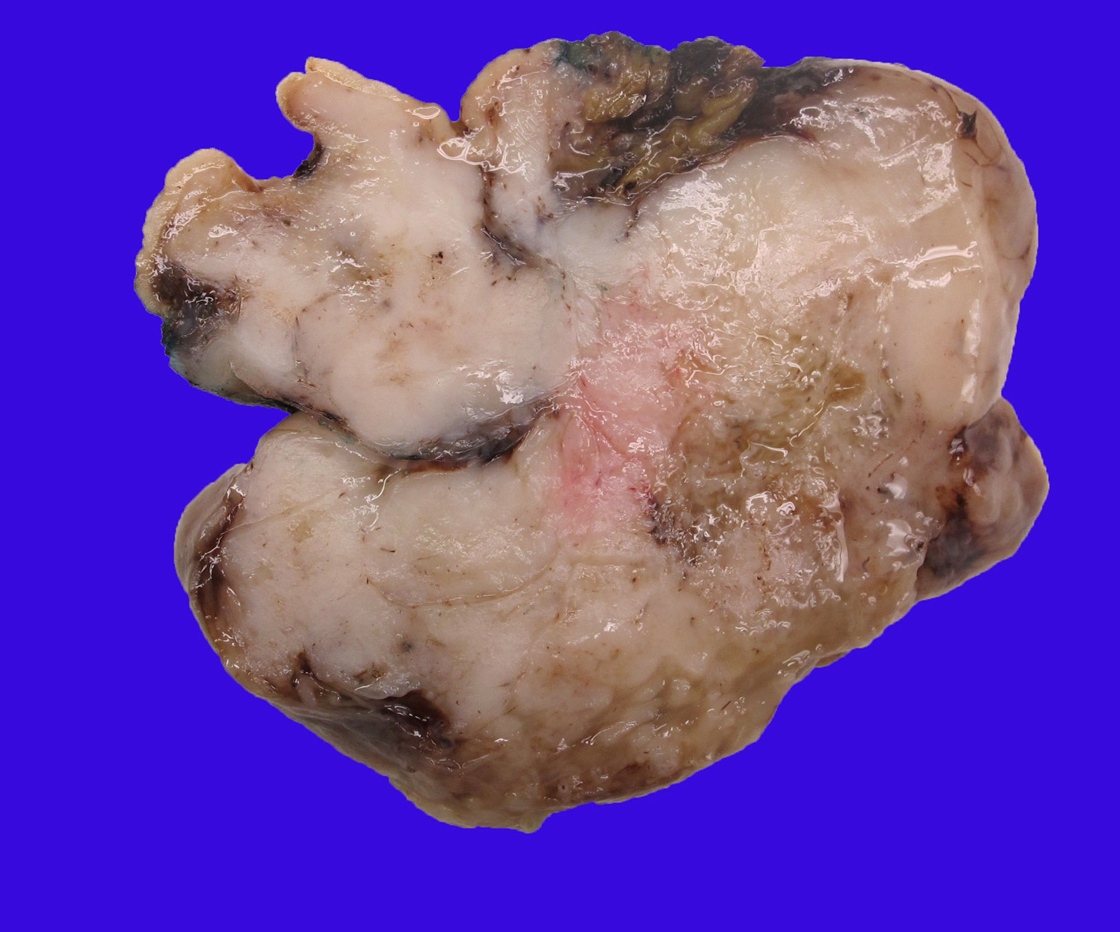 The subsequent resection specimen (Figure 6) was a lobulated mass from within the stomach wall. The mass bulged into the gastric lumen, infiltrating into and ulcerating the mucosal surface. Sectioning revealed tan-white firm cut surfaces with focal hemorrhage. Microscopically, the tumor identical to that described in the biopsy above. The tumor cells of the resection specimen were positive for CD34, CD117 and SDHB; and negative for S-100 and desmin, most consistent with an epithelioid GIST.
Discussion:
GISTs are the most common mesenchymal neoplasms of the digestive tract and may occur in the entire length of digestive tract. Histologically they can present with cellular spindle cell, epithelioid, mixed (spindle/eptheliod), or occasionally pleomorphic morphology. GISTs with epithelioid appearance (as in the case above) may have either a solid or myxoid pattern, and occasionally show a parganglioma or carcinoid-like compartmental pattern. 1 Typically, GISTs have CD117 positive, CD34 positive, and cytokeratin negative immunphenotypes.
The described case illustrates the importance of recognizing that on rare occasion, GISTs can express cytokeratins. Though uncommon, rare cases of cytokeratin positive GISTs have been described, causing diagnostic difficulty.2,3,4 Awareness of this pitfall, especially when dealing with small biopsies, is important to avoid misdiagnosis of gastric tumors with epithelioid morphology. Though a cytokeratin-positive ulcerative mass of the gastric wall is more commonly associated with gastric adenocarcinoma, a cytokeratin positive GIST should be considered in the differential when presented with histology such as seen in the case above, or in cases with poorly differentiated morphology.
References:
Miettinen M, Lasota J. Gastrointestinal stromal tumors- definition, clinical, histological, immunohistochemical, and molecular genetic features and differential diagnosis. Virchows Arch (2001) 438:1-12.

Miettinen M, Furlong M, Sarloma-Rikala M, et al. Gastrointestinal stromal tumors, intramural leiomyomas, and leimyosarcomas in the rectum and anus: a clinicopathologic, immunohistochemical, and molecular study of 144 cases. Am J Surg Pathol. 2001;25:1121-1133.

Nga ME, Wong AS, Wee A, et al. Cytokeratin expression in gastrointestinal stromal tumors: a word of caution. Histopathology. 2002;4-:480-481.

Rossi G, Sartori G, Valli R, et al. The value of c-kit mutation analysis in a cytokeratin positive gastrointestinal stromal tumours. J Clin Pathol. 2005;58:991-993.