Cytotechnology Program
The University of California, Davis Health is an affiliate training site for the University of Nebraska Medical Center (UNMC) College of Allied Health Professions, Cytotechnology Training Program. Training is a 12-month post-baccalaureate certificate program and will take place at UCDMC in Sacramento, beginning in August.
Cytotechnology is a profession that began in the 1940's after Dr. George Papanicolaou developed a procedure for early diagnosis of cancer of the cervix. As the value of the test, now known as the Pap smear, became widely accepted the demand for specially trained personnel to read the Pap smears grew and the career of cytotechnology emerged. This field has expanded greatly and now includes the examination of other cell types collected from various tissue and organ sites.

Cytotechnologists are laboratory professionals who specialize in the microscopic study of cells. In any single slide there may be more than 100,000 cells so it is imperative that cytotechnologists be patient, detail oriented, and accurate when performing their job duties. It is important that a cytotechnologist is a good observer, has excellent decision making skills, enjoys working alone but also enjoys working as a team member. Cytotechnologists usually work independently examining slides under the microscope but also frequently assist in the collection of patient samples, prepare slides, and consult with health professionals.
Mission Statement
The cytotechnology blended learning program is dedicated to providing trainees with the knowledge and skills required to excel as a cytotechnologist through a quality educational environment focusing on a strong curriculum, innovation, and collaboration.
The goals of the Cytotechnology Training Program are to:
Provide trainees with the best quality education in partnership with UNMC
Promote safety and quality standards
Promote expanded roles and contributions of cytotechnologists to the healthcare team
Promote professionalism, honesty, integrity, and compassion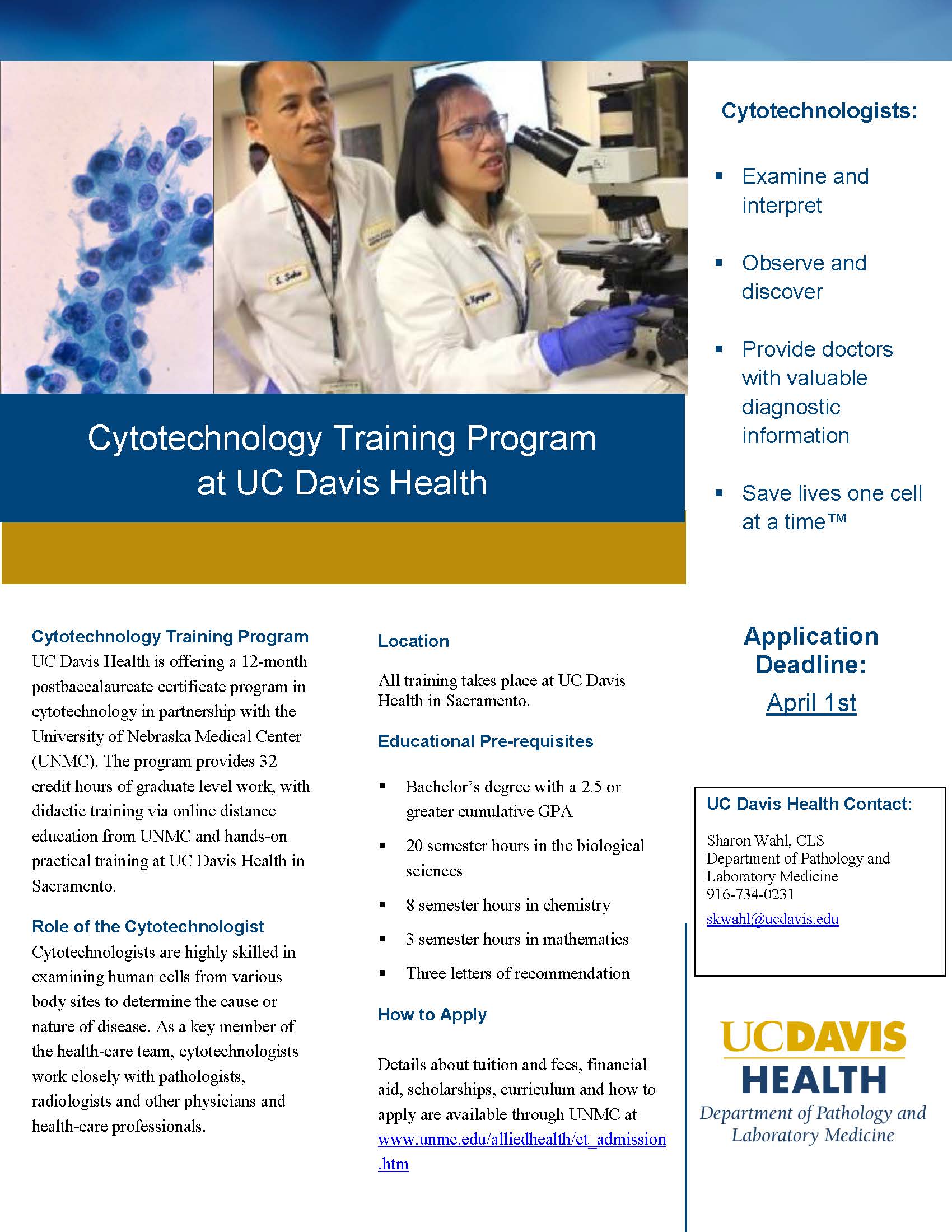 For further information, please review information on the University of Nebraska Medical Center (UNMC) College of Allied Health Professions, Cytotechnology Training Program website. http://www.unmc.edu/alliedhealth/education/cyto/index.html
Sacramento contact:
Sharon Wahl M.Ed, CLS
University of California, Davis Health
Department of Pathology and Laboratory Medicine
916-734-0231
skwahl@ucdavis.edu