Message from the Interim Chair, Kuang-Yu Jen, M.D., Ph.D.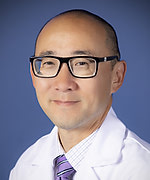 Thank you for visiting the UC Davis Department of Pathology and Laboratory Medicine web page. I am honored and excited to assume the role of Interim Chair as our immediate past Chair, Dr. Lydia Howell, retired as of June 30, 2023. We had a wonderful celebration of her 37-year faculty career at UC Davis, of which the last 13 years was in the role of department Chair. It was amazing to see so many members of the UC Davis Health community come together to celebrate Dr. Howell's illustrious career. Under Dr. Howell's leadership and guidance, our department has grown and flourished to become nationally recognized in all aspects of academic medicine, that being the triad of clinical service, research, and education.
During Dr. Howell's tenure as the Chair, our department grew significantly from approximately 30 faculty members in 2010 to nearly 50 members currently. Under her watch, we were one of the first departments of our size to reorganize into subspecialty teams in 2012 from a generalist surgical pathology service. Our NIH funding has grown from $2.5 million in 2010 to $6.4 million in 2022, catapulting our Blue Ridge ranking from 56 to 37. For 2023, our NIH funding stands at $7.2 million, which may result in an even higher Blue Ridge ranking when the data is released later this year. On the education front, Dr. Howell was instrumental in initiating and developing our informatics fellowship, speaking of her vision to anticipate future directions for pathology and pathologists. She also implemented cytotechnologist and pathologist assistant training within our department and strengthened our Clinical Laboratory Scientist (CLS) training program, which has a strong history of more than 80 years. Furthermore, Dr. Howell expanded our medical school electives, and our residency program was recently approved to increase total residents from 12 to 16. She (as well as all faculty in our department) is particularly proud that our graduating residents are accepted into prestigious fellowships in a wide variety of subspecialties.
As the Interim Chair, I hope to continue Dr. Howell's dedication in fostering a supportive environment within our department to bolster our role in providing excellent clinical care and advancing health sciences through both research and education. We will actively promote a culture of respect, collaboration, and continuous learning, valuing the contributions of every member of our team.
Looking ahead, our School of Medicine leadership is well underway with recruiting the next permanent Chair of our department. We are all very excited about this opportunity to find a strong and dedicated leader to continue Dr. Howell's visionary leadership and to propel our department forward in the rapidly changing landscape of Pathology and Laboratory Medicine.
Sincerely,
Kuang-Yu Jen, M.D., Ph.D.
Professor and Interim Chair
Department of Pathology and Laboratory Medicine