May 2021 – Presented by Dr. Jasper X. Zheng (Mentored by Dr. Chihong Heidi Zhou)

---
Q: Eleven year old young girl, accompanied by her parents, arrived at the otolaryngology clinic and seeking consultation regarding her right side slow growing facial mass. It was first noticed three months ago during an orthodontist visit. Patient denies pain, tenderness, or any other constitutional symptoms.
MRI was performed and it demonstrated a well circumscribed mass measuring 1.5 x 1.8 x 2.9cm located within the anterior aspect of the superficial right parotid gland. It is noted to contain fluid, peripheral nodular component, and internal septations.
FNA of the right parotid mass was also performed and it revealed the presence of proliferating epithelial cells with small round centrally located nuclei and moderate amount of vacuolated cytoplasm (figure 1-2).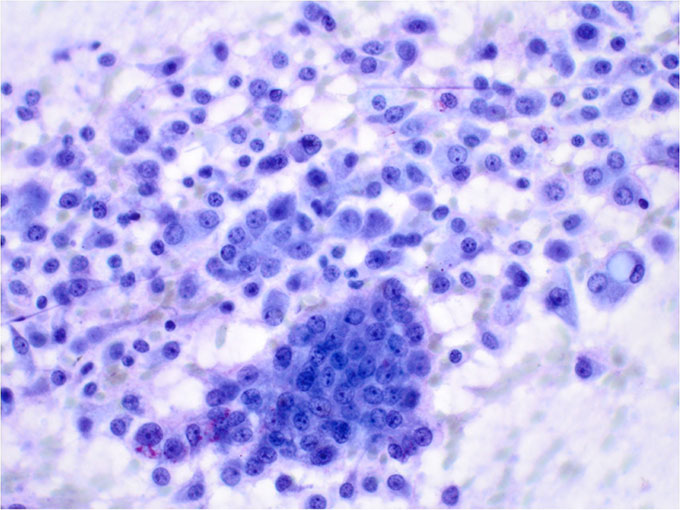 Figure 1

Figure 2

Patient soon had right side superficial parotidectomy.
Microscopic examination of the parotid mass revealed the following:

Figure 3

Figure 4
Immunohistochemical staining revealed:
positive staining for mammaglobin,
focal positive staining for S-100,
negative staining for Dog-1.
What is the diagnosis?
Choose one answer and submit.
Cytogenetic analysis through Fluorescence in situ hybridization (FISH) was performed on the specimen. With ETV6 break apart probe, the presence of ETV6-NTRK3 gene fusion was detected.

Figure 5
The correct answer is:
C.) Mammary analogue secretory carcinoma