Donald M. Bers receives prestigious award for mentoring next generation of heart researchers
(SACRAMENTO)
Distinguished Professor Donald M. Bers is the recipient of this year's Eric N. Olson Mentorship Award from the International Society for Heart Research North American Section. The award was presented at the ISHR-NAS meeting in Madison, Wisconsin in June. Bers is chair of the Department of Pharmacology and the Joseph Silva Endowed Chair for Cardiovascular Research at the UC Davis School of Medicine.
The distinguished award recognizes investigators in the field of heart research with a clear dedication to mentorship and support for trainees and young scientists.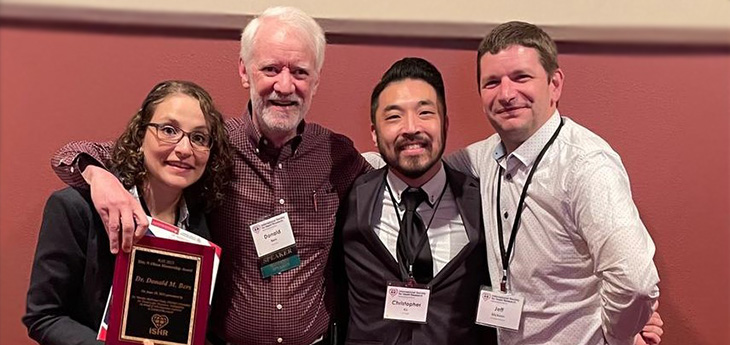 "It was a great honor to receive this award. I was truly humbled by the kind words spoken by the award presenters and the group of my trainees present during the ceremony," Bers said. "Mentoring is central to the progress of science. I have had the pleasure of working with a large and very diverse group of mentees over the years — from 34 countries — as undergrad lab volunteers, graduate students, postdocs and faculty. Seeing them grow, succeed, and find joy in their lives provides me a most valuable reward."
Bers was selected from a prestigious pool of nominees. His personalized mentoring style is founded upon a philosophy of generosity. It was a major highlight in the nomination package prepared by more than 10 current and former mentees from around the world and at different stages of their careers.
Bers has mentored more than 120 doctoral students, postdocs and junior faculty, and a similar number of undergraduate students and specialists in his lab. His mentees have gone on to highly successful careers in academia, industry, grant administration, regulatory offices, publishing and health care.
In nominating Bers, his mentees noted his generosity with time and resources, including carving out time to meet individually and provide guidance on research design. They shared that he regularly fostered ideas in early writing drafts, revised manuscripts and grant proposals, gave feedback on pilot experiments, and even helped troubleshoot technical experimental issues and lab logistics. They also noted that Bers provided full support for mentees to pursue individual interests, stating, "Dr. Bers leaves us room to grow."
His team of scientists and trainees has always consisted of a diverse group of international researchers, many from under-represented or under-resourced backgrounds. Despite the gender gap in scientific fields, nearly half of Bers' mentees have been female scientists.
Bers's scientific work has focused on calcium and sodium transport, signaling and electrophysiology in the heart in health and disease. His seminal paper in Nature in 2002, "Cardiac excitation–contraction coupling," and his book, "Excitation-Contraction Coupling and Cardiac Contractile Force," have served as key reference points for heart researchers and cardiologists interested in molecular mechanisms for decades. He is the author of more than 540 papers (yielding more than 70,000 total citations) and has received continuous funding from the National Institutes of Health for over 40 years.