Our Accreditation
Comprehensive Education Institute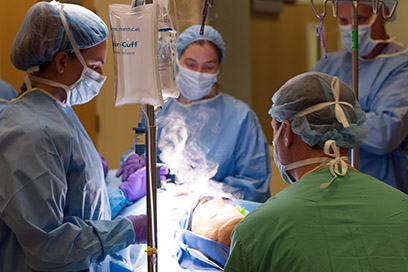 The UC Davis Center for Simulation and Education Enhancement is accredited as a Level I Comprehensive Education Institute through the American College of Surgeons (ACS) — an honor bestowed on only about 90 simulation centers worldwide.
Our Center has been reaccredited multiple times, engaging in a rigorous and voluntary peer-review process with each accreditation cycle. Our current five-year accreditation term is through December 31, 2023.
The five-year reaccreditation achievement acknowledges the Center's commitment to serving a wide range of both internal and external learners, developing original curricula, offering faculty development courses, assessing courses' impact on patient outcomes and safety, and engaging in research that advances the science of simulation-based education.
The ACS accreditation program was established in 2005 to promote patient safety and address competencies that all surgeons and health care professionals need in order to acquire and maintain their knowledge and skills. Institutions must demonstrate compliance with more than 30 criteria in four ACS standards: Learners and Scope of the Educational Programs; Curriculum Development, Delivery of Effective Education and Assessment; Administration, Management and Governance; and Advancement of the Field.
Surgical Fellowship Program
Our Fellowship Program is also accredited by the ACS through December 31, 2023. The Fellowship Program of the Consortium of ACS Accredited Education Institutes was established to improve the quality of surgical care by developing future leaders and scholars in the area of surgical education, simulation and training.
SAGES Certified Test Center
We're also recognized a certified test center for the Society of American Gastrointestinal and Endoscopic Surgeons (SAGES) Fundamentals of Endoscopic Surgery™ (FES) program, and the SAGES Fundamentals of Laparoscopic Surgery (FLS®) program. These tests are a joint educational offering of SAGES and ACS.
Accreditation News
Simulation center earns reaccreditation from American College of Surgeons (2016)

UC Davis Health simulation center recognized by the American College of Surgeons (2011)