In-Situ Team Training
We believe that conducting team trainings with actual members of the health care team in their everyday environment is a vital teaching tool. In-situ training allows team members to practice their skills in the patient care setting, surrounded by familiar equipment and resources.
Our team regularly supports UC Davis Health hospital ward "Code Blue" team trainings, emergency and surgery trauma codes, pediatric resuscitation scenarios in the emergency departments, PICU and NICU, complication and "Code-C" scenarios in the OB units, stroke and sepsis protocol training, and crisis management in the pediatric operating rooms.
Encouraging Teamwork
During each session, the team's interaction and communication is observed and debriefed. When requested, cases are recorded for further review and instructor feedback. Highlighting the positive teamwork that occurred, while outlining where improvements are needed, provides the learner with a well-rounded perspective and knowledge they can use should they be faced with a similar situation in the future.
Improving Quality and Safety
Safe learning by unbiased trainers and anonymous data gathering are available to assist in patient safety and quality improvement initiatives.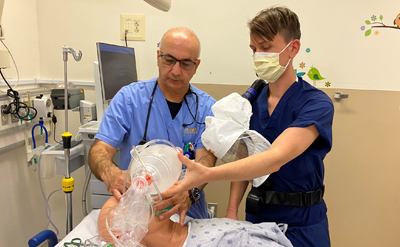 For example, the Trauma Resuscitation Training Program at UC Davis Medical Center relies on in-situ training to help maintain the hospital's status as a Level 1 trauma center. Our robust continuing quality improvement process includes providing cases for evaluation to a team of simulationists from surgery, nursing and the emergency department. We adapt these cases into simulation exercises that are held twice a month in the hospital.
The resuscitation takes place in the emergency department with real teams in attendance (including attendings, fellows, residents, students, nurses, pharmacists, respiratory therapists and radiology technicians). Real-time debriefing and tape-review are provided to improve patient outcomes and offer professional development opportunities.