UC Davis Health is leveraging the next generation in nuclear medicine treatments to attack cancers in ways that traditional options cannot by themselves. The new approach, called "theranostics," is revolutionizing cancer care by combining both diagnostics and therapeutics in delivering targeted radiotherapy. UC Davis Health is planning a new clinic dedi- cated to the innovative treatment.
Typically injected into the patient's bloodstream, the therapy radiopharmaceuticals travel and deliver radiation directly to a tumor site, destroying cancerous cells while leaving healthy tissue alone.
As part of its growing commitment to advancing radioactive targeted therapy, the UC Davis School of Medicine Department of Radiology appointed Cameron Foster, director of the new UC Davis theranostics division and professor of clinical nuclear medicine, to oversee the construction of a new theranostics clinic.
Transforming nuclear medicine
"We are moving away from nuclear medicine being used largely for imaging," said Foster. "We're taking advantage of novel compounds that both pinpoint and target tumors, allowing for removal of diseased tissue with limited side effects while aiming to minimize the chances of the cancer returning."
Radiopharmaceuticals deliver targeted amounts of the required therapeutic agents. This burgeoning field of theranostics enables nuclear medicine doctors to progress beyond merely interpreting diagnostic scans and expand into involvement in treating patients. Consequently, UC Davis has begun to rethink the environment for patients being treated with nuclear medicine.
"There is a lot more patient interaction with theranostics," said Foster. "The same doctor who interpreted patients' scans identifying their active cancer may now also be the one treating them. That's exciting for patients because they are getting acute care from a nuclear medicine physician who is intimately aware of the characteristics of their tumor and will monitor it carefully while using targeted radiotherapy to treat."
The new theranostics clinic will reflect the evolving relationship between patient and doctor. Some features of the new clinic now under construction include consultation rooms to help physicians share images with patients and go over nuclear medicine treatment options.
The facility also will include space dedicated to supporting radiopharmaceutical therapy research and patients participating in nuclear medicine therapeutic clinical trials. "Often we see patients who have exhausted all other options," said Foster. "They are at a very expensive stage in their disease and we want to give them the best possible chance of survival while managing their cancer in the most efficient way."
The theranostics clinic will centralize care for patients who receive their treatment and have their tumor tracked at the same location by the same medical staff who often become like family to them. "It's a centralized brain trust where friendly and familiar faces detect, treat and track tumors all in one location," said Morris. "This one-stop shop for our patients is a real game changer for medicine, and we're proud to be at the forefront."
Pancreatic cancer patients already benefiting from theranostics at UC Davis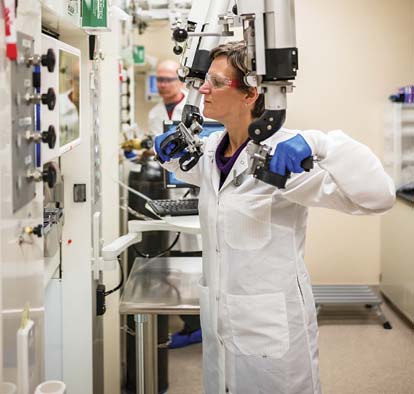 Theranostics is being pioneered at UC Davis to save the lives of pancreatic cancer patients. As part of a $5 million grant provided by the Pancreatic Cancer Collective, radioactive isotope therapy was used to treat four pancreatic cancer patients this year as part of a new clinical trial. The Pancreatic Cancer Collective is an initiative of Lustgarten Foundation and Stand Up To Cancer.
Professor of Biomedical Engineering and Hematology/Oncology Julie Sutcliffe is leading the trial with Richard Bold, physician-in-chief of the UC Davis Comprehensive Cancer Center, as co-leader. The early-stage clinical trial will test the safety and efficacy of what is called peptide receptor radionuclide therapy or PRRT, which delivers radioactive isotopes directly into tumors to attack and kill the malignancy.