Addressing health disparities is key to improving the odds of Black women surviving breast cancer who have a slightly lower risk of getting breast cancer but are 40% more likely to die of the disease than white women in the United States.
Black women are often diagnosed with more aggressive breast tumors at younger ages, and screening guidelines based on conventional understanding of breast cancer in white women may fail to achieve the best outcomes in diverse populations.
"It's important to not only acknowledge health disparities but to do something about it," said Samrrah Raouf, who's coordinating the WISDOM Study (Women Informed to Screen Depending on Measures of Risk), one of several research studies the cancer center is conducting aimed at early detection of cancer.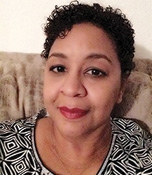 UC Davis Comprehensive Cancer Center researchers are broadening the WISDOM Study this year to recruit women across diverse backgrounds and ethnicities to better identify those at highest risk in diverse communities.
"When I think about people who die from breast cancer as opposed to those who survive it, I think of Black women," said Velvia Gullatt, a WISDOM Study participant who understands the importance of diversity in research. "The more information researchers have about our lives, the more they can help us. If we don't participate, opportunities for change are diminished and we will continue to be left out of life-saving treatments at early stages."
The goal, said UC Davis study investigator Alexander Borowsky, is to recruit at least 1,500 women from diverse ethnicities to participate in the WISDOM Study.
The study is spearheaded by UC physicians and scientists as part of the Athena Breast Health Network. UC Davis is one of five UC medical centers to collaborate in the national study intent on answering the question: What is the best mammography screening schedule for women?
"The WISDOM Study tests the concept that the best strategy for breast cancer screening and prevention may not be one-size-fits-all, especially when it comes to women of color," said Borowsky. "The study will help us personalize effective screening to improve cancer detection and treatment, which is particularly important for women who have been historically underrepresented or subject to health disparities."
Benefits of participating in the WISDOM Study
All participants in the study will have their breast cancer risk assessed, and those with high risk will be promptly told. Participants who provide a sample for genetic analysis will receive a copy of their gene report. Women in this group will also receive a personalized screening plan based on their unique risk factors for breast cancer. Women shown to have a comparatively high risk will receive free access to a breast health specialist who will provide guidance and answer questions. Genetic results may also offer useful information to blood relatives.