This issue of Synthesis reaches you at an incredibly exciting time. Once again, UC Davis Comprehensive Cancer Center was recognized by the National Cancer Institute (NCI) as one of the nation's most elite cancer centers. We were pleased to have been awarded a $17.5 million Cancer Center Support Grant renewal. Simultaneously, our "comprehensive cancer center" designation was also renewed, reflecting our center's breadth and depth in research, clinical care, cancer control and population sciences.
UC Davis Comprehensive Cancer Center is one of only 51 NCI-designated comprehensive cancer centers in the country and the only one outside San Francisco, serving the Bay Area north to Portland and communities east to Salt Lake City. We serve an expansive and highly diverse catchment area. Therefore, we have developed impactful programs tailored to the unique needs of our population, giving special attention to the underserved who, for too long, have carried an inordinate share of the cancer burden.
In this issue, you will learn about a new research study to reduce cancer disparities through EXPLORER, the world's first total-body PET scanner. Study volunteers are "paying it forward" by contributing to a critical database that will help others fighting cancer from the same race and ancestral background.
We are particularly proud of our researchers, scientists, and clinicians who have worked in the spirit of collaboration and team science to jointly develop and translate scientific knowledge from the laboratory to the clinic and into the community in a bidirectional manner.
We describe our high-impact clinical trials that remain open despite the pandemic. We also report on stem cell transplants now available on an outpatient basis as well as new surgical and non-surgical treatments for esophageal cancer patients and learn about a high-definition linear accelerator that targets tumors quickly and our new tool that lights up tumors, so they can be removed with high-tech precision.
More than 100,000 patient encounters occur at the cancer center each year. We work on providing the most personalized and advanced care to each individual. In this issue, we highlight how our state-of-the-art services in supportive oncology are evolving to meet the mental and physical needs of cancer patients. You will read about how you can partner with us to grow these services to include on-site pain management therapies, including acupuncture and physical therapy, as well as psycho-social resources to support those battling cancer in their recovery and survivorship.
We also highlight the innovative technology revolutionizing the way we diagnose and treat cancer with precision approaches. There is no longer a "one size fits all" approach in cancer care. You will see how we have taken an individualized approach to addressing the cancer problem: one patient at a time.
I hope you will be inspired by stories of courage exhibited by our cancer patients, some of whom are doctors who decided to pursue their cancer care here at UC Davis Comprehensive Cancer Center. They are among the many patients we saw this year who didn't let COVID-19 prevent them from getting the cancer care they needed.
Thank you for celebrating our NCI re-designation with us. We look to your continued support of our efforts to bring the best of world class cancer research, clinical care, education, and community outreach to the communities we have pledged to serve.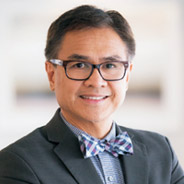 Primo "Lucky" Lara, Jr., M.D.
Director, UC Davis Comprehensive Cancer Center