New research study aims to reduce cancer disparities
Multicultural campaign encourages participation from diverse communities.
To understand how cancer affects people, researchers at the UC Davis Comprehensive Cancer Center are evaluating healthy people with their latest imaging technology, EXPLORER, which is the world's first total-body PET scanner.
The EXPLORER scanner offers a whole new way of looking at the human body and has already shown itself to be far more powerful than the previous generation of PET scanners. The purpose of the study is to better understand the differences between the biology of healthy people and those with cancer.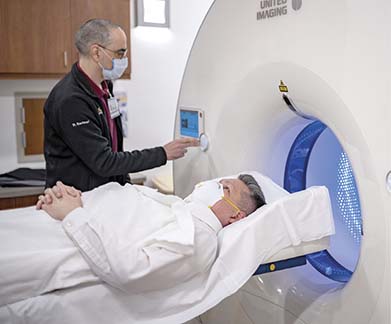 However, most of the volunteers for this study have been homogenous in their backgrounds and have not reflected the diversity of the population of cancer patients in our local community.
A new study is hoping to correct this imbalance because it can lead to errors in the conclusions and that can get in the way of addressing the very real and significant disparities in the burdens of cancer that exist between groups with different racial and ethnic backgrounds.
The cancer center seeks to recruit 20 people from the Sacramento region from African American, Latino and Asian American populations to participate in the EXPLORER research study.
Members of the UC Davis Health Community Advisory Committee (CAB) toured the EXPLORER Molecular Imaging Center recently and shared their experiences through video interviews in which they explained why they feel the study is critically important.
"You'll have answers and better information, which hopefully means better cancer outcomes for African Americans in the future," said Shauntay Davis-Patterson, a UC Davis CAB member who also directs the state's Comprehensive Cancer Control Plan.
EXPLORER can capture incredibly high-quality images, as well as 3D movies showing how radiotracers behave across the entire human body, something that no other scanner can do. These images and movies provide the clearest images to date revealing in real time how internal body systems interact.
"While participating in the study doesn't benefit the health of the individual directly, study volunteers are 'paying it forward' by contributing to a critical database that will help others fighting cancer from the same race and ancestral background," said Moon Chen, associate director for the cancer center's Office of Community Outreach and Engagement, and project lead for the new study. "The study is expected to create a baseline for distinguishing what might be 'normal or healthy' in a scan, versus something that is 'abnormal' and should be examined further."
More than 1,000 research and clinical cases have been completed since the EXPLORER opened to patients in 2019. Now, a National Cancer Institute supplemental grant is helping to bring benefits of EXPLORER to racial and ethnic minorities in the region served by the cancer center.
"We live in a very diverse community and region, and the more diverse our participants can be in clinical research, the more treatment protocols are going to be developed and be more relevant to a whole variety of communities," said Debra Oto-Kent, a UC Davis CAB member and executive director of the Health Education Council, a nonprofit organization committed to promoting health and preventing chronic disease in underserved communities.
PET scanners use short-lived radioactive tracers to illuminate how organs and tissues function and can scan only 20-centimeter segments at a time. EXPLORER produces much higher quality images than other PET scanners and can image the entire body at once, which leads to more accurate diagnosis.
Jose Miguel Suarez, a CAB member and clinical director for the Health and Life Organization (HALO), Inc., Sacramento Community Clinics, said, "It's an opportunity for all communities, from different races, languages and cultures, to participate and gain access to the EXPLORER."