Appointments and Referrals
Returning Patient Appointments
If you are a returning patient and need to schedule an appointment, please call 916-734-2222 and choose option 1; or call toll-free 800-770-6930, Monday-Friday, 8 a.m. to 5 p.m.
Weekend and evening video visit appointments are available via MyUCDavisHealth on the web or on the mobile app. Times and availability vary by physician.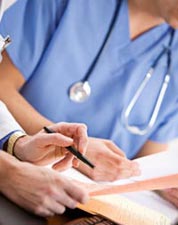 Patient Appointments
If you have a primary care physician and need specialty care for a specific medical problem, your physician can refer you to the appropriate specialist.
Be sure to check with your health plan regarding the approval process.
To inquire about self-referrals or selecting a UC Davis doctor, call the Consumer Resource Center at 1-800-2-UC DAVIS (1-800-282-3284). Staff members are available to assist you Monday through Friday, 8 a.m. to 5 p.m.
Physician-to-Physician Referrals and Consultations
At UC Davis Health, referring physicians and their patients have access to a full array of clinical services and educational resources founded on the latest medical knowledge and leading-edge research. Comprised of the UC Davis School of Medicine, its affiliated hospital and outpatient clinics (UC Davis Medical Center), and its physician group practice (UC Davis Medical Group), the health system offers comprehensive clinical care, education and medical research in an academic setting.
Call the Physician Referral Center at 1-800-4-UCDAVIS and choose option #2, Monday through Friday, 8 a.m. to 5 p.m.
Outpatient referral coordination
If you need to refer your patient to one of our specialty services, we will coordinate your referral request with the appropriate specialty service and provide you with information as to the status and outcome of your referral request.
Physician-to-physician phone consultations
If you need to discuss a complex or unusual outpatient case, we can facilitate communication between you and one of our specialists. Should your patient require a referral to one of our specialty services following your consultation, please contact our staff, and we will initiate the referral process.