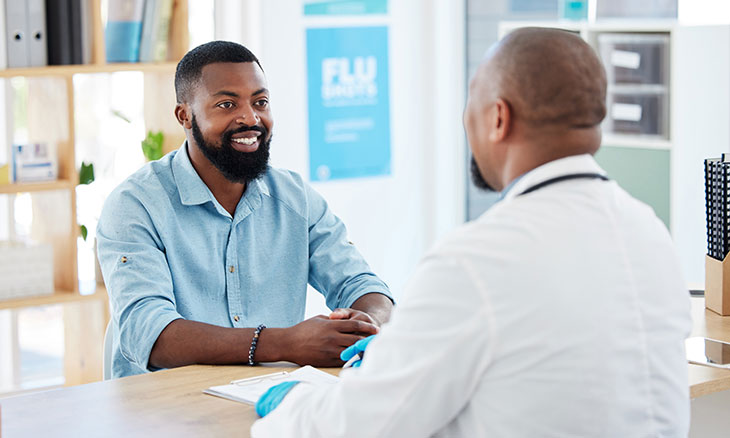 You may not be surprised to learn that many men put off seeing their health care provider, even if they have a health concern.
A 2019 survey from the Cleveland Clinic found that 66% of respondents said they avoid going to the doctor as long as they can. Another 37% said they don't tell their doctor certain information, specifically because they weren't ready to deal with the potential diagnosis if they told the truth.
Read more: Why so many men avoid going to the doctor
What some men may not realize is that the earlier their health care team can diagnose and treat a problem, the better the outcome is likely to be.
So, here's a quick list of health screenings that all men should consider.
Learn about Life's Essential 8 and how this checklist can help you reach good health
High blood pressure and heart health
High blood pressure is an important one to keep tabs on because it can cause many other health issues. Men with normal blood pressure (120/80 or below) should get their blood pressure tested at least every two years. Men whose their blood pressure is elevated or who have an increased risk for heart disease and stroke (such as from smoking or diabetes) should get tested every year.
For years, heart disease has been the leading cause of death in men. There are things you can do to help prevent this, such as eating right and maintaining a healthy weight. Your health care provider should check your cholesterol and blood sugar, as well as discuss a healthy weight for you.
Learn about heart health screenings and why they're important
Read more from Cultivating Health: 5 ways to keep your heart healthy and happy
Read more from Cultivating Health: 7 steps you can take to help prevent heart disease
Diabetes
Diabetes is a condition that affects more than 37 million people in the U.S., according to the Center for Disease Control and Prevention (CDC). Men are more like to get type 2 diabetes at a lower weight than women. This is because men store more fat in their bellies, which is a known risk factor for type 2 diabetes.
Diabetes puts men at increased risk for heart disease, stroke, vision loss and other health issues. Men with diabetes are also three times more likely to have erectile dysfunction (ED). Additionally, diabetes can lead to nerve damage which can cause other problems for men, such as an overactive bladder and urinary tract infections (UTIs).
Talk to your health care provider about blood test options to diagnose prediabetes. If test results are normal, testing should be repeated at least every three years. For those with diabetes risk factors, testing can happen at any age. Testing should begin at age 35 for those who are overweight or obese, or age 45 for people who don't have risk factors.
Learn about these simple diabetes tests that your health care provider can have you take
Read more from Cultivating Health: Prediabetes risk factors, testing, and why most don't know they have it
Learn more about diabetes diagnosis and treatment from UC Davis Health
Colonoscopy
Colorectal (colon) cancer is on the rise in people under 50. It's also the leading cause of cancer death among people in the same age group. According to the American Cancer Society, the risk for men of developing colorectal cancer is about 1 in 23.
Testing and early detection can help prevent colon cancer. In May 2021, the U.S. Preventative Services Task Force changed its recommendations for colon cancer screening to begin at age 45. A colonoscopy is a routine procedure that's been done for decades. This allows a health care professional to check the colon for signs of disease. There are also non-invasive ways of screening, such as the at-home test kit Cologuard, in which you test a stool sample.
If a colonoscopy or other screening detects precancerous polyps, the next steps depend on what your physician finds. If the polyps are not precancerous, and there are no symptoms, the patient can return to get checked about every 10 years or less, depending on the number of polys that are found. Polyps that are precancer can be safely removed and can prevent colon cancer.
Read more from Cultivating Health: Colon cancer is on the rise in younger adults – what you should look for
Prostate cancer screening
Prostate cancer is the most common solid cancer in American men, especially older men. It's the second leading cause of cancer death in men. Prostate cancer happens when cancer cells form in the tissue of the prostate, a gland in the male reproductive system.
In the U.S., 1 out of 8 men will be diagnosed with prostate cancer, according to the National Cancer Institute. As with many other health conditions, catching prostate cancer early can be key for effective treatment.
The American Cancer Society has recommendations for prostate cancer early detection. Men at average risk of prostate cancer should begin discussing screening with their health care provider at age 50. Men at "high risk" for prostate cancer should begin that discussion between ages 40 and 45. Those considered "high risk" are Black men or men with a father or brother who's had prostate cancer.
Learn about prostate cancer symptoms, risk factors, diagnosis and treatments from the UC Davis Comprehensive Cancer Center
Mental health
Depression affects about 6 million men each year in the U.S., according to the Mental Health America. One in 5 adults experience a mental health problem each year. Some men don't want to talk about their struggles with mental health. However, many athletes and high-profile male figures have spoken publicly about their anxiety, depression and other mental health challenges.
It's important for men to talk with their health care provider if they are feeling stress, having trouble with substance abuse or are experiencing other mental challenges. The conversations will be kept confidential but will allow for trained professionals to provide the necessary help.