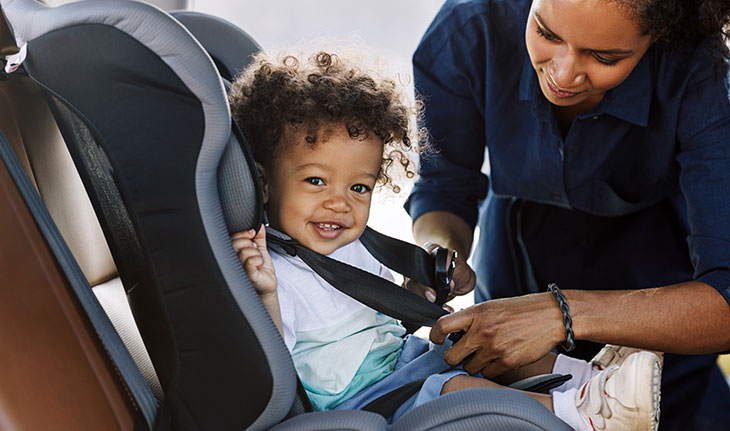 As a parent, you're always concerned about your child's safety. But it can be difficult to know if your child's car seat is the right size and properly installed.
California law sets a few minimum standards for car seats. However, it does not give a detailed outline of when kids should progress from one stage to the next.
The law requires children to ride in the back seat. They must be correctly buckled up in a car seat or booster seat until they are at least 8 years old or 4'9" tall. Children under 2 years old must ride facing the back of the car unless the child weighs 40 pounds or is 40 inches tall or taller.
Learn more about child safety seats from the California Highway Patrol (CHP)
Since children grow at different rates, two children of the same age may not be the same weight and height and might need to ride in different types of car seats. This may lead to confusion among parents and caregivers about when it's time to move to the next level in car seats.
Below are some tips for keeping your child safe at every stage:
1. Don't be in a rush to the next car seat
We celebrate when our children reach a new milestone, such as walking or talking. Reaching the next stage in car seats is not a cause for celebration. Our littlest babies need to be more protected than adults in the car as their bodies are more fragile. Every level up reduces safety just a bit. Use your current car seat until your child reaches the maximum weight or height limit listed on the label.
View the different types of car seats and general guidelines
2. Check your rear-facing car seat recommendations
California law requires that children ride rear facing until at least 2 years old. Once they reach that age, they can continue to ride facing the back until they hit the rear-facing height or weight limit of their car seat. Check the sticker labels on the side of the seat to learn the weight and height limits. As your child grows, you might have to switch from using a smaller carrier and base system car seat to a bigger rear-facing convertible car seat. These typically stay in the car and can hold a larger child. Watch this video to see if your child is ready to move to a forward-facing car seat.
Watch this video to see if your child is ready to move to a booster seat
3. Switching to a forward-facing car seat
After your child reaches the weight or height limit for rear-facing car seats, you will turn the convertible seat facing forward. Or you can use a forward-facing only car seat with a five-point harness and top tether. Your child may need a forward-facing car seat with a harness that has a higher weight or height limit before moving to a booster seat.
4. Booster seats for growing kids
Once your child is too big for the weight or height limits of the forward-facing car seat, use a belt-positioning booster seat with the vehicle lap and shoulder seat belt. Booster seats make sure that the seat belt is coming across your child in the correct spot, putting your child in the safest position.
Learn more about booster seats from Safe Kids
Watch UC Davis Health's injury prevention specialist demonstrate proper car seat safety (KCRA 3 News)
Car seat help and recommendations
You can speak with a UC Davis Health car seat expert or set up a virtual appointment for a one-on-one car seat checkup. You can call Misael Chavarin at 916-719-8315 or email mchavarin@ucdavs.edu.
Check out the UC Davis Trauma Prevention Program's Child Passenger Safety Program
The National Highway Traffic Safety Administration has more information on car seat recommendations for children based on age and size.
You can also enter your child's birthdate and weight in the Safe Kids Ultimate Car Set Guide to see personalized recommendations.