By Piri Ackerman-Barger, PhD, RN, CNE, ANEF, FAAN
Preferred Gender Pronouns: She, Her/Hers
Associate Dean for Health Equity, Diversity and Inclusion (VCDEI/OHEDI)
Office for Health Equity, Diversity, and Inclusion
Director of Faculty Development for Education and Teaching
UC Davis Health
Professor
Program Director for Summer Health Institute for Nurses Exploration and Success
Betty Irene Moore School of Nursing
Despite ongoing efforts to improve healthcare workforce diversity, several racial/ethnic populations continue to be underrepresented in the health professions. Healthcare workforce pipeline programs that engage and link high school students to health professions training have been shown to be effective in enhancing academic performance in underrepresented and disadvantaged students and increase the likelihood that students enroll in health profession schools. To open opportunities for underrepresented students from historically marginalized and redlined local communities in the Sacramento area, the Betty Irene Moore School of Nursing launched a pathway program called the Summer Health Institute for Nurse Exploration and Success (SHINES) which prepares local high school and community college students to explore whether a nursing or healthcare career is the right fit for them, what nursing or healthcare pathways would suit their needs, and how to become successful in their academic aspirations.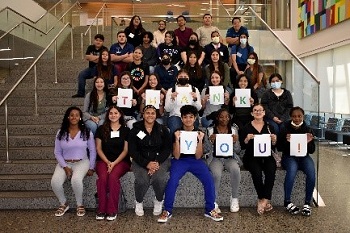 In July 2022, SHINES successfully carried out its first two-week summer immersive experience, exposing diverse students to a rich curriculum that provided in-depth insights into the role of nurses, how to navigate academia, and how to prepare a professional portfolio. SHINES is rooted in the concept of education equity which means that all students have access to a high-quality education and the resources they need to be successful. Equity pedagogy acknowledges that students have many ways of learning, processing information and interacting with the course material. It is therefore important for instructors to be knowledgeable about the cultures, values, and learning characteristics of their students and to use multi-modal instructional strategies to meet their needs. By offering academic and professional development to high school students we provided mentoring and resources for students to see a clear attainable path to a career in health professions. Our program employed teaching/learning strategies that included active workshops and hands-on simulations. We also engaged in cooperative learning opportunities through small group exercises and group mentoring. By introducing students to numerous career options in health care through a broad spectrum of enthusiastic UC Davis Health (UCDH) employees, we provided guidance and resources to establish a clear and attainable path to a career in healthcare. During the program, students received daily breakfast and lunch, a clothing allowance, and a stipend upon program completion.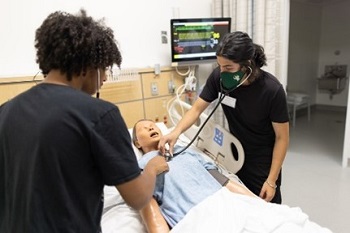 To determine program impact of SHINES, we conducted multiple institutional review board approved surveys. These included a pre and post-test, weekly session evaluations and an alumni follow-up survey to understand longitudinal outcomes of our program. Our primary research question was, do summer institutes like SHINES prepare students for long-term academic and career success as well as the steps they need to take to pursue nursing or healthcare as a career? The most substantial impact was reflected in the following three statements (in ranked order):
I know the steps that I need to take to pursue a career in healthcare or nursing.
I can identify resources that will help me become academically ready to apply for college.
I know what nurses do and how their role uniquely benefits patients, families, and communities.
SHINES aligns with and amplifies UCDH's 2020 Anchor Institution Mission (AIM) for community health and the 2021 Strategic Plan for Health Equity, Diversity, and Inclusion (SP-HEDI) in the School of Nursing. Through AIM, UCDH commits to advancing the economic security and opportunity in surrounding under-resourced communities, ultimately improving health equity and the socioeconomic well-being of these communities, maximizing the impact of UCDH's standing as the second largest employer in Sacramento County. In alignment with our AIM mission, our desire to serve our youth, and to diversify the health professions, it is our hope to expand and continue this program over the next three years or longer.