Summer Health Institute for Nursing Exploration and Success
Summer 2023 institute for local high school students set for July 10-21
The Summer Health Institute for Nursing Exploration and Success (SHINES) prepares local high school students or recently graduated adults to make professional and academic decisions about whether nursing is a right fit for them, what nursing pathways suit their needs and how to be successful in their academic aspirations. Sacramento-area high school juniors and seniors, or current community college students, with an interest in nursing or health care are eligible to apply.
About SHINES
This two-week summer immersive runs from 9:30 a.m. to 3:30 p.m. Monday through Friday July 10-21. The program takes place at Betty Irene Moore Hall at the UC Davis Sacramento campus at 2570 48
th
St. in Sacramento, California.
Students are exposed to a rich curriculum that provides in-depth insights into the role of nurses, how to navigate academia and how to prepare a professional portfolio. Students received daily breakfast and lunch, a clothing allowance, and a stipend upon program completion.
The program employs teaching and learning strategies that include active workshops and hands-on simulations. Students and leaders also engage in cooperative learning opportunities through small group exercises and group mentoring. By introducing students to numerous career options in health care through a broad spectrum of enthusiastic UC Davis Health clinicians and professionals, the program provides guidance and resources to establish a clear and attainable path to a career in health care. Read more about the 2022 SHINES »
A closer look
SHINES includes more than 15 sessions that range from lectures and hands-on workshops to simulation education experiences in our state-of-the-art simulation suites. Topics include: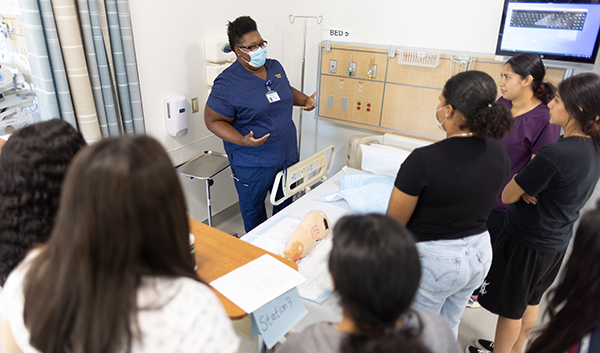 Understanding Nursing Practice and What Nurses Do
Service-learning project
Writing workshop
Health professions simulations
Health ethics, inequity and systemic racism
Branding yourself for professional success
Pathways to nursing
Pathways to other health care careers
A day in the life of a nursing student
Speed mentoring
Barbershop Health Talks
Resume and cover-letter writing
Race and health
What SHINES students said
"This program gave me lifelong connections and a mentor, and I am forever grateful."
"I learned how to find a pulse and how to wrap and sprained ankles I also learned how to make a resume and about race in health."
"I have gained connections with people, as well as a more determined goal to work in a health profession."
Stipends support students
Each accepted student receives a $200 stipend prior to the institute to be used for professional clothing. Each student who successfully completes the full institute is awarded a $500 stipend to be used toward their academic and professional goals.
Eligibility
Current high school students in their junior or senior years and current community college students in their first or second year are encouraged to apply. These students should be interested in pursuing a nursing or health care career. Additionally, students should reside in Sacramento County or nearby cities. Students must commit to attend all portions of the program from 9:30 to 3:30 Monday through Friday July 10-21. Students not able to attend all sessions of the program are not eligible.
Apply by April 15 for 2023
Students apply for the program by completing an online questionnaire. All questions must be answered. There is a short answer section with eight free response questions. Students are encouraged to spend some time on their responses so the SHINES team can get to know them and their goals. Applications close at 11:59 p.m. PDT April 15.
Thank you to our partners
SHINES is made possible through support from many partners including UC Davis Health, the Betty Irene School of Nursing at UC Davis, Improve Your Tomorrow, UC Davis Health Diversity, Equity and Inclusion Council, Capital City Black Nurses Association (CCBNA), Local Chapter of the National Association of Hispanic Nurses (NAHN), Philippine Nurses Association, Hmong Nurses Association, St. Hope Sacramento High Charter School (Sac High), Cristo Rey High School and Arthur A. Benjamin Health Professions High School.