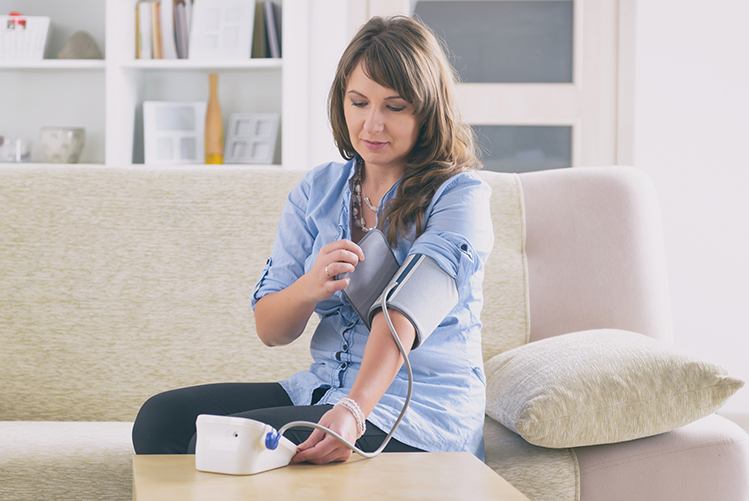 Feeling a little pressure to lower your blood pressure? UC Davis Health's dietitian team shares diet tips to address high blood pressure (hypertension) and help reduce the risk of stroke or heart attack.
Watch out for sneaky sodium in your diet
Sodium (also known as salt) is one of our body's essential nutrients. However, when eaten in large amounts, it can contribute to high blood pressure. If you have high blood pressure, aim for no more than 1,500 mg (1/3 tsp.) a day. You can do this by reading sodium amounts on food labels and preparing food at home instead of eating out.
You can also look for "low" or "no sodium" versions of your favorite foods, like canned beans, which should contain less than 140 mg of sodium per serving. If you don't have issue with elevated blood pressures, you should still look at food labels and try to limit your daily sodium intake to no more than 2,300 mg.
The typical American diet can contain 3,400 mg of sodium or more. To help you be more mindful of those foods, the American Heart Association has identified what they call the "Salty Six."
Breads and Rolls
Pizza
Sandwiches
Cold Cuts & Sandwich Meats
Soup
Burritos & Tacos
Instead of salt, lean on herbs and spices to enhance and provide flavor. Choose unsalted snacks as another way to keep salt out of your diet. All of these are great steps to lower your blood pressure and keep your heart healthy. Check out these 5 heart-healthy steps to work into your diet.
DASH to the finish line with balanced eating
If you are limiting your intake of high sodium foods, then what's on the menu instead? The Dietary Approaches to Stop Hypertension (also called the DASH diet) has been scientifically studied and shown to help lower blood pressure through a flexible and balanced pattern of eating. The plan is packed full of whole grains, fruits, vegetables, and legumes. These are great sources of minerals like potassium, calcium, and magnesium that can balance the sodium in your diet, bringing down your blood pressure. The DASH meal plan also has smaller amounts of lean protein, fats, dairy, and minimal sweets. Here are some examples:
Whole Grains: 100% whole wheat breads, cereals, pasta, oats, and brown rice are all great options for whole grains. Expand your palate by trying a new grain like farro, wild rice, or couscous. Check out the Whole Grains Council website for more ideas and serving sizes.
Vegetables and Fruits:

Fresh, frozen, or canned – be sure to get them any way you can. Go for a rainbow of highly colored vegetables and fruits like peppers, oranges, spinach, cabbage, and blueberries throughout the week. Consider adding vegetables to your breakfast meals or fruit as a sweet dessert treat.

Legumes and Plant-Based Proteins:

Try swapping in beans for your lunchtime protein instead of cold cuts to cut back on sodium. Soy products have also come a long way, so give edamame, soy milk, or even tempeh a chance. While these options are wonderful plant-based sources of protein, they are also high in those sodium-balancing minerals to help bring your blood pressure down.
Related Good Food blog: Why 'ugly produce' may be a good option for you
Interested in learning more? UC Davis Health also offers many health education classes (for free) on a variety of topics, including weight management, diabetes, heart health and more. Join us from the comfort of your home with virtual classes!
Enroll in a health education class today
Thanks to UC Davis Health dietetic intern Adilah Guiseppi for writing this blog, in coordination with a UC Davis Health registered dietitian. UC Davis Health's Dietetic Internship program is proud to support the continued education of the next generation of registered dietitians.