Hospital food isn't exactly something you typically crave when you're wanting a good meal. But UC Davis Health is working to change that.
If you live in and around Sacramento, farm-to-fork is a concept you've probably become familiar with, as the City of Trees has taken on the name America's Farm-to-Fork Capital.
While the initiative has largely given attention to restaurants, wineries and coffee shops (for obvious reasons), UC Davis Medical Center is also part of this effort, under the direction of Executive Chef Santana Diaz and his team.
Diaz oversees the largest production kitchen in Sacramento, serving more than 6,500 meals a day to hospital patients, employees and visitors at three cafes in and around the hospital.
Working with local ranchers and farmers, Diaz and his team at the Food and Nutrition Services Department develop meals that defy traditional boxed, prepackaged ones which people have come to the unfortunate expectation of hospital food.
Instead, produce, meats, fish and more – all found within a 250-mile radius of Sacramento – are brought in and incorporated in hospital meals that look more like they're from a high-end eatery.
By purchasing much of its food from sources almost within view of UC Davis Health's tallest tower, the health system can reduce delivery mileage and fuel consumption, lower its carbon footprint and provide a healthy economic boost for locally produced, high-quality foods, according to Diaz.
"Our ideal menu is going to be cleaner, healthier, locally grown and delivered — foods that will help in healing as much as meals eagerly enjoyed by café visitors and employees alike," Diaz said.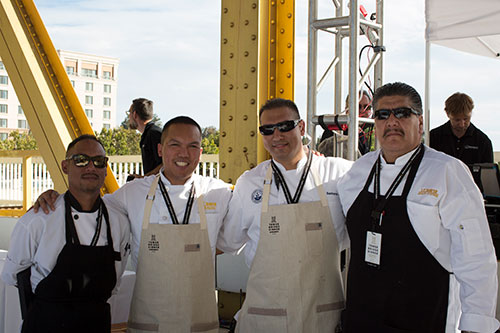 In addition to traditional staff working in the kitchen, Diaz coordinates with the hospital's dietitians and food managers to create recipes from scratch to overcome an overreliance on highly processed, nutrient-poor foods.
Ultimately, the Food and Nutrition Services Team hopes UC Davis Medical Center becomes a role model for the other hospitals around the state and the country. They're committed to proving sustainable, healthy food practices are possible and will result in more nutritious hospital foods that promote healing.