Heart team performs first transfemoral transseptal mitral valve replacement procedure
UC Davis Medical Center is first hospital on the West Coast to perform minimally invasive procedure
(SACRAMENTO)
UC Davis Health cardiologists and cardiovascular surgeons recently performed the institution's first transfemoral transseptal mitral valve replacement (TMVR) procedure. UC Davis Medical Center is the first hospital on the West Coast to perform the procedure with this new valve.
TMVR is a minimally invasive procedure to replace a mitral valve without the need for conventional open-heart surgery. TMVR can be used to treat mitral valve stenosis (narrowed mitral valve), mitral valve regurgitation (leaky mitral valve), or a mix of the two.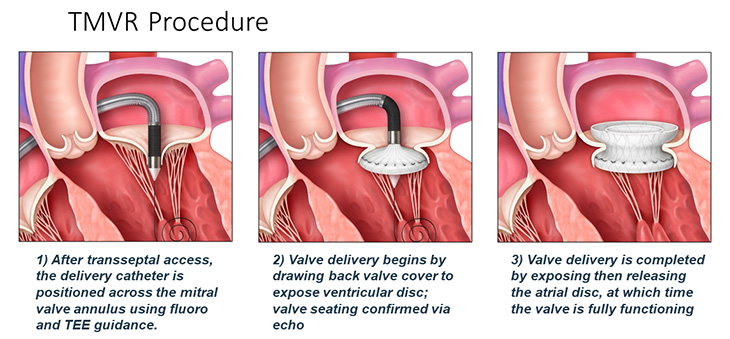 Transfemoral transseptal access is performed through the femoral vein of the leg above the knee and is the least invasive of all the implantation methods. The femoral vein is exposed surgically with the remainder of the procedure performed under fluoroscopy (X-ray) and echocardiography (ultrasound). No surgical access through the chest is required for the procedure and a patient's recovery time is much faster.
"The first procedure with this innovative technology shows promise for our patients with advanced mitral valve regurgitation," said Jason H. Rogers, professor of cardiovascular medicine and the site principal investigator.
Co-Investigator Gagan D. Singh, associate professor of cardiovascular medicine, added that "the efforts of the many members of the structural heart team (including cardiologists, cardiac surgeons, heart failure and echocardiologists along with research and clinical nurses) allow us to offer therapies such as this new valve to patients who otherwise have no other options."