Medical students provide care in remote area of Honduras during summer program
UC Davis School of Medicine resumes global health clinical rotation paused by pandemic
(SACRAMENTO)
Seven students from the UC Davis School of Medicine are on a touristy Caribbean island during their summer break – but they're not there to enjoy white sand beaches and turquoise waters.
Instead, these students are in Roatan, Honduras, to provide health care and health education to a patient population that is medically underserved.
Their monthlong clinical rotation is part of a global health elective that resumed after a two-year pause during the pandemic.
The students are working under the supervision of six local doctors and other medical personnel. They are eager to improve the health of people with limited access to care in the island's remote areas, some of which lack running water.
But they're also gaining valuable experience.
"It is a really unique and special opportunity to learn from patients, their families, and health professionals from a background that is distinct from my own," Erika Monasch, an aspiring pediatrician, said during a video chat after working her shift in a local clinic. "I love learning about culturally-sensitive ways to deliver care to diverse populations, and I will take this skill with me wherever I find myself practicing medicine."
Plus, there's an added bonus for Monash: The assignment is helping her become more fluent in medical Spanish, a language she expects to use often in her career.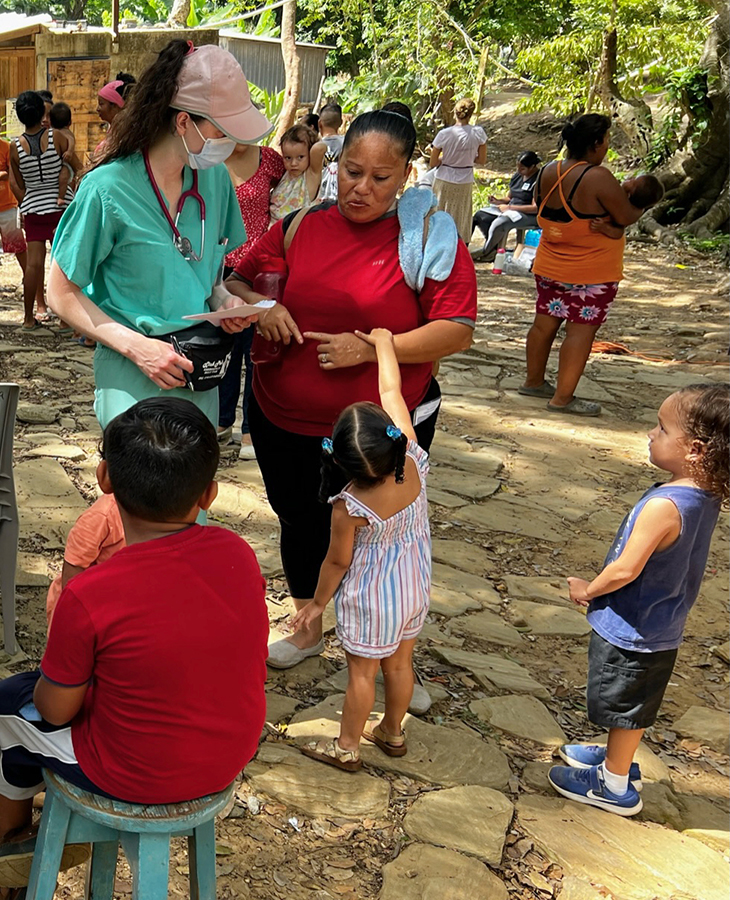 Making a difference globally
The School of Medicine is well known for its bold initiatives to advance health equity in places with a shortage of providers, such as the Central Valley. But it's also known for training students to make a difference globally, by offering them experiences they can't get in California.
Students such as Monasch and classmate Harveen Sekhon, who are beginning their fourth year of medical school, are treating a wide range of conditions and seeing patients with infectious diseases that are less common back home.
The busy clinic they work out of is called Esperanza, which means hope in Spanish. It serves children, pregnant women, adults and geriatric patients.
"Clinica Esperanza is a medical oasis," said Michael Wilkes, director of UC Davis' global health programs who was in Roatan nearly a month ago. "It's a high functioning clinic that the islanders have come to trust and respect."
Five students, who have just completed their first year of medical school, are shadowing the local physicians who specialize in pediatrics, internal medicine, and obstetrics and gynecology.
The students are helping to provide care in Esperanza and its mobile outdoor pop-up clinics. They're also working in the pharmacy where they learn about antibiotics. In addition, they visit schools for presentations on critical health education topics, such as diabetes prevention, blood pressure control and how to minimize the risk of contracting HIV.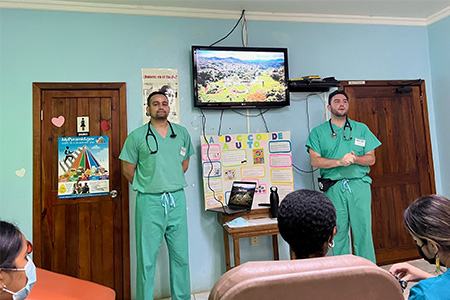 For Brock Burnett and Om Patel, the public health component has been hugely gratifying.
"One of the coolest parts about this is not just talking about medicine itself, but doing public health outreach," Patel said. "That actually plays a bigger role in potentially avoiding a lot of these medical situations that come up in the future."
Burnett, a veteran of several global health opportunities, agrees with the vital role of health education.
"What I was told early on in clinic, which resonated, was that basically the most important thing we as medical students have to share with the population here is our education," he said.
"In an under-resourced area, you can't always use the diagnostic tools and imaging that you have back in the states, you don't have chest X-rays and CT scans readily available," Burnett said. "But what we do have is the ability to share the knowledge we've gained over a year."
In addition to working under Esperanza's own doctors, students are supervised by School of Medicine faculty members who fly from Sacramento to the Central American island to serve weekly stints in the clinic.
Providing care with limited resources
Douglas Gross, a human anatomy lecturer and pediatrician, was in Roatan last week and noted some of the many benefits for UC Davis students:
"It gives them a better appreciation of the social determinants of health. It reinforces the values that initially motivated these students to pursue medicine in the first place. It helps increase cultural sensitivity, enhanced community, social, and public health awareness, improved clinical and communication skills, and a greater understanding of the challenges of working in resource-poor areas."
Gross also said the Roatan experience shows students the meaningful work doctors can do for patients when resources are limited.
"Even for those students who do not continue to be involved in global health," Gross said, "these experiences will enhance the capabilities of our students to practice in the many varied clinical settings and with the wide variety of patients that we have in California."
Monasch, the fourth-year student, said she's grateful to experience a clinical rotation in a remote area that's in stark contrast to the image many Americans have of Roatan – the pristine beaches, the luxurious cruise ships, the second-largest barrier reef in the world.
Some communities lack electricity and water, she said, and there are mosquitos everywhere, which can lead to tropical diseases like malaria and dengue.
"I'm so thankful for the opportunity to rotate outside of the U.S. and to have been welcomed into Clinica Esperanza," she said.
The Honduras elective is scheduled to end June 24. The next group of global health students leaves June 27 for Ireland, where they will spend a month learning about comparative health care systems.