From the Chair's Desk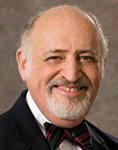 Welcome to the UC Davis Eye Center, where we strive to combine the very highest quality vision health care services with cutting edge ophthalmic science. Now nearing half a century of service, the Department of Ophthalmology & Vision Science continues to provide the Northern California and Western Nevada regions with state-of-the-art medical and surgical eye care. Moreover, we have become an international referral center for advanced specialty care. Our designation as an Eye Center speaks to our growing regional and national reputation as a resource for both patient care and for the advancement of medical science in ophthalmology.
Our greatest pride is the Eye Center faculty, who represent internationally renowned clinicians, scientists and teachers of the next generation of physicians. I believe that UC Davis Health System provides for every patient an experience that makes receiving care here positive and confidence inspiring. Whether you need comprehensive eye care or are in search of treatment for a more specialized eye problem, the Eye Center supports our community physicians by providing consultative care for the treatment of all forms of medical and surgical eye disease, including glaucoma, retinal detachment, macular degeneration, corneal disease, dry eye, pediatric eye problems, neurological disease affecting the eye, ocular tumors, refractive surgery, and many others. Joined by a team of expert optometrists, the faculty provides the full range of specialized care.
In addition to our service to patients, which always takes first priority, the Eye Center also encompasses a growing research program that is designed to focus efforts on new treatments and cures for disabling eye disease and a deepened understanding of the miraculous phenomenon that is vision. We participate in numerous clinical trials, affording patients access to the very newest medical and surgical therapies. In addition, the faculty here at the Health System collaborates with advanced scientists on the UC Davis Campus in many disciplines brought together by the Center for Vision Science.
Finally, our department shares a strong commitment to medical education and, as a department in the School of Medicine at UC Davis, one of the exciting aspects of what we do is the training of medical students, residents, and subspecialty fellows.
The field of ophthalmology is literally exploding with new treatment possibilities almost daily. Many diseases for which there was no hope of treatment or cure only a couple of years ago can now be managed with considerable success. It is an exciting time to be at the Eye Center, both as patients and care givers.
All of us at the UC Davis Eye Center look forward to serving you.
Mark J. Mannis, M.D., F.A.C.S.
Professor and Chairman
Fosse Endowed Chair in Vision Science Research
UC Davis Eye Center