Pediatric Ophthalmology Service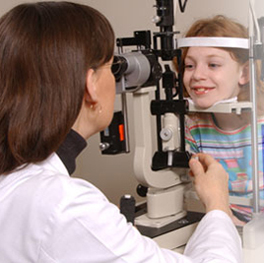 The UC Davis Eye Center's Pediatric Ophthalmology Service, an affiliate program of the UC Davis Children's Hospital, provides comprehensive evaluation, consultation and proven treatments for all aspects of routine and complex pediatric eye disease, as well as adult strabismus.
Our family-friendly environment welcomes young patients into a comforting world of toys and reassuring smiles. Exams are skillfully performed with child-appropriate equipment in a calm setting. The service has access to the extensive diagnostic resources of the Eye Center, and physicians consult and collaborate with appropriate subspecialists as needed.
Fellowship-trained pediatric ophthalmologists stay informed of breakthroughs in child and adolescent eye disorders and adult strabismus through involvement in academic societies and the participation of ongoing research on a range of emerging new treatments for visual disturbances related to:
Focusing and refractive errors, such as nearsightedness, farsightedness and astigmatism
Diabetes, cancers and genetic disorders
Congenital conditions, such as childhood glaucoma
Amblyopia and child and adult strabismus
Experience Makes the Difference
The Eye Center's pediatric ophthalmology team brings a breadth of experience in treating strabismus and amblyopia with highly successful outcomes.
The American Academy of Pediatrics recommends that all children have their vision checked by a physician at every well-child examination, and that children with vision problems be referred to an ophthalmologist for further assessment. Those with a family history of strabismus or amblyopia should be checked by an ophthalmologist by age three.