Ophthalmic Plastic and Orbital Surgery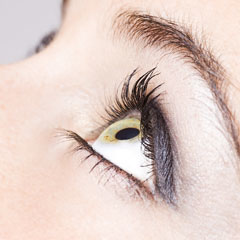 Ophthalmic Plastic or Oculoplastic Surgery is plastic and reconstructive surgery of the periocular area, which includes the eyelids, eyebrows, eye socket/orbit and tear duct/lacrimal system. Oculoplastic surgeons are uniquely qualified having trained extensively in both ophthalmic surgery and plastic surgery exclusive to the eyelid area. An oculoplastic surgeon will improve and treat conditions of the periocular area, while always considering the health of the eyes.
Our team specializes in plastic, cosmetic, and reconstructive surgery of the eyelids, eyebrows, orbit, and tear system. Dr. Lin is a board certified ophthalmologist who completed both her medical and residency training at Harvard Medical School. This was followed by the two year Bernice Z. Brown fellowship in Ophthalmic Plastic, Orbital, and Reconstructive Surgery at Doheny Eye Institute in Los Angeles.
Common Ophthalmic Plastic Procedures
Upper Blepharoplasty — Removal of excess skin in the upper eyelids. Excess skin can sometimes interfere with peripheral vision.
Lower Blepharoplasty — Removal of excess fat or "bags" in the lower lids. This does not interfere with vision and is considered a cosmetic procedure.
Eyelid Reconstruction — Repair of droopy upper lids (ptosis), in-turning or out-turning eyelids (entropion/ectropion), improving eyelid closure, reconstruction after skin cancer removal or trauma.
Dacryocystorhinostomy — Surgically forming a tear sac-nasal conduit to relieve a nasolacrimal/tear duct obstruction.
Orbital Surgery — Surgical biopsy and management of tumors of the eye socket, repair of socket trauma.

Although blepharoplasty is performed by a variety of practitioners, an ophthalmologist is best trained to look after your eyes before, during, and after the procedure.
View some "before and after" sample images of these procedures.