Vitreo-Retinal Fellowship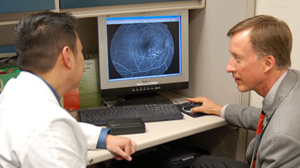 The UC Davis Health Eye Center Vitreo-Retinal Surgical Fellowship is AUPO compliant and has a 25-year tradition of training excellent retinal specialists in practice in both academic and private practice around the world. The culture and design of the program is meant to train fellows to become capable and experienced surgeons and clinicians. Moreover, there is a wealth of basic science and clinical research opportunities available that complements each fellow's training whether they go into private or academic practice. Currently this is a 2-year fellowship with one fellow matching every even year, and two fellows matching every odd year. Every fellow will work with our four full-time clinical retina faculty members at the Ambulatory Care Center on the UC Davis Sacramento Campus, and at the Mather Veterans Affairs Medical Center.
Faculty involved in the fellowship program are:
Lawrence S. Morse, M.D., Ph.D.
Professor of Ophthalmology
Director of Retina Service
Vitreoretinal Diseases
Susanna S. Park, M.D., Ph.D.
Professor of Ophthalmology
Director of Ocular Oncology
Director of Vitreo-retinal Fellowship
Vitreoretinal Diseases
Ala Moshiri, M.D., Ph.D.
Assistant Professor of Ophthalmology
Vitreoretinal Diseases
Glenn C. Yiu, M.D., Ph.D.
Assistant Professor of Ophthalmology
Vitreoretinal Diseases
Program Details
The two-year fellowship will provide an in-depth training in a broad variety of vitreo-retinal surgeries and laser techniques. Fellows will operate with four vitreo-retinal surgeons and will learn and perform surgeries for a wide variety of retinal problems. The surgical cases are representative of typical university and VA practices, emphasizing repair of primary and complex retinal detachments including anterior and posterior proliferative vitreoretinopathy, complications of proliferative diabetic retinopathy including tractional retinal detachment, primary and secondary scleral buckling procedures, submacular surgery, posterior segment trauma, and diagnostic and therapeutic vitrectomies for complex uveitis and endophthalmitis. Laser photocoagulation for peripheral and macular retinopathies including stage 3 retinopathy of prematurity and photodynamic therapy are performed in abundance. In addition, a growing oncology service provides training in medical and surgical management of intraocular tumors including melanoma and retinoblastoma. The fellowship training also includes exposure to medical and pediatric retinal disorders including inherited retinal diseases and retinopathy of prematurity. Intravitreal injections of pharmaceutical agents are given for a variety of retinal pathologies and as part of clinical trials.
Both medical and surgical management of vitreoretinal diseases are emphasized through direct interaction in clinical and surgical situations. A weekly fluorescein angiogram conference will provide didactic discussions. A monthly fellow teaching conference will review journal articles, medical and surgical cases and updates on research activities. We have a broad mix of patients, ranging from private to medically indigent, which provides for a balanced vitreo-retinal fellowship experience. Several clinical trials are also being conducted to provide insight into conducting clinical research.
Requirements
Full California medical licensure (not a training license)
Clinical positions cannot be offered to individuals who are International medical school graduates and do not qualify for full California licensure
Applications
Applications for fellowship beginning in July of each year are accepted through the Ophthalmology Fellowship Matching Program, SF Match. Completed applications must be received by date indicated in our on-line profile at SF Match. Candidates will be notified in early September for interviews offered in Sacramento at the UC Davis Medical Center over one of two Saturdays in October and/or November – interviews at the annual American Academy of Ophthalmology meetings are not offered.
Financial
Funding is provided at the level of a PGY 5 and the related benefits for the first-year fellow. Funding is provided at the level of a PGY 6 and the related benefits for the second-year fellow.