Pathology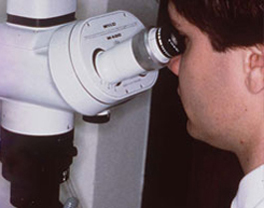 As the sole full-time ocular pathology lab between Portland, San Francisco and Salt Lake City, UC Davis Health System Eye Center's Ophthalmic Pathology Service fills a critical need of physicians, researchers, surgeons and pathologists throughout Northern California.
Accessible, expert assistance
Accurate, timely and cost-effective diagnostic and consultative services include:
Gross and microscopic imaging
Conventional histopathology
Special tissue stains and immunohistochemical markers
Advanced diagnostic studies
Consultative review of previously diagnosed cases (second opinions)
Working closely with the UC Davis Health System's Department of Pathology and Laboratory Medicine, the Ophthalmic Pathology Service has complete access to the most contemporary and innovative diagnostic resources available. The latest in microscopic and molecular diagnostics enable the health system's eye pathologists to establish complex diagnoses using cutting-edge technologies as immunohistochemistry, gene amplification and electron microscopy.
What to expect
When physicians request consultations and specimen analysis, they can expect a high level of service that includes:
Prompt turnaround with results available typically within 48hours
Clear, unequivocal specimen reports
Interactive online responses
E-mail notification that includes a summary of findings and representative color photomicrograph
Same-day instant fax of final report
Immediate accessibility to ophthalmic pathologists for case discussion and follow-up

Direct billing to third-party insurers eliminating invoices to the referring physician or patient
Getting started
To submit surgical specimens to the UC Davis Health System Eye Center's Ophthalmic Pathology unit, please do the following:
Notify your nurse supervisor that you wish to have the specimens sent to the UC Davis Eye Center.
Complete a customized eye pathology request form. These can be delivered to your institution.
Provide a copy of the patient's insurance information
Instruct courier service to deliver specimen to:
UC Davis Medical Center Anatomic Pathology
Attn: Eye Pathology
4400 V Street
Sacramento, CA 95817
Telephone: 916-734-4996