Deans' 2021-2022 Team Award for Excellence
The purpose of the Deans' Team Award for Excellence is to acknowledge outstanding, high-performing, multidisciplinary team efforts and approaches that contribute to advancing our mission. Th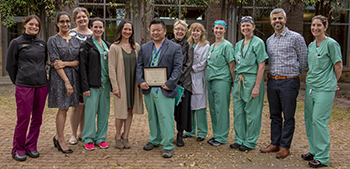 e multidisciplinary and/or interdisciplinary team model should embody and exemplify a sustainable collaborative approach that aligns our collegial community with our mission of providing excellent patient care, conducting groundbreaking research, fostering innovative, interprofessional education, and creating dynamic, productive partnerships within the community. The team's efforts must clearly contribute to UC Davis Health being a destination of choice to all those we serve.
The mission categories are:
Education – provides outstanding learning opportunities for students
Research – leader in innovative research, making high-impact discoveries
Clinical Care – provides high-quality patient-oriented services
Community Engagement – enhances the qualify of life of our local and regional communities (Community organizations are welcome to submit letters of support.)
The award winning teams receive a monetary award and are honored at a special reception. Each team's award funds will be deposited into a departmental account to be used for the enrichment of the team's work.