Welcome to Food & Nutrition Services
Our department strives to provide high-quality nutrition and health care services to support the well-being of our patients and our community.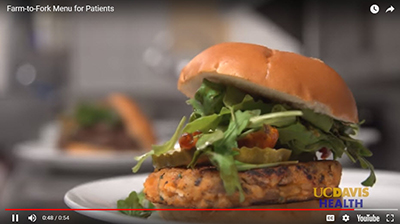 Farm-to-fork patient meal
As part of an initiative to feature locally grown food, the first farm-to-fork items for patients have been added to the hospital's menu.


Whether you're at UC Davis Health as a staff member, patient, or visitor, we offer a wide range of culinary options for your enjoyment. That includes more locally sourced foods, as part of our effort to become the area's largest farm-to-fork food service.
Please browse our website to:
We invite you to learn more about our many services and the pride with which we offer them!


---
UC Davis Health - Healthy Aging
---