California Tower
Reflecting ongoing changes to health care delivery
In 2030, a new California Tower will be opened in the UC Davis Medical Center. The 332-bed facility will complete the medical center's expansion to the east, occupying the easternmost end of the medical center's block, up against 45th Street. The original 1929 north-south wing and the 1950 addition on the westernmost side of the medical center are scheduled to be demolished in the 2020s because they do not comply with California's modern seismic standards for hospitals. The building will lose its last physical connections to its early years, replaced by a leading-edge, world-class hospital that expands the founding legacy of providing the best care possible to every patient and helping to end health inequities across Northern California.
The project reflects ongoing changes to health care delivery in several ways. When completed, the expanded hospital will contain 700 licensed beds, up from 625 today. But the square footage will nearly double to accommodate a greater number of private rooms, known to help produce better outcomes and reduce infection transmission. A greater number of rooms would also be acuity-adaptable, for use as ICU rooms should a surge in critical cases arise — such as during the current pandemic.
UC Davis Health CEO David Lubarsky, M.D., M.B.A., expects that in the not-too distant future, fewer people per capita will ultimately need to be hospitalized due to measures such as evolving health technologies, same-day surgeries, telehealth visits and remote monitoring. Low-acuity care in the inpatient arena will virtually disappear over the next decade.
At the same time, he said those individuals who do require hospitalization will likely require longer stays for complex surgeries, trauma care, or other critical care services that UC Davis Health provides as the region's academic health center.
"We'll continue to work with community hospital partners to increase the level and amount of care they provide locally — while we concentrate on patients that require advanced technologies and coordinated subspecialists available in an academic center, and which leads to the superior outcomes we deliver in those cases," he said.
---
Aggie Square
Bringing inclusive prosperity to the neighborhood and the region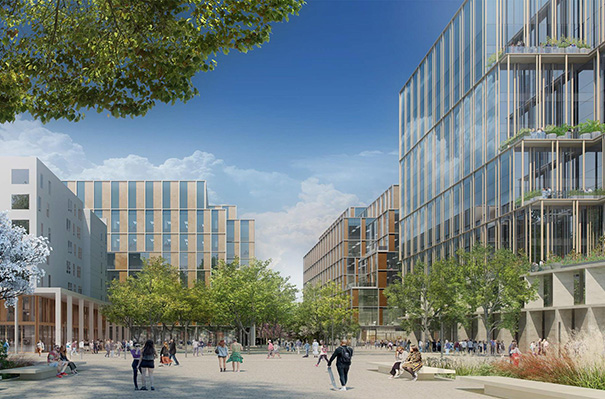 Projected to open in 2022, Aggie Square will eventually span 25 acres of the UC Davis Sacramento campus and feature state-of-the-art research facilities, classroom space, the Alice Waters Institute for Edible Education, multi-family housing, mixed-use space, and a range of amenities. The goal is to create a business and research hub and a dynamic, thriving community designed to bring inclusive prosperity to the neighborhood and the region. An economic analysis of the project predicts Aggie Square will add nearly $5 billion to the Sacramento region's economy each year and support 25,000 ongoing jobs. For more information, visit aggiesquare.ucdavis.edu.
---
Tschannen Eye Institute
Delivering leading-edge patient care and supporting vision science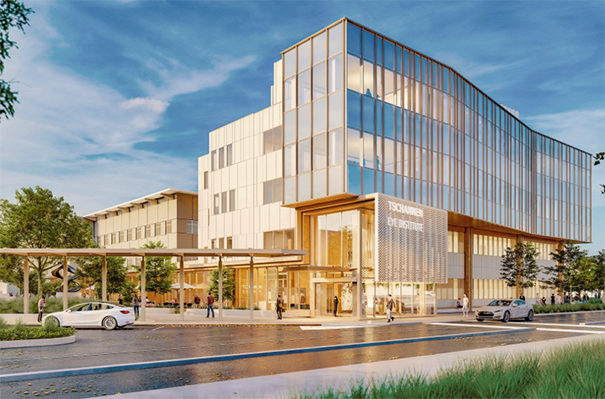 Construction is underway for a 2021 opening of the Ernest E. Tschannen Eye Institute, to be housed in an expansion of the Lawrence J. Ellison Ambulatory Care Center building. Tschannen is a former UC Davis Health patient, and his $38.5 million in gifts and pledges to support the new center for vision science made him the largest individual donor to UC Davis in the university's history.
---
Sacramento Rehabilitation Hospital at UC Davis Health
Transitioning patients from inpatient services to their homes
In 2023, the Sacramento campus of UC Davis is scheduled to gain a second licensed hospital, with the opening of the Sacramento Rehabilitation Hospital at UC Davis Health. The new facility will offer treatment for patients recovering from conditions such as stroke, traumatic brain injuries, significant surgeries and spinal cord injuries. Announced in 2018, it's the first project named as part of Aggie Square, and will help patients transition from inpatient services to their homes to continue their recovery.