Every day in the United States, 10,000 people turn 65 years old. The number of older adults will more than double over the next several decades, and represent greater than 20% of the population by 2050.
But rather than wait for the increase, leaders across UC Davis Health are moving proactively to make older adults a priority now — through a new, systemwide commitment to age-friendly care and services.
Known internally as the Healthy Aging Initiative, the formal, coordinated effort is designed to create an integrated approach to older adults across the lifespan and all care settings at UC Davis Health.
Through measures that increase access to care, decrease the complexity of navigating it, and boost quality of life for both adults and their family caregivers, the ultimate goal is to help create the healthiest and highest-functioning older adult population in Northern California.
"We're working on delivering this in a patient-centered and family-centered way. And we're taking a multidisciplinary approach with physicians, nurse practitioners and other members of our community," said Allison Brashear, M.D., M.B.A., dean of the UC Davis School of Medicine and co-leader of the initiative.
"We're also building an educational program, so that we have a pathway for future providers to learn about how to care for older adults."
"This is a culture shift — UC Davis Health really is looking to work with its older population, its communities in a substantially different way, right across the health system," added co-leader Stephen Cavanagh, Ph.D., M.P.A., R.N., F.A.C.H.E., F.A.A.N., dean of the Betty Irene Moore School of Nursing at UC Davis. "We are looking not simply at an older person, but the environment they come from.
"We also want to leverage the great strengths of our academic medical center, the fantastic care and research we can offer and the teaching opportunities."
Building on strengths
UC Davis Health CEO David Lubarsky, M.D., M.B.A., tapped Brashear and Cavanagh to lead the initiative in late 2019, and more than 40 experts from multiple disciplines are now involved through a unique collaborative agreement between the UC Davis Alzheimer's Disease Center, the School of Nursing's Family Caregiving Institute, and the UC Davis School of Medicine's departments of neurology, internal medicine, family medicine, and emergency medicine.
Each unit already contributes significant aging-related strengths, and the Healthy Aging Initiative aims to harness and build on them further by:
Age-Friendly Health Systems participant
"The clinical aspect of this initiative looks at our existing services to see how we can make them more age-friendly," said Terri Harvath, Ph.D., R.N., F.A.A.N., F.G.S.A., senior director for strategic initiatives at the School of Nursing and the director of its Family Caregiving Institute, who chairs the Healthy Aging Initiative's clinical delivery committee. "We've also been identifying new services and looking at processes across the continuum of care, so that we can make sure that we are connecting older adults and not losing them along the way."
Clinical services are being designed using the principles of the larger Age-Friendly Health Systems initiative, a national program of The John A. Hartford Foundation and the Institute for Healthcare Improvement (IHI), in partnership with the American Hospital Association (AHA) and the Catholic Health Association of the United States (CHA). UC Davis Health joined the national program this spring — with a focus on the geriatric patients in the Emergency Department — as the Sacramento region's only participant, and has been working toward designation along with more than 100 other U.S. systems (see related story).
UC Davis Health has also earned early membership in NICHE (Nurses Improving Care for Healthsystem Elders), a national nurse-driven program of The Hartford Institute for Geriatric Nursing at New York University College of Nursing, designed to help hospitals and health care organizations improve the care of older adults. The program provides leadership trainings, resources and continuing education to help nurses implement an evidence-based nursing practice model; UC Davis Medical Center's 36-bed Davis 14 surgical unit serves as the pilot unit here, with a goal to submit for full NICHE member designation in early 2022.
Meanwhile, Healthy Aging Initiative members are also hiring additional interprofessional geriatric specialists across disciplines to serve at care locations both existing and new. One prominent example is UC Davis Health's newly launched Healthy Aging Clinic in midtown Sacramento, which offers comprehensive, older-adult outpatient care that includes primary care, cognitive care, neuropsychology, geriatric psychiatry and consultations for family caregivers.
Research and policy chops
The Family Caregiving Institute and the Alzheimer's Disease Center, and their respective multidisciplinary orbits, both play particularly critical roles in the Healthy Aging Initiative. Harvath, the caregiving institute's founding director, is currently president of the Gerontological Society of America — the nation's largest interdisciplinary organization devoted to the field of aging — while institute associate director (and School of Nursing dean emerita) Heather M. Young recently helped advise on California's Master Plan for Aging.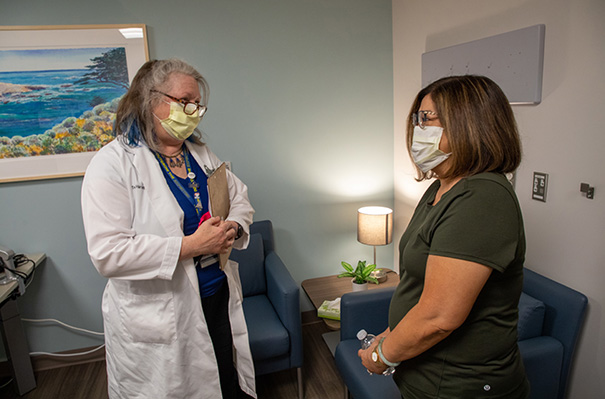 At the Alzheimer's center, longtime director Charles DeCarli, M.D., leads an interdisciplinary team focused on translating research advances into improved diagnosis and treatment, while working on the long-term goal of prevention or cure. He and UC Davis Health scientists recently received a $53.6 million NIH grant — the federal agency's largest ever to the UC Davis School of Medicine — to study the role of incidental white matter lesions in dementia among diverse groups. Lubarsky and center faculty member Oanh Le Meyer served recently on the California Governor's Alzheimer's Prevention and Preparedness Task Force.
The Healthy Aging Initiative offers opportunities for novel research, since an orchestrated, systematic approach for older adults increases prospects to promote clinical trials to that population. In turn, research program findings are expected to be rapidly shared with the clinics.
"The goals of this initiative are something I've wanted to do my entire career," DeCarli, who chairs the Healthy Aging Initiative's research committee, told UC Davis communicators in a story about the project's launch. "This could be one of the most impactful things we do for health care in the region for the next 20 years."