More achievements

More achievements
A sampling of recent major achievements and developments from UC Davis Health and the UC Davis School of Medicine. For more listings and news, please visit our newsroom and follow us on social media.
Neurology chair receives ambassador for epilepsy award
Amy Brooks-Kayal, M.D., F.A.A.N., F.A.N.A., F.A.E.S., chair of the UC Davis Department of Neurology, has received the Ambassador for Epilepsy Award from the International Bureau for Epilepsy and the International League Against Epilepsy. Brooks-Kayal is one of 12 individuals around the world to receive this award, which is given every two years to clinicians and researchers who have made outstanding contributions to activities advancing the cause of epilepsy internationally or with international impact. Brooks-Kayal was nominated by the American Epilepsy Society (AES), of which she has been a member for more than 30 years, including in leadership roles.
Co-inventor of EXPLORER earns prestigious national radiology award
Ramsey Badawi, Ph.D., UC Davis professor and vice chair of research in the Department of Radiology, has been selected to receive the 2021 Distinguished Investigator Award from the Academy for Radiology & Biomedical Imaging Research. The honor recognizes outstanding contributions to the field of medical imaging after he co-invented EXPLORER, a total body scanner that provides images of the entire body in seconds. EXPLORER is revolutionizing how cancers and other diseases are studied and diagnosed by measuring cancer metabolism in the body and investigating systemic inflammatory responses in patients, helping to develop targeted cancer treatment. A total of 35 researchers were selected to receive the award this year.
IHI and DAISY Foundation honor nurses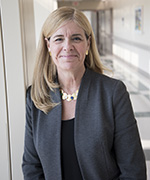 Unit clinical nurse specialist Christa Bedford-Mu, M.S.N., R.N., C.N.S.-B.C., is the individual award recipient at this year's 2021 DAISY Awards for Extraordinary Nurses in Patient Safety, presented in collaboration with the Institute for Healthcare Improvement (IHI). A trained wound treatment associate, Bedford-Mu has collaborated with several surgical units across UC Davis Medical Center to spread standardized approaches to multiple types of complex wounds and skin integrity issues. Her work has contributed to significant post-operative improvements. Nurse educator Michelle Linenberger, M.S.N.-Ed., R.N.-B.C., received honorable mention for her commitment to a relationship-based culture, advocacy for peer support, and contributions to care in underserved communities.
Cancer Health's 25: Black Lives Matter list
Chief of General Thoracic Surgery David Tom Cooke, M.D., F.A.C.S., was named by Cancer Health magazine as one of the top 25 individuals breaking down racial barriers to better cancer care. The list recognizes 25 individuals who, along with many others, are fighting to break down barriers to the best cancer care for all Americans. In 2013, Cooke, a national expert on lung and esophageal disease, co-founded the popular bimonthly #LCSM (lung cancer social media) chat on Twitter and in 2019 was named chair of the Society of Thoracic Surgeons' Workforce on Diversity and Inclusion. His scholarly work includes research into disparities in lung cancer care.
Contributions to field of nutrition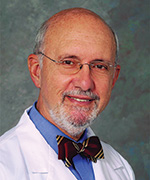 Ralph Green, M.D., Ph.D., F.R.C. PATH, has been inducted into the American Society for Nutrition's Class of 2021 Fellows. It is the highest honor ASN bestows, recognizing individuals for significant discoveries and distinguished careers in the field of nutrition. Green is a distinguished professor and emeritus chair in the Department of Pathology and Laboratory Medicine. Throughout his more than 50-year career in academic medicine, Green has worked on three continents — Africa, North America, and Europe — and collaborated with investigators around the world. His research has focused on the role micronutrients and their metabolic pathways play in both health and disease.
Royal Society of Chemistry's Horizon Team Award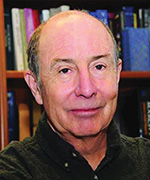 Three UC Davis scientists, including Distinguished Professor Bruce Hammock, Ph.D., are part of the Who's Who "click-chemistry team" that won the Royal Society of Chemistry's Horizon Team Award. The society applauded the 47 worldwide collaborators "for the development of multidimensional click chemistry, a next-generation click-technology that extends perfect bond creation into the three-dimensional world, opening doors to new frontiers in biomedicine, materials science, and beyond." K. Barry Sharpless of the Scripps Research Institute in La Jolla, who won the 2001 Nobel Prize for Sharpless epoxidation, led the team, which includes researcher Christophe Morisseau of the Hammock lab and Seiya Kitamura, who completed his doctorate working with Hammock and Morisseau.
Pew scholarship to beat bacteria behind tuberculosis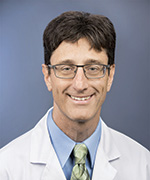 Bennett Penn, M.D., Ph.D., assistant professor in the Division of Infectious Diseases and the Department of Medical Microbiology and Immunology, has been named a 2021 Pew Scholar in the Biomedical Sciences by the Pew Charitable Trusts. The program provides funding to young investigators of outstanding promise in science relevant to the advancement of human health. Using a suite of leading-edge techniques in cell and molecular genetics, biochemistry and bioinformatics, Penn and his team will examine how the composition and modification of proteins change in TB bacteria as they grow resistant to antibiotics. They will also assess whether exposure to activated immune cells hampers or promotes this persistence.
Executive chef to lead Tower Bridge Dinner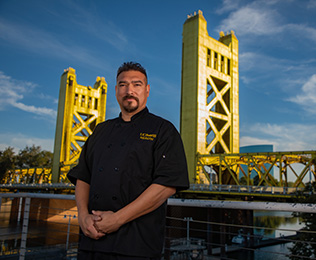 Visit Sacramento has named UC Davis Health's executive chef, Santana Diaz, to lead a local team of distinguished chefs at this year's Tower Bridge Dinner. The annual fundraiser benefits Sacramento's renowned Farm-to-Fork Festival, which attracted more than 155,000 people in 2019. The dinner also funds scholarships for Sacramento State students who are children of migrant farmworkers. At UC Davis Medical Center Diaz oversees one of the region's largest production kitchens — serving more than 6,500 meals per day — and leads an innovative program that's changing the face of hospital food by prioritizing local ingredients and sustainability.