Alumni
Alumni Class Notes
Betty Irene Moore School of Nursing alumni updates
Michelle Camicia, Ph.D. '18, R.N., F.A.A.N.
I've published several manuscripts in 2021 on rehabilitation nursing care for COVID recovery patients, case management competency for assessing family caregivers and prevalence of depression and anxiety among patients with mild traumatic brain injury. I had the opportunity to present my work on assessing and addressing the needs of family caregivers at the International Stroke Conference, Denver, CO, the Aging Well with Stroke in the era of COVID-19 E-conference in Scotland, UK and virtually at EuroheartCare 2021 in Rome, Italy.
I currently have two manuscripts under review, one book chapter in press, three manuscripts in development and four conference presentations forthcoming. I am deeply grateful to the Betty Irene Moore School of Nursing faculty and my Ph.D. cohort for providing the solid foundation on which I've been able to build my research and writing to transform health care delivery.
---
Jacqueline Clavo-Hall, Ph.D. '17, J.D., C.R.N.A.
My undergraduate alma mater William Carey University in Hattiesburg, Mississippi recently opened a new health science building. Nursing lab #2 (room 228) is named after me. I've worked for 25 years as a nurse anesthetist and after earning my Ph.D. in Nursing Science and Health Care Leadership from UC Davis Betty Irene Moore School of Nursing, I worked as an associate professor and interim director for the Touro University California School of Nursing.
Newly into retirement, I returned to working part-time as a nurse anesthetist at an independent critical care hospital in a rural community. I want to express my gratitude for the life-long gift of education, integrity, respect, and perseverance that I developed during my years as a student. It is a privilege to have the opportunity to say, 'thank you' and 'thank God'.
---
Terrelyn C. Fernandez, P.A.-C. '92
Retired!
---
Kimia Ighani, D.M.Sc., M.H.S. '19, P.A.-C.
I completed my Doctor of Medical Science degree in January 2021 and am currently working in urgent care in the greater Sacramento area.
---
Barbara Leary, M.H.S. '84, F.N.P.-P.A., B.S. '79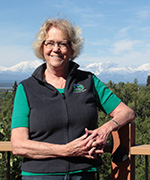 After graduating from the NP/PA program, I served as a nurse practitioner for 31 years at UC Davis Medical Center working in the Acute Care Clinic, as faculty for the NP/PA program, on the General Surgery service and Orthopedic Trauma service. Following retirement, I have become more active in the Folsom community, now serving on our Planning Commission. I also serve as the Chair of the Sierra Club, Sacramento Group. These endeavors help me to continue to focus on health by addressing necessary changes in the broader environment — addressing policy change in industry, transportation, and development, along with encouraging healthy lifestyle changes all needed to protect ourselves and our planet. I strongly feel that my training and career have put me in a unique position to work on affecting positive change.
---
Sara Marchessault, M.S. '15, F.N.P.-P.A.
2021 has been an exciting year with many changes. December 31, 2020, I completed five years in clinical practice in Modoc County, CA and moved to Klamath Falls, OR. Since that time, I opened my own private practice, Olive Tree Medical Care. I work part-time for a wound clinic and I'm pursuing training in Wound Ostomy Continence certification. I also took a part-time position with Klamath Open Door, providing primary care for the medically underserved. This move means I get to be closer to my extended family. I love my new home in the forest, juggling multiple jobs and the challenges thereof...and exploring the fabulous Pacific Northwest. Cheers to all of us!
---
Jennifer Mattice, M.S. '12, R.N., C.E.N., Certified Life Coach
I retired from UC Davis Medical Center in 2020 after 31 years and have started a new career. I am a BrainSpotting therapist working to heal trauma stored deep in the brain. I would love to build my practice by giving back to the community of health care workers and first responders that I worked with for so many years. By helping this community of helpers/healers process their stored trauma, I hope to improve their relationships, decrease work related burn-out, and widen their window of tolerance for the stressors in their lives.
---
Joanna Mello, M.S. '14, R.N., C.C.R.N.
Since graduating from the leadership program in 2014, I have enjoyed a variety of educational and leadership nursing roles at UC Davis Health. I was a Clinical Nurse III in the Emergency Department, a Clinical Instructor at the Betty Irene Moore School of Nursing, a Staff Developer in the PACU, and most recently I'm serving as an Interim Assistant Nurse Manager in PACU.
I also had an opportunity to present a project with my PACU colleagues that shared our work to improve the outpatient prescription workflow for surgical outpatients. I've truly been so fortunate to have these opportunities to grow as a woman, nurse and health care leader. I'm excited to continue working toward improving patient outcomes, reducing health care disparities and implementing evidence-based practices. On my days off I enjoy the outdoors, fitness, food and spending time with my family!
---
Rayne Soriano, Ph.D. '15, R.N., N.E.-B.C.
I accepted a new leadership position serving our communities in Kaiser Permanente Hawaii as the Regional Director of Nursing Professional Practice, Operations, and Magnet.
---
Cindy Wilson, M.S. '14, R.N., P.H.N., I.B.C.L.C
As director of public health nursing for Nevada County, I led our team of Public Health Nurses and others in our community's COVID-19 case investigation and contact tracing and vaccination efforts. Although these last 17 months have been incredibly challenging, I know people are alive who would not have lived through this pandemic because of the work of our Public Health Department. I was recently interviewed by our local news website YubaNet about my experiences during the pandemic. Here's the link to that article: https://yubanet.com/regional/sp3-cindy-wilson/.