Alumni

Alumni Class Notes
School of Medicine alumni updates
1980s
Gary R. Watson – 1980
I completed an internship and orthopedic residency at Stanford in 1985, and have practiced in Modesto, CA from 1985 until the present.
David Manske – 1981
"Retired" since October 2019, I stay busy as an expert medical witness for orthopaedic cases, as the president of the Lipscomb-Chapman Orthopaedic Alumni Society, and on the board of directors for the UC Davis School of Medicine Alumni Association. My beautiful wife, Rebecca, and I hope to do more traveling, if and when it's "safer out there." In the meantime we enjoy our home, family and friends. (And time on our 47' houseboat in the Delta!) I loved seeing my old classmates, Bob Decker, Steve (Alex) Prescop and Saul Schaffer, at our Covid-delayed 40th reunion in April. Oh! And I had my left knee replaced on March 1. An easy recovery and great outcome! (It was distinctly different being on the other side of the scalpel.) I hope you are all happy and well???
Paula E. Brentlinger, M.D., M.P.H. – 1983
Still at it! But focusing more on Hepatitis B and Hepatitis C management as opposed to general primary care, because I love preventing liver cancer (not a consideration in the 1980s, but should have been, as I look back). Hope everyone is well in these ever-so-complicated times. Miss running around the almond orchards!
1990s
David Lin – 1994
Hello! I am still enjoying work as a family physician and teaching faculty for Sutter Health and being on the UC Davis alumni board. Still happily married to my wife Jo-Ann of 27+ years, and reminiscing about medical school with my sons Joshua (4th year at our UC Davis Med) and Matthew (2nd year at Cornell Med) and most excited about their recent engagement. They got engaged in the same week but to different young women.
---
2000s
Alan Chiem – 2008
Celebrated his tenth year as full-time faculty in the Department of Emergency Medicine at UCLA-Olive View. He also co-edited a textbook, Emergency and Clinical Ultrasound Board Review, published by Oxford University Press. In addition, he was recently appointed the inaugural Director of Ultrasound Education at the David Geffen School of Medicine at UCLA. In this role, he oversees the longitudinal, four-year, fully integrated POCUS curriculum at DGSOM.
---
Residency/Fellowship alumni
Paul Forrest, M.D. – 1975
Neurosurgery
Still kicking around at 82. Living in Louisville, KY, enjoying life pretty much. Some things not so great. My youngest sister passed away in November. Went to her memorial in June in Flagstaff. My dear beloved girlfriend wife Mary Lou passed away in April. Took a driving trip in June to the western states to see old friends and family. Mostly to see my second great-granddaughter in Bloomington, MN. (Only problem is my daughter is a grandmother.) Active in Rotary. Still doing my annual motorcycle trip with friends. Heading for Michigan for a week. This is the 20th annual for the "Band of Gypsies."
Harry B. Skinner – 1979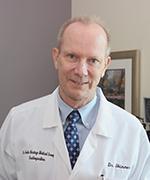 I was fortunate to start practice just as a major revolution in orthopedics was occurring, and was able to take part in making major improvements in patient care. After practicing at UCSF for 12 years, 12 years at UCI as Chair of Orthopedics, and 13 years in a multispecialty group, I find the state regulations and taxes are just too burdensome. California used to be a great place to practice and live, but it is time to move to Texas, Florida or Tennessee to practice. My family also needs a place with less crime, friendly people, good schools, and lower taxes so that I can safely and comfortably enjoy my "golden years." I hope the thousands of people I have treated over the years have benefited from my care.
David Manske
Residency 1986 (Orthopaedic Surgery)

See M.D. 1981
Robert (Bobby) Sloan
1991 PM&R
Moved back to Hawaii to retire, but returned to the mainland during Covid to work at the Kansas City VA in PMR running the spinal cord program and continuing my TBI work for our veterans from Iraq and Afghanistan. A bit scary back to work during Covid, but it was worth it. My wife and remaining two children found a lake house in Blue Springs, Missouri, and I may never leave. We still visit my other children in Hawaii and California frequently, but love it here. I have returned home where my mother was born and my grandfather is buried close by. With my first bass boat in my backyard, I fish or swim when I'm not teaching my boys to water ski. The Colorado Rockies, Minnesota Boundary Waters, Chicago and the Indy 500, and family in the South are all within a day's drive. Love it!
Editor's note: Due to an editing error, Harry Skinner was incorrectly placed in the M.D. '79 class in a previous version of this page, rather than Residency '79. We regret the error.