Leadership updates

Leadership updates
A sampling of recent major achievements and developments from UC Davis Health and the UC Davis School of Medicine. For more listings and news, please visit our newsroom and follow us on social media.
Hirose surgeon-in-chief of children's hospital
UC Davis chief of fetal and pediatric surgery Shinjiro Hirose, M.D., F.A.C.S., has been appointed surgeon in-chief of UC Davis Children's Hospital. He has served as chief of pediatric surgery, vice chair of surgery and founder and director of the UC Davis Fetal Care and Treatment Center. Hirose succeeds internationally renowned fetal and neonatal surgeon Diana Farmer, M.D., F.A.C.S., F.R.C.S., chair of the UC Davis Department of Surgery. Hirose is one of the creators of the University of California Fetal Consortium, a statewide collaboration at all five fetal treatment programs at UC medical centers. Farmer and Hirose also serve as co-presidents of the International Fetal Medicine and Surgery Society. Hirose has a joint appointment as director of pediatric surgery at Shriners Children's Northern California.
Lado-Abeal appointed chief of endocrinology
Jose Joaquin Lado-Abeal, M.D., Ph.D., has been appointed chief of the Division of Endocrinology, Diabetes and Metabolism in the Department of Internal Medicine, succeeding Sidika Karakas who recently retired. Lado-Abeal is an internist who specializes in thyroid diseases, diabetes and neuroendocrinology. He previously served as a tenured professor at the University of South Carolina School of Medicine and director of the Division of Endocrinology, Diabetes, and Metabolism at Prisma Health-Midlands, and as a professor of internal medicine and director of the Division of Endocrinology at Truman Medical Center and the University of Missouri-Kansas City, and Texas Tech University Health Sciences Center, and a professor of medicine at the University of Santiago de Compostela in Spain.
Internationally renowned researcher joins cancer center leadership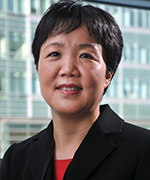 Xiao-Jing Wang, M.D., Ph.D., has joined the UC Davis Comprehensive Cancer Center as chief science officer. She is also the center's associate director for basic science, a role previously held by Luis Carvajal-Carmona who was appointed the cancer center's chief diversity officer and director of the new Center for Advancing Cancer Health Equity. Wang has also been named the Stowell Endowed Chair in Experimental Pathology. Wang comes to UC Davis from the University of Colorado Anschutz Medical Campus, where she was the John. S. Gates Endowed Chair of Cancer Stem Cell Biology, founding director of Head and Neck Cancer Research Program, director of T32 Training Program of Lung, Head and Neck Cancer, and co-director of the Colorado Head and Neck SPORE Program for translational research.
Ghasemiesfe new division chief of cardiothoracic imaging
Ahmadreza (Reza) Ghasemiesfe, M.D., has been appointed the new chief of the Division of Cardiothoracic Imaging. Ghasemiesfe joined UC Davis Health as an assistant professor in 2020 with expertise collected both nationally and internationally. He finished medical school and his radiology residency at the Tehran University of Medical Sciences, then continued with another residency and two fellowships at Yale Newhaven Health, Rush University Medical Center and Northwestern. As a cardiothoracic imaging specialist, Ghasemiesfe has a particular interest in adult and pediatric cardiac MRI and advanced tissue characterization sequences utilized in diagnosis of different heart diseases.
New nursing dean for faculty practice, workforce development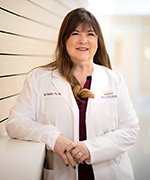 Deb Bakerjian, Ph.D., A.P.R.N., F.A.A.N., F.A.A.N.P., F.G.S.A., has been appointed interim associate dean of practice at the Betty Irene Moore School of Nursing at UC Davis. Bakerjian is board chair for HealthImpact, the California Nursing Workforce Center; serves on the National Quality Forum's Skilled Nursing Facility Technical Expert Panel for Serious Reportable Events and Common Formats; serves on two committees for AMDA — The Society for Post-Acute and Long-Term Care; and is vice-chair elect of the Health Sciences section of the Gerontological Society of America.
Aghamohammadi new chief wellness officer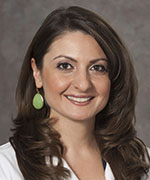 Sara Aghamohammadi, M.D., is UC Davis Health's new Chief Wellness Officer (CWO), replacing Peter Yellowlees, M.D. who is retiring. Aghamohammadi will lead and direct wellness and well-being programs and initiatives for the medical staff and the health system, and also oversee the Medical Director of Physician Coaching and Onboarding. She attended medical school at Oregon Health and Science University, completed her pediatrics residency and pediatric critical care fellowship at Children's Hospital of Los Angeles, and has served more than eight years as a pediatric critical care attending at UC Davis Children's Hospital and Shriners Hospital for Children. At CHLA, she co-created a resident wellness support group and a fellows reflection conference as safe spaces to discuss emotionally difficult aspects of the specialty.