News and happenings
April 17 — UC Davis nursing school partners with AARP on national family caregiving report
20 million family caregivers perform complex nursing and medical tasks with little instruction according to a new report issued by AARP this week and co-authored by Betty Irene Moore School of Nursing at UC Davis Dean Emerita Heather M. Young. Read the press release.
March 20 — School seeks inaugural Heather M. Young Postdoctoral Fellows
The Betty Irene Moore School of Nursing at UC Davis seeks up to three postdoctoral scholars with research interest in healthy aging for the Heather M. Young Fellowship Program. The fellows will work with mentors Dean Emerita and Professor Heather M. Young and Associate Professor Elena O. Siegel. Priority is provided to applicants who express research interests that align with the mentors, including healthy aging and the interface between individuals, family and health care systems as well as the improvement of the quality and value of long-term care. Applicants with interests in other areas that align with healthy aging are also considered. Read the job description.
Feb. 22 — School of Nursing team publishes article calling for family caregiving education for health providers
A team from the Family Caregiving Institute at the Betty Irene Moore School of Nursing at UC Davis published the article, "Are We Ready for the CARE Act? Family Caregiving Education for Health Care Providers," in the March issue of the peer-reviewed Journal for Gerontological Nursing. Lisa Badovinac, assistant dean for education at the school, authored the article in collaboration with Lori Nicolaysen, student services director, and Executive Associate Dean Terri Harvath. The article details the trio's study of the impact of the Caregiver Advise, Record, Enable (CARE) Act on educational programs for health providers. The CARE Act requires hospitals to identify and include family caregivers during admission and discharge of patients. According to the team's research, nurses and health care professionals receive little formal education on how to support family caregivers, creating challenges in complying with the new policy.
Nov. 14-18 — Family Caregiving Institute faculty provide strong showing at national gerontological conference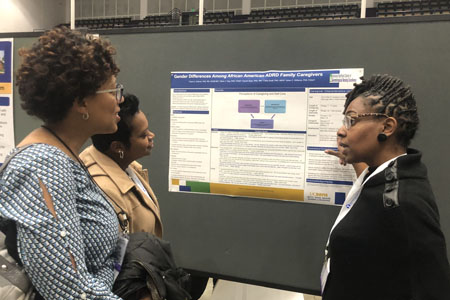 Faculty and staff in the Family Caregiving Institute at the Betty Irene Moore School of Nursing at UC Davis led a number of presentations, symposiums and poster sessions at the 2018 Scientific Meeting of the Gerontological Society of America (GSA) in Boston Nov. 14-18. The 2018 event, themed "The Purpose of Longer Lives," provided the stage for the institute's first significant showing at a research conference. From preconference sessions to symposium workshops, the institute team shared its research priorities for both education and research in caregiving following its initial year of discovery. Additionally, faculty and staff presented a variety of study findings related to caregiving. The institute was launched in spring 2017 with a $5 million grant from the Gordon and Betty Moore Foundation. GSA is the oldest and largest interdisciplinary scientific organization devoted to the advancement of gerontological research, learning and practice. Through its annual scientific meeting, GSA offers nearly 4,000 international professionals in the field of aging the opportunity to learn the latest trends and development from industry leaders, build strategic partnerships to address aging challenges and network with peers.
Nov. 14 — Preconference workshop at the Gerontological Society of America (GSA) Annual Scientific Meeting
Research Priorities in Caregiving: Advancing Family-Centered, Collaborative Care
12:30-4:30 P.M. Wednesday, Nov. 14
Join together with gerontological researchers, advocates and funding agency representatives to refine research priorities and develop an action plan that will improve access and reduce barriers to optimal caregiving. The workshop includes a review of outcomes from the institute's March 2018 Research Priorities in Caregiving Summit, a panel discussion highlighting challenges and methodological issues faced in family caregiving research and discussion on growing capacity in caregiving research through the support of new scientists and partnership building. Program contributors include Kathleen Buckwalter, Karen Lyons, Kaci Fairchild, Susan Reinhard, Karen Schumacher, Robyn I. Stone and led by Terri Harvath and Heather M. Young. Register for the workshop through the GSA website. See flyer.
Sept. 14 — Family Caregiving Institute faculty present at national nursing conference
Terri Harvath, the director of the Family Caregiving Institute at the Betty Irene Moore School of Nursing, and Kathryn Sexson, an assistant clinical professor and lead educator for the institute, presented "NLN's Newest Initiative Advancing Care Excellence for Caregivers (ACE.C): Supporting Family Caregivers of Older Adults," at the National League of Nursing (NLN) 2018 Summit in Chicago Sept. 12-14. NLN, AARP, Nurses Improving Care to Healthsystem Elders (NICHE), the Family Caregiving Institute and the American Journal of Nursing, teamed up to create teaching resources to deliver quality care to older adults and their family caregivers. Leaders from AARP and UC Davis led the discussion of the caregiving role, its importance to the nursing curriculum and provided an overview of resources currently available nationally.
March 22-23 — Family Caregiving Institute at UC Davis hosts summit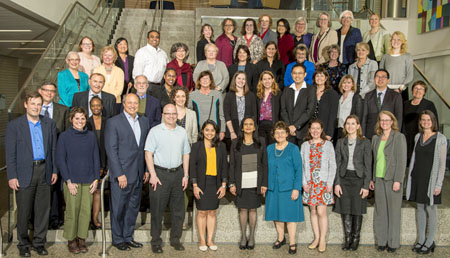 The Family Caregiving Institute at the Betty Irene Moore School of Nursing at UC Davis brought together more than 50 national and international experts in family caregiving at a two-day summit designed to map out research priorities. Organizers of The Research Priorities in Caregiving Summit: Advancing Family-Centered Care across the Trajectory of Serious Illness, aim to identify research priorities so that investment by funders yields the greatest impact.
News release | Video | Research priorities