Alumni impact
Alumni Perspectives
For this issue, we asked alumni to share with us their reflections using one word or phrase to describe their perspectives about the past year, a current moment and the course ahead. Here's what they wrote.
Darlene Androus-Junk, PA-C '99
2020: Exciting and very interesting experiences. I enjoy my job, especially being in a small town that needs medical care.
2021: Studying for re-certification testing. Good!
The course ahead: Persistent. Helping people! I love being a P.A.
Carrie R. K. Brothers, MHS '16, PA-C, M.Ed.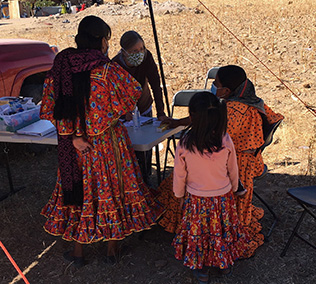 2020: Passing along the gift. A year in Northern Mexico, launching a mobile clinic program to expand health care access to remote indigenous communities!
2021: Thankful. Thrilled to have the privilege of building out a dream that for years felt out of reach for this community.
The course ahead: Ready for what's next. I've seen the realities of poverty and I've seen resilience, hope and incredible tenacity in response. A group of people, pooling their varied skills and resources can make a difference!
Jacquie DeMellow, PhD '18, R.N., CCNS, HACP, CPHQ
2020: Stressful. After feeling helpless, while operating under crisis conditions for months during the pandemic, running the vaccine clinic for hospital staff and then our community gave us a sense of purpose and resilience.
2021: Hopeful. Hopeful about better days are ahead — but there is much hard work to do as we try to repair the damage the pandemic has done. We see its impact on our hospital staff and patient outcomes and are now focusing on getting stronger together.
The course ahead: Difficult.
Jody Johnson, M.S. '12, R.N.
2020: Purposely. My 92-year-old feisty mother lived independently at home and died of COVID-19. Our wonderful rural community public health agency has given thousands of vaccines. Every time I volunteer, every shot in the arm I give is for my mama.
2021: Purposeful, opportunity. Crisis can bring change. Nurses have been real heroes in this difficult time. It is a time to recognize nursing in leadership in health care, especially in public health.
The course ahead: Commitment. Public health and public health nursing.
Hannah Keller, M.S. '18, FNP-C, PA-C
2020: Refinement, continued growth. I began a new job in surgery during the COVID-19 pandemic. Very thankful for my job and that we were able to continue operating during the pandemic. Amazing how this helped us make changes to improve patient care.
2021: Thankful. At first apprehensive toward a challenge, but now excited to see how I can improve and be better in my field.
The course ahead: Hopeful. My husband, my family, my faith and my co-workers.
Augustina Mushale, M.S. '18, R.N.
2020: Personal and family achievements. Although the past year has been very chaotic due to the pandemic, I am grateful to God for the accomplishments we have experienced as a family. Early last year, we moved into our brand-new home.
2021: Enjoying these fulfilled moments. About a month ago, I was able to publish my first article.
The course ahead: Waiting to see what opportunity comes next. In an expectant mode. My family and my purpose in life.
Misara Bambao, M.S. '19, R.N., OCN
2020: Eventful. Obstacles are stepping stones toward greater things! Always embrace obstacles as opportunities that turn into blessings!
2021: Blessed. Challenges are opportunities for growth. Without rain there is no rainbow.
The course ahead: Exciting. I'm excited to have a platform where I can inspire and motivate others. I've been inspired by wonderful mentors and am excited to be a mentor as well someday. Don't listen to that "imposter syndrome" voice. You'll never know unless you try!
Jenna Ricks, MSN '19, R.N.
2020: Year of the Nurse. Got a job in Labor and Delivery, had a baby, delivered a woman's baby in a parking garage seven days postpartum.
2021: Incredible dilemma. Conflicted, thrilled, shocked, grateful.
The course ahead: The beautiful unknown. The prospect of teaching nurses how to be nurses. If the last year has taught me anything, it's to never miss an opportunity, be present in the moment and to make strong, lasting connections.
Sharon Morgan, PA-C '03
2020: Terrifying and fascinating. Stressful. Grief and joy, gratitude. New friends. Family separation. Medical enigmas. Universe is in control.
2021: Wanting to feel hopeful. Supporting long-hauler daughter with COVID-19, now disabled. Hoping to see grandchildren.
The course ahead: Keep going, day by day. As a retired P.A., I am both thankful I'm retired and wishing I was still involved. Following new developments and considering ways I might participate.
Reyna Portillo M.S. '21, R.N., PHN
2020: Resilience. When the world fell apart, we united as one and helped each other move forward.
2021: Proud. I embraced the challenges this pandemic brought to us and made the best of the learning virtually, balancing work and family. I'm beyond grateful of the opportunity given by the Gordon and Betty Moore Foundation.
The course ahead: I feel prepared to take on leadership roles. My classmates, professors, and most important, my family motivated me to continue and continue growing. This program has been the best experience of my life!
Erin K. O'Hara, M.S. '20, R.N., VA-BC
2020: Progressive. Improving vascular access care of pediatric patients through partnership with the UC Davis Children's Hospital leadership. Transformative changes have been made to ensure children receive appropriate I.V. access and avoid unnecessary pokes.
2021: Moving with momentum. Grateful for progress made so far, and optimistic for continued improvements to be made.
The course ahead: Unveering. I am motivated by my patients. Children are some of the most vulnerable patients and deserve the highest quality health care possible.
Marilyn Curtis M.S. '16, R.N.
2020: Changing. The past 12 months with COVID-19, vaccines and closures, it's all fluid.
2021: Acceptance. The world is forever changed, our ability to "see the world" is on hold.
The course ahead: Pondering. What changes can I make to aid my fellow nurses in their journey.