The coronavirus pandemic pushed the nation to the brink. Exhaustion, burnout and unprecedented pressure overwhelmed health care workers.
At the Betty Irene Moore School of Nursing at UC Davis, educators saw it as an opportunity to contribute to pressing needs while preparing students for their future roles in health care. "Just three months into the pandemic, we partnered with the UC Davis Health Ambulatory Care team to allow our prelicensure nursing students to participate in COVID-19 testing," says Shana Ruggenberg, director of the Master's Entry Program in Nursing (MEPN).
"It helped our then second-year students gain essential knowledge and skills about pandemic-related issues."
It also provided some of the clinical experience hours required for graduation when skilled nursing facilities closed their doors to learners during the pandemic. Six months later, first-year students joined the effort to administer COVID-19 vaccines.
"Their participation not only allowed them to become comfortable with intramuscular injections, but it also assisted our clinic in getting more patients vaccinated," said Kimberly Mason, a UC Davis Health nurse who serves as a clinical instructor for the School of Nursing.
Students quickly learned to adapt.
"When my first patient sat down and rolled up their sleeve, I was taken aback by the total trust. At that moment I became the nurse and he was my patient," recalls MEPN student Judy Njuguna-Hamilton. "He was the first of many that day who made me realize that being a nurse is much more than that needle in my hand. It's about seeing the person sitting in that chair."
Classmate Chau Le said it felt different from classroom simulations because of the diversity among those receiving the vaccine.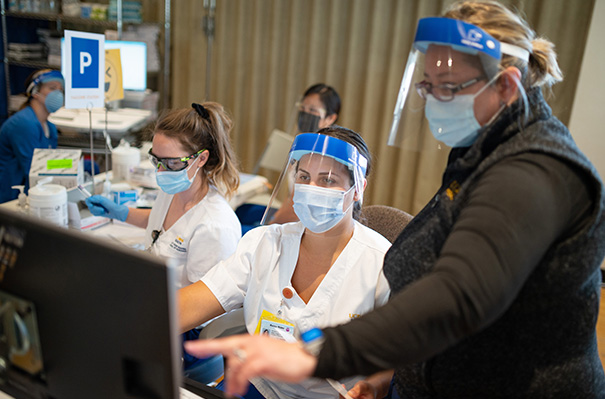 "Applying motivational interviewing skills and practicing therapeutic communication in our simulations have helped me prepare for the experience of real-life patient interactions," Le says.
While nursing students worked in Sacramento clinics, nurse practitioner and physician assistant (P.A.) students participated in efforts that sprung from a unique partnership between UC Davis and the City of Davis, California.
Healthy Davis Together launched in late 2020 with the goal to "prevent the spread of COVID-19 and facilitate a coordinated and gradual return to regular city activities." Initially, it provided free quarantine housing, masks and testing, ultimately rolling out vaccines at clinics across the area. Davis. P.A. student Natalie Martinez joined her classmates to give the shots.
"I was able to work closely with and learn much about the population most in need of care, including farm workers, hard-working immigrants and their families," Martinez explains. "Being a student in this pandemic makes me all the hungrier to graduate. Then, I can join in the fight and contribute with all of my abilities and passion to help those most in need."
Minority communities suffered disproportionally from the virus, yet many Blacks and Latinos were reticent to receive the vaccine. Theresa Pak, a 2013 graduate of the School of Nursing's master's-degree leadership program, facilitates the Diversity, Equity and Inclusion Council at UC Davis Health. With those connections and a heart to serve, she recruited staff and their families from UC Davis Medical Center to star in a series of public service announcements from the California Endowment to encourage underserved communities to get the shot.
"I am extraordinarily honored to be working with such courageous, smart and dedicated nurses who were truly on the frontlines," Pak says.
Those frontline nurses, along with the rest of the health care team, encountered many new challenges when the pandemic hit. Among them, how to safely respond to a code blue.
Providers could no longer perform typical CPR on patients since the process allowed respiration droplets to escape into the air. That put clinicians at risk of contracting the virus.
Wendy Scott, a master's-degree leadership alumna and nurse at Sutter Medical Center in Sacramento, identified that gap and worked to find a solution.
"As a rapid response nurse, we're the first to respond. I partnered with the medical ICU director to create a new process," Scott explains. "I then developed the participant guide and designed new simulation training. We conducted 30 simulations in a three-to-four-week timespan to roll it out."
As the world returns to normal and students near graduation, nursing instructors hope the lessons learned in the pandemic last a lifetime.
"I hope that they'll become nurses who understand the diversity of opinion and how to navigate in a world where there will always be questions and a need to question science," Ruggenberg says. "I hope it drives home the points we try to make about the importance of evidence in nursing practice and always the need for seeing the patient with empathy and compassion."