Faculty

Faculty awards
A sampling of recent research awards at the Betty Irene Moore School of Nursing. For more listings and news, please visit our newsroom and follow us on social media.
Cardiometabolic disorders in people living with HIV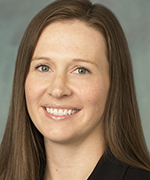 As the HIV epidemic matures in sub-Saharan Africa with effective antiretroviral therapy, cardiometabolic disorders are the next major challenge for people living with HIV. Julie Bidwell, an assistant professor in the Family Caregiving Institute at the Betty Irene Moore School of Nursing at UC Davis, serves as co-investigator for the $656,000 Healthy Hearts project. The international project team, led by Amy Conroy of UCSF, developed a conceptual model to extend the knowledge base on couples' management of multiple health conditions. Over the next four years, they will work with clinical partners and couples in Malawi to determine how this framework can be tailored to support family- and system-level interventions for better management of cardiometabolic disorders among people living with HIV in sub-Saharan Africa. Bidwell provides published expertise in the area of individual and dyadic management of chronic cardiovascular disease, with focused work on relationships between caregiver contributions to disease management on patient outcomes.
COVID-19 and the momentum for better
maternal health care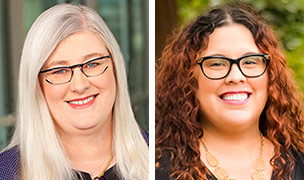 The well-being of pregnant and birthing people has emerged as both a leading indicator and a bellwether for equity and quality of care, especially for those who are most vulnerable. The ways the COVID-19 pandemic disrupted the care of birthing people and exposed systemic racism offers important lessons to both mitigate the immediate harms and work toward the long-term opportunities for equitable systems improvement. Professor Heather M. Young (pictured left) and Monica Esqueda (pictured right) represented the School of Nursing in this collaboration with Ariadne Labs at Harvard, funded at $250,000 jointly by the Rita and Alex Hillman Foundation and the Gordon and Betty Moore Foundation. Young brought expertise in systems innovation and leadership to the project and joined with experts in systems and maternal health care to design and guide the collaborative learning community.
COVID-19 vaccine confidence among low-income women
Underserved communities were hit hardest by the coronavirus pandemic. A better understanding of COVID-19 vaccination views of diverse low-income women is urgently needed. In this $7,500 Public Impact Research Initiative (PIRI) seed grant from UC Davis Public Scholarship and Engagement, Professor Carolina Apesoa-Varano (pictured left) partners with Wellspring Women's Center to build understanding of COVID-19 vaccine confidence among diverse low-income women. Wellspring is a neighborhood gathering place that provides meals and social services to socially vulnerable women and their children. Apesoa-Varano leads a team of volunteers that includes Genelle Smith, Wellspring's executive director, and from the School of Nursing, Professor Sheryl Catz (pictured right), postdoctoral scholar Susan Miller and students Linda Vuong, Kerri Maya and Reyna Portillo.
Digital health for underserved communities
in response to COVID-19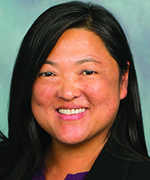 California's rural Central Valley faces some of the worst health disparities in the state and country. Residents lack access to basic health care, and service providers in the area have limited reach and coverage. Former Associate Professor Katherine Kim leads UC Davis Health in this public-private pilot initiative to bring telehealth services to underserved rural residents in Merced County.
Faith-based approach to advanced illness care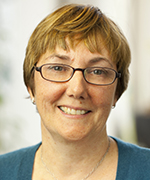 African Americans underuse advance care planning often because of experiences of racism in the health care system. The Alameda County Care Alliance care navigator program works with pastors and lay people to encourage end-of-life discussions and planning. Associate Dean for Research Janice Bell received a $5,000 grant from the John & Wauna Harman Foundation to help develop a training program for pastors centered around the Oscar nominated documentary, "Extremis." The private family foundation supports work that encourages Americans to have meaningful conversations about what matters most to them so that they can have a say in their care when the end-of-life approaches.
Food security in tribal food desert
For the Yurok tribe in the Klamath Basin, high levels of poverty, reliance on heavily processed food from federal assistance programs and loss of traditional and tribal knowledge has contributed to health disparities that are seen starting from birth. With this $7,500 Public Impact Research Initiative (PIRI) bridge grant from UC Davis Public Scholarship and Engagement, former Associate Professor Katherine Kim hopes to enhance the community's capacity for health disparities research and program evaluation as well as strengthen the quality of university's community-engaged research. The collaboration includes a combination of stakeholder engagement, training and application of research skills in the evaluation of the Yurok Food Sovereignty Project.
Simulation training to empower nurses in public health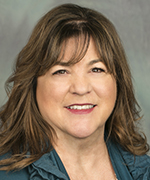 Nurses who practice in rural areas provide care for people with a wide range of conditions include chronic diseases, mental health challenges at maternal health. Professor Deb Bakerjian leads the two-year, $500,000 grant from the Health Resources and Services Administration, Public Health Nursing-Empowering Nurses, Teaching Rural care Using Simulation Training (PHN-ENTRUST), aims to strengthen public health nursing competencies among prelicensure nursing students. Simulations will highlight the unique needs of those living in rural and medically underserved areas of Northern California and beyond and prepare new nurses to serve as community leaders in population health.
Understanding COVID-19's evolution through hospital data
During the COVID-19 pandemic, there was an urgent need to determine who was at greatest risk for severe disease, better understand how the disease and treatments evolved and predict the need for resources. Former Associate Professor Katherine Kim represented UC Davis Health in a research consortium that solicited questions via the website Covid19questions.org. The team then answered those questions by tapping COVID-19 patient record data from more than 200 participating hospitals. The project was the result of seed funding of $45,000 from the Gordon and Betty Moore Foundation for the 12 participating health systems.
Nursing home quality reporting
Public information about health care quality is hard to come by, sometimes not objective, and often difficult to understand. Professor Deb Bakerjian partners with Patrick Romano on a $1.3 million grant from Cal Hospital Compare to expand nursing home quality reporting in California. Bakerjian, an expert in long-term care facilities, and Romano, an internal medicine physician with the UC Davis School of Medicine, are part of a team from the UC Davis Center for Healthcare Policy and Research. As subject matter experts on quality reporting and long-term care, their work will drive transparency, accountability and improvement in long-term care for all Californians.