Residency Program - Case of the Month
April 2014 - Presented by Saba Ali, M.D.

Clinical History:
A 2 year old female with no significant past medical history presented to her primary care physician six months prior with complaint of dysuria, she was placed on empiric antibiotics, urine cultures were found to be negative and she was sent home with resolution. She had two more distinct episodes of dysuria with negative urine cultures which resolved after one week. She presented again five months later with similar complaints in addition to a rash and a fever. At this time she was admitted again under the suspicion of a UTI and discharged. One month later, she complained of acute dysuria, in addition to abdominal and back pain, and a radiating pain down her right lower extremity. Eventually an ultrasound at her primary physician's office revealed a pelvic mass. CT imaging demonstrated a pelvic mass (9 x 8.8 x 5.6 cm) which appeared to be ovarian in origin without any evidence of metastasis. Pelvic washings reviewed for cytology were negative.
The following tumor biomarkers were performed and found to be elevated: B-HCG, CA-125, and AFP.
Subsequently, the patient underwent a left salpingo-oopherectomy with resection of the left adnexal mass. No masses were seen or palpated in the omentum. Operation findings included a left adnexal tumor with surface ovarian involvement.
Gross Images:
Received was an 111.8 gm undisrupted ovoid mass of soft tissue (8.7 x 8.2 x 5.5 cm) with an attached tan-pink unremarkable fimbriated fallopian tube (4.1 cm in length x 0.5 cm in diameter). The outer surface of the mass was smooth to shaggy, without papillary excrescences. Cut sectioning through the mass revealed red-tan to pink-red, solid to cystic cut surfaces with cysts containing clear mucoid content (0.3 to 3.4 cm in greatest dimension). The cyst walls were smooth without areas of thickening. No uninvolved ovarian parenchyma was grossly identified.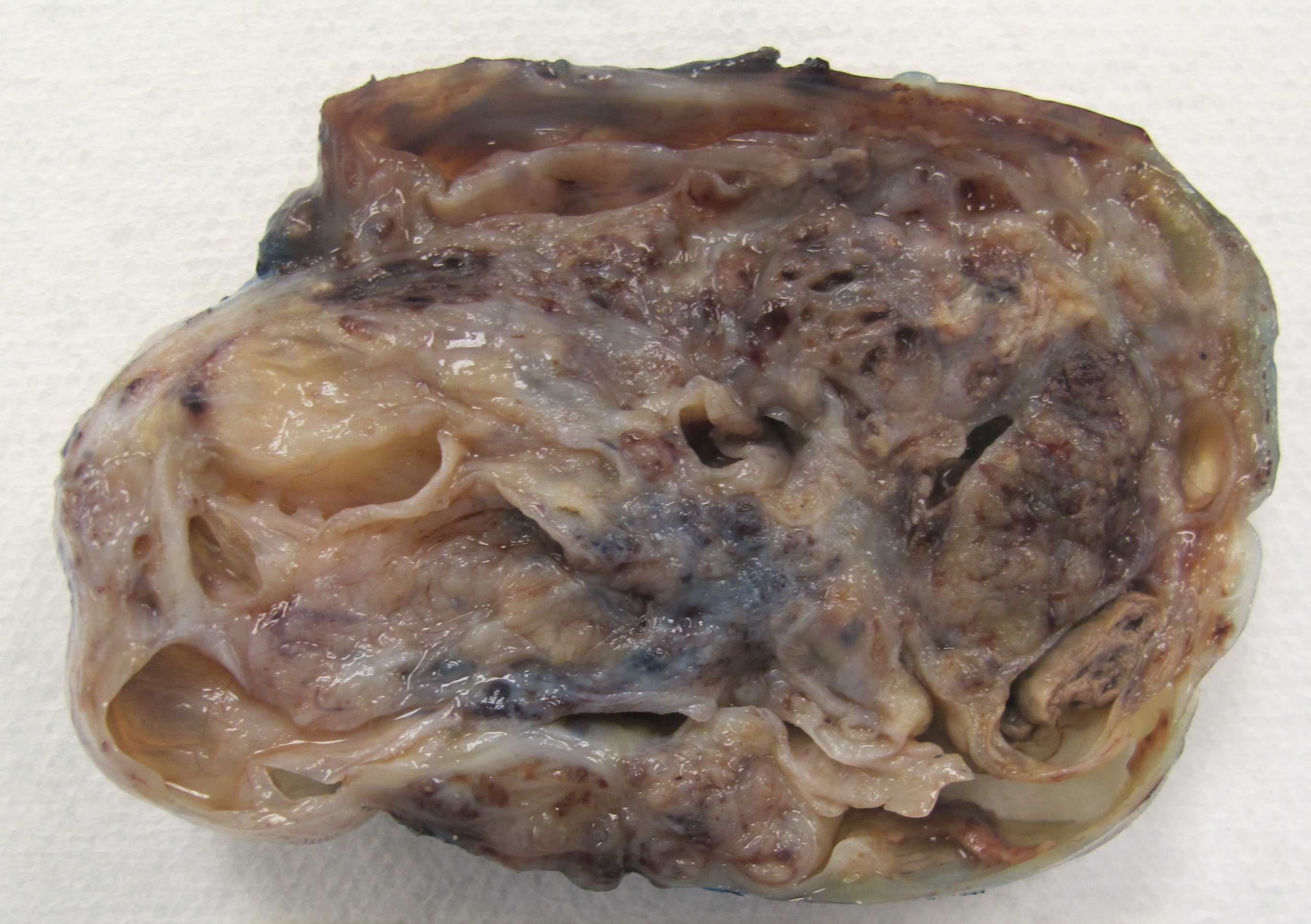 Gross Image

H&E Stains:
| | | | | |
| --- | --- | --- | --- | --- |
| | | | | |
| Figure 1 | | Figure 2 | | Figure 3 |
| | | | | |
| | | | | |
| Figure 4 | | | | |

IHC Stains:
Glypican 3:
Positive in focal component
Oct 3/4:
Positive in focal component