Residency Program - Case of the Month
March 2015 - Presented by Dr. R. Jeanna Su & Dr. Karen Matsukuma

History:
A 53 year-old male with history of neurofibromatosis type 1 (NF-1) presented to the ED with a 3-week history of abdominal pain. On physical examination, multiple plexiform neurofibromas and cafe-au-lait spots were noted. A CT abdomen/pelvis demonstrated a 7.5 cm heterogeneous mass in the small bowel along with diffuse small bowel thickening, a 2 cm soft tissue nodule in the left mid-abdomen, multiple small mesenteric lymph nodes, and splenomegaly. An FNA biopsy of the small bowel mass was performed. Aspirate smears demonstrated numerous single cells with stripped cytoplasm, small nucleoli, and mild nuclear membrane irregularity intermixed with scattered rosette-like clusters (Figures 1 and 2). A diagnosis of "neoplastic cells present" was rendered, with the differential diagnosis of neuroendocrine neoplasm, neuroblastoma, and adenocarcinoma. Small bowel resection with lymphadenectomy was subsequently performed.

Biopsy:
| | | |
| --- | --- | --- |
| | | |
| Figure 1 | | Figure 2 |

Gross Description:
On gross examination, a 12 cm concentric exophytic mass was identified midway along the segment of small bowel. The mucosa surrounding the tumor had a cobblestone appearance which extended 9 cm proximally and distally (Figure 3). Numerous large lymph nodes were identified in the attached mesentery. In addition, a 2 cm nodular mass was present on the serosal surface proximal to the concentric mass.

Gross Image: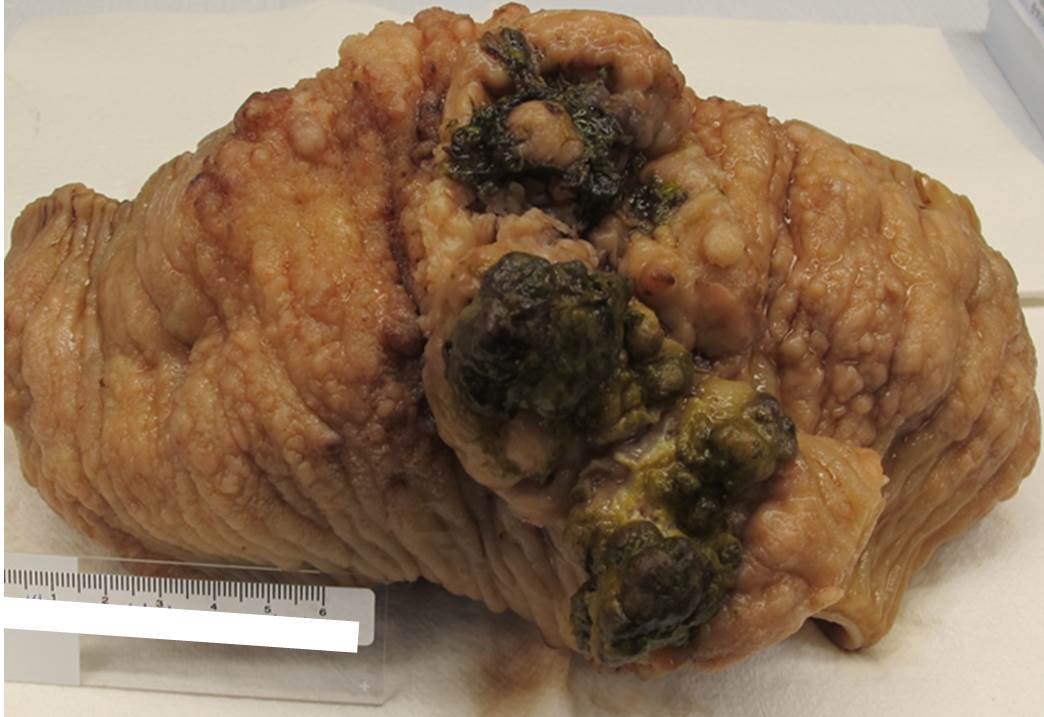 Figure 3

Microscopic Description / Immunohistochemistry:
Histologic sections show a neoplasm composed of well-formed glands in some areas (Figure 4a) and solid sheets of neoplastic cells in other areas (Figure 4b). Although the solid pattern with its monomorphic cells suggests the possibility of a neuroendocrine carcinoma, synaptophysin and chromogranin stains are negative. Sections of the polypoid mucosa surrounding the exophytic mass demonstrate spindle cells arranged in a haphazard pattern with scattered ganglion cells (Figure 5a,b). An immunostain for S100 demonstrates diffuse positivity in the spindle cells (Figure 5c,d). In addition, a few medium-sized vessels in the mesentery were noted to have marked intimal thickening (Figure 6).
Sections of the 2 cm serosal nodule demonstrate a well-circumscribed neoplasm composed of spindle cells arranged in vague fascicles, without significant mitotic activity or necrosis (Figure 7). Immunostains show the neoplasm is diffusely positive for CD117 and negative for desmin and S100.

Microscopic Images:
| | | |
| --- | --- | --- |
| | | |
| Figure 4 | | |
| | | |
| | | |
| Figure 5 | | |
| | | |
| --- | --- | --- |
| | | |
| Figure 6 | | Figure 7 |