August 2021 – Presented by Dr. Peter Conner (Mentored by Dr. Kristie Vandewalker)

---
HISTORY
The patient is a 71-year-old male with past medical history of prostate cancer, status post pelvic radiation, diabetes mellitus, peripheral arterial disease, hypertension and coronary valve repair. He initially presented for evaluation of internal hemorrhoids seen on a recent colonoscopy and multiple years of chronic diarrhea. A follow-up colonoscopy was significant for a few sessile polyps and a prolapsed internal hemorrhoid. Further discussion with the patient's family revealed he has bleeding per rectum since at least 8 months prior to this visit, with a "foul smell" associated with his anal area. He also endorsed a 20lb weight loss, which was attributed to changes in his diet. He denied any urinary symptoms, night sweats, nausea or vomiting, and recent diarrhea.
On physical examination, a protruding red, dime sized rectal mass at 12 o'clock with extreme tenderness was identified and appeared to originate from the external anal area. An additional small, non-tender, pencil shaped, flesh colored mass at 4 o'clock was seen.
Imaging:
CT scans of the chest, abdomen, and pelvis did not show evidence of lymphadenopathy or metastatic disease.
Procedure Note:
Polypoid tissue confluent with large skin tags were found at the left and right posterior anal canal, located distal to the dentate line, and approximately 1 cm from the anal verge. The tissue had superficial ulceration, slight induration, and was mobile to palpation. The more distal component of these lesions had abnormal appearing epithelium. Lastly, the lesions appeared connected by a somewhat serpiginous course of abnormal appearing tissue of mixed polypoid and fibroepithelial appearing tissue.

PATHOLOGY
Multiple biopsies were taken from the anal canal and anal skin tag showing involvement of tissue by a carcinoma, showing intestinal, solid and signet-ring cell morphologies, including pagetoid involvement of the anal skin tag by sign ring cell pattern cells. (Figures 1 and 2)
Immunohistochemistry:
The tumor stained as follows: positive for CK7, CK20, and CDX2, and negative for GCDFP-15. (Figures 3 and 4)

FIGURES
1. Anal canal H&E (Low and high-power magnification)
---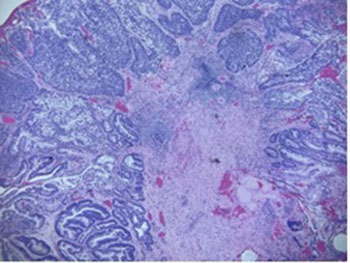 2. Anal skin tag H&E (low and high-power magnification)
---
3. Anal Canal Immunohistochemistry (CK7, CDX2, and GCDFP-15)
---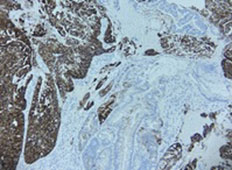 4. Anal perineum IHC (CDX2 and GCDFP-15)
---