Nam Tran, Ph.D., M.S., HCLD (ABB), CLS, MLS (ASCP)cm, FAACC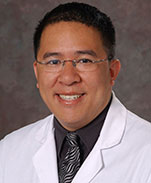 Professor
Clinical Chemistry, Special Chemistry, Toxicology, POCT and SARC Sections
Department of Pathology and Laboratory Medicine
University of California, Davis
3435 Tupper Hall
Davis, CA 95616
Ph: 530-752-7355
e-mail
Philosophy of Care
As a clinical chemist, Dr. Tran's philosophy of care is to provide means to project the diagnostic capabilities of our health system beyond the confines of our hospital through the use of innovative testing strategies such as point-of-care testing and machine learning.
Clinical Interests
Dr. Tran is a board certified clinical chemist. He supports clinical laboratory operations in clinical chemistry, special chemistry, toxicology, and point-of-care testing. Dr. Tran has special clinical interest and expertise in biomarkers of acute injury and infectious diseases. Additionally, Dr. Tran serves as Director of the Pathology Biorepository which is aimed at providing high quality specimens for both clinical applications and research. The Biorepository is accredited by the College of American Pathologists, and serves as a Core Resource for the UC Davis Health Comprehensive Cancer Center.
Research/Academic Interests
Dr. Tran focuses on the implementation of innovative solutions for acute injury, infectious diseases, and point-of-care testing. This includes the development of novel biomarkers and biosensor technologies for these applications. Dr. Tran also has interest in the use of artificial intelligence and machine learning. Specifically, he and his colleagues have pioneered the the development of novel machine learning algorithms for acute kidney injury and sepsis in high-risk burn patients.
Division
Clinical Pathology
Center/Program Affiliation
Education
Ph.D., Comparative Pathology, UC Davis, Davis CA 2008
M.S., Pharmacology and Toxicology, UC Davis, Davis CA 2010
B.S., UC Davis, Davis CA 2003
Board Certifications
American Board of Bioanalysis, Clinical Chemistry,
Professional Memberships
American Association of Clinical Chemistry
American Society for Clinical Pathology
Honors and Awards
UC Davis Health Chief of Staff Award - Development of COVID-19 Testing, 2020
Outstanding Research Abstract, International Critical and Point-of-Care Testing (CPOCT) Meeting, American Association for Clinical Chemistry (AACC), 2018
Resident Teaching Award, Dept. of Pathology and Laboratory Medicine, UC Davis, 2017
American Association for Clinical Chemistry Outstanding Speaker Award, 2016
UC Davis School of Medicine Dean's Award for Excellence in Teaching, 2014
Select Recent Publications
Lima KM, Davis RR, Liu SY, Greenhalgh DG, Tran NK. Longitudinal profiling of the burn patient cutaneous and gastrointestinal microbiota: a pilot study. Sci Rep. 2021 May 21;11(1):10667. doi:10.1038/s41598-021-89822-z. PMID:34021204.
Tran NK, Howard T, Walsh R, Pepper J, Loegering J, Phinney B, Salemi MR, Tran NK, Howard T, Walsh R, Pepper J, Loegering J, Phinney B, Salemi MR, Rashidi HH. Novel application of automated machine learning with MALDI-TOF-MS for rapid high-throughput screening of COVID-19: a proof of concept. Sci Rep. 2021 Apr 15;11(1):8219. doi:10.1038/s41598-021-87463-w. PMID:33859233.
Hansen G, Marino J, Wang ZX, Beavis KG, Rodrigo J, Labog K, Westblade LF, Jin R, Love N, Ding K, Garg S, Huang A, Sickler J, Tran NK. Clinical Performance of the Point-of-Care cobas Liat for Detection of SARS-CoV-2 in 20 Minutes: a Multicenter Study. J Clin Microbiol. 2021 Jan 21;59(2):e02811-20. doi:10.1128/JCM.02811-20. PMID:33239382.
Rashidi HH, Makley A, Palmieri TL, Albahra S, Loegering J, Fang L, Yamaguchi K, Gerlach T, Rodriquez D, Tran NK. Enhancing Military Burn- and Trauma-Related Acute Kidney Injury Prediction Through an Automated Machine Learning Platform and Point-of-Care Testing. Arch Pathol Lab Med. 2021 Mar 1;145(3):320-326. doi:10.5858/arpa.2020-0110-OA. PMID:33635951.
Mumma BE, Casey SD, Dang RK, Polen MK, Kaur JC, Rodrigo J, Tancredi DJ, Narverud RA, Amsterdam EA, Tran N. Diagnostic Reclassification by a High-Sensitivity Cardiac Troponin Assay. Ann Emerg Med. 2020 Nov;76(5):566-579. doi:10.1016/j.annemergmed.2020.06.047. Epub 2020 Aug 15. PMID:32807538.
Tran NK, Albahra S, Pham TN, Holmes JH 4th, Greenhalgh D, Palmieri TL, Wajda J, Rashidi HH. Novel application of an automated-machine learning development tool for predicting burn sepsis: proof of concept. Sci Rep. 2020 Jul 23;10(1):12354.
Rashidi HH, Sen S, Palmieri TL, Blackmon T, Wajda J, Tran NK. Early recognition of burn- and trauma-related acute kidney injury: a pilot comparison of machine learning techniques. Sci Rep. 2020 Jan 14;10(1):205.
Tran NK, Sen S, Palmieri TL, Lima K, Falwell S, Wajda J, Rashidi HH. Artificial intelligence and machine learning for predicting acute kidney injury in severely burned patients: A proof of concept. Burns. 2019 Sep;45(6):1350-1358. doi:10.1016/j.burns.2019.03.021. Epub 2019 Jun 21. PMID:31230801.
DuBois JA, Slingerland RJ, Fokkert M, Roman A, Tran NK, Clarke W, Sartori DA, Palmieri TL, Malic A, Lyon ME, Lyon AW. Bedside Glucose Monitoring-Is it Safe? A New, Regulatory-Compliant Risk Assessment Evaluation Protocol in Critically Ill Patient Care Settings. Crit Care Med. 2017 Apr;45(4):567-574. doi:10.1097/CCM.0000000000002252. PMID:28169943.
Tran NK, Godwin ZR, Steele AN, Wolf SE, Palmieri TL. Clinical Impact of Accurate Point-of-Care Glucose Monitoring for Tight Glycemic Control in Severely Burned Children. Pediatr Crit Care Med. 2016 Sep;17(9):e406-12. doi:10.1097/PCC.0000000000000877. PMID:27472251.